Esiste un amore sbagliato? Un amore che è intimamente contraddizione dell'amore stesso? Che pur presentandosi come tale ci appare visceralmente distorto? The Handmaid's Tale rallenta il racconto, sospende l'avanzare della narrazione e ci parla d'amore. Di un amore che è parvenza, esteriorità vuota, desiderio egoistico celato. In questo amore si nasconde e si rivela la distopia di un mondo che non sa più amare. Che imita l'amore, che scimmiotta il ricordo di un'autenticità che non c'è più.
L'amore distopico di The Handmaid's Tale è desiderio di prevaricazione, appropriazione, affermazione sociale.
Anche la sincera, naturale, incontaminata bontà di un bambino, di una nuova vita che viene al mondo si annerisce e contamina della bruttura di Gilead. La nascita diventa occasione di sofferenza e dolore. Ennesimo momento in cui si concretizza la mostruosa quotidianità di un mondo capovolto.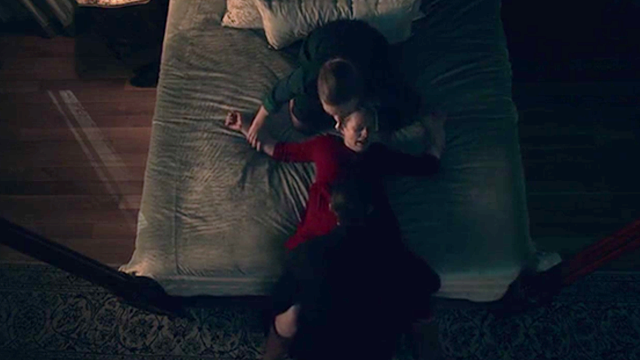 Se finora avevamo assistito a un orrore ritualizzato, a una violenza istituzionalizzata e tutto ci appariva più rarefatto e aleatorio ora siamo toccati nel vivo. The Handmaid's Tale ci macchia con le immagini dell'amore deforme, della brutalità animalesca di cui l'uomo si fa espressione. Lo stupro di June non è più il rituale scandito di un'inumanità programmata. Diventa improvviso, inaspettato, tremendo atto di sopraffazione. Umiliazione e degradazione di un altro essere umano. C'è una concretezza carnale, un desiderio di brutalità con cui finora non ci eravamo mai trovati a confrontarci.
Ogni "cerimonia" era stata vissuta con distacco. Da una parte e dell'altra: s'era fatta azione meccanica, ripetitiva e vuota nel suo carattere "ufficiale". All'istituzionalità dell'atto ora si sostituisce il vivido, realissimo abuso concretizzato in urla e rabbia, ansimi e pianti, costrizione e tentativi di ribellione. E poi l'apatia. "Non sono qui". L'estraniarsi dal corpo, la scelta – l'unica possibile – di distaccarsi, di abbandonare le membra battute, percosse, violate, violentate, ferite e insanguinate.
Dietro la maschera del dovere sociale ecco allora che si rivela il vero volto di Gilead.
Il paravento della procreazione cade e quello che resta è la cruda essenzialità del farsi bestie. Serena e Fred si rivalgono su June, la degradano a carne da macello a uso e consumo del carnefice. In Fred c'è la consapevolezza che quel bambino non è il suo, che quella vita non potrà appartenergli mai. Che non ci potrà mai essere amore vero, neanche con June. La stessa consapevolezza agita e irrita Serena, nient'altro che vuoto surrogato di una partoriente che non sarà mai. L'accanimento contro June è la violenza contro l'espressione di quell'autenticità da cui Serena e Fred sono irrimediabilmente preclusi.
Ecco allora che in questo mondo di amore distopico, nel vuoto e sterile terreno della follia autoritaria nasce e resiste, insiste e persiste il fiore di un sentimento antico e irreprimibile. Un sentimento che smuove la vita, che la ridesta e dà la forza di continuare a viverla. Questo rigurgito irrispettoso e ostinato, combattivo e testardo è l'amore vero. È l'amore di una madre per il suo bambino.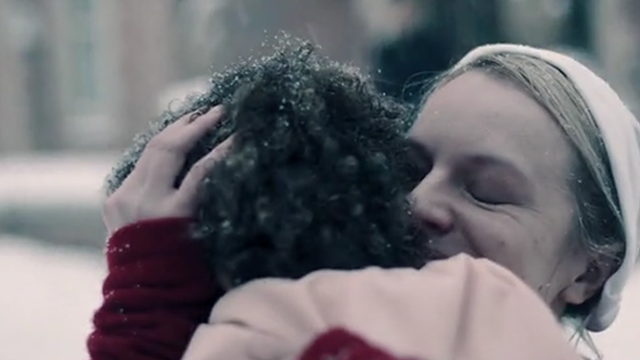 Quell'amore che… "Prima di formarti nel grembo materno, ti ho conosciuto, prima che tu uscissi alla luce, ti ho consacrato". L'amore di Dio Padre e Madre. L'amore di June che "conosce" il suo bambino prima che venga al mondo, che "sente" dentro di sé e che in nome di quel "sentimento" decide di consacrare alla vita. Nonostante il male, nonostante tutto.
Eccola la vita vera, il caparbio germoglio che anche nel terreno più ostile non viene meno.
La "parola di Dio" in The Handmaid's Tale è sempre affidata antifrasticamente alla bocca degli oppressori ma la sua più profonda espressione non può che concretizzarsi negli oppressi, negli ultimi. Là, Dio trova realmente voce. E così, ancora una volta nella storia dell'umanità, la parola esteriore diventa fanatico paravento al male, strumento in mano a predicatori e falsi profeti mentre la Parola vera vive nella concretezza di un'umanità inestinguibile nel suo amore.
June si fa espressione di Dio consacrando il suo bambino alla vita. È l'evangelico seminatore che getta il seme anche nel terreno roccioso e tra le spine. Il Dio-amore che non rifiuta mai di dare la vita neanche nelle realtà più assurde e tremende. Perché dentro quel seme c'è il mistero insondabile di un germoglio che non teme di venire al mondo in qualunque circostanza.
L'amore autentico risorge perché è più forte di qualunque costrutto sociale.
E così una figlia perduta diventa una figlia ritrovata. Hannah ha paura, si nasconde, rifiuta di riaprirsi all'amore. Quell'amore da cui è stata strappata via e che ora non riconosce più. Ma nulla può il tempo, nulla la società. C'è una scintilla inesauribile, irreprimibile. È la scintilla di una madre che conosce sua figlia nella profondità del grembo, che la ama ancor prima di generarla. E anzi, quando ancora è solo un'immagine nel suo cuore.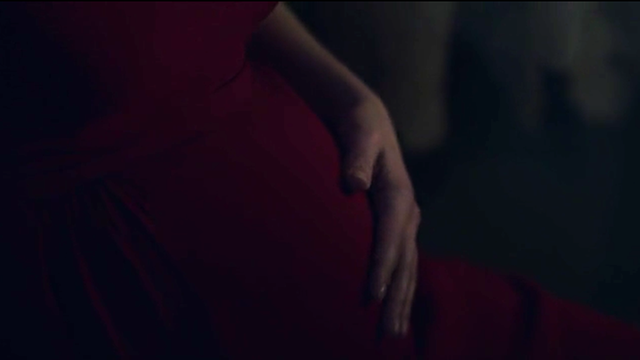 E quella scintilla vive, rivive, sopravvive in un nuovo essere, parte inestirpabile di due entità. Di madre e figlia. Unione di due individualità. Amore. "Non sono più sua madre", afferma mestamente Emily. "Certo che lo sei. Tu sei sua madre perché lo ami". "Pensi che lui lo senta?", "Sì!". June lo sa. Con la delicatezza amorosa che solo una madre può avere apre le porte del cuore di Hannah.
E Hannah finalmente, inevitabilmente, istintivamente chiama col suo nome June. "Mamma!". Prorompe nella più viscerale ammissione d'amore. Non c'è tempo che tenga. L'amore è lì, scintilla inestinguibile pronta a ravvivarsi alla prima carezza.
L'amore distopico e l'amore reale convivono e si alternano anche nell'interiorità di Eden.
In lei è il pianto infantile di chi non si sente apprezzata e voluta. Il pianto che scaturisce da un costrutto sociale del quale è profondamente imbevuta. Ma perfino in lei, perfino nel prodotto più perfetto dell'indottrinamento di Gilead non può non germogliare l'amore vero, tutto condensato nella semplicità di un pudico bacio. Nell'emozionante naturalezza del primo amore.
Amore distopico e amore vero. The Handmaid's Tale parla per un attimo al nostro cuore. Sposta l'attenzione dal sociale all'emotivo e ci restituisce la consapevolezza che c'è un solo modo di amare. Che al di là di tutto l'autenticità è in un abbraccio, in un bacio delicato, nelle lacrime genuine di chi soffre per amore.
L'amore è paziente, è benigno l'amore; non è invidioso l'amore, non si vanta, non si gonfia, non manca di rispetto, non cerca il suo interesse, non si adira, non tiene conto del male ricevuto, non gode dell'ingiustizia, ma si compiace della verità. Tutto copre, tutto crede, tutto spera, tutto sopporta. L'amore non avrà mai fine.