She's got it
Yeah, baby, she's got it
I'm your Venus, I'm your fire
At your desire
Venus è una canzone fresca e spensierata della band olandese Shocking Blue registrata nel lontano 1969. Questa è pure la versione che ci viene presentata nel settimo episodio della seconda stagione di The Handmaid's Tale. Ma di Venus esiste anche un famoso rifacimento delle Bananarama. Il successo della cover targata anni '80 sta tutto nell'atmosfera dance e in un video che divenne simbolo femminista. Grazie a quel video, capace di mettere in mostra donne eclettiche, sensuali ma nello stesso tempo "virili" Venus assumeva un nuovo rivoluzionario significato. Si trasformava in un inaspettato inno alla donna.
Anche The Handmaid's Tale è a suo modo un inno alla donna, in tutte le sue sfaccettature. Alla donna che resiste e persiste. Alla donna che lotta. E alla donna che è madre e moglie. Lei e solo lei è il vero fulcro del racconto, l'innesco che mette in moto gli eventi. Lo è, tanto più, in questa meravigliosa 2×07 carica di simbolismi e profondità di linguaggio.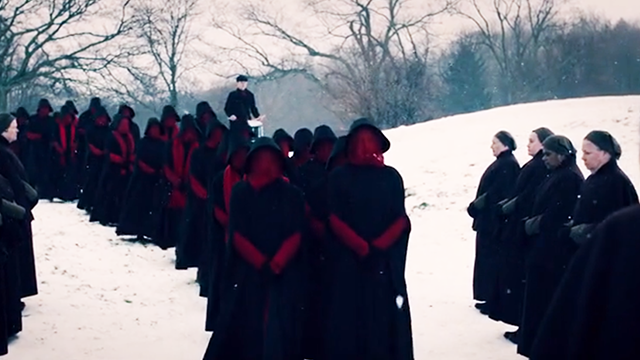 "Noi ricorderemo", ripetono come una stanca e vuota litania le ancelle a inizio episodio. "Noi ricorderemo". Il regime vorrebbe che il ricordo della morte delle donne nell'attentato divenisse riprova della violenza insensata della ribellione. "Noi ricorderemo" assume invece un valore nuovo, più puro. Più profondo.
Primo Levi, che mai perse la sua umanità neppure di fronte all'orrore più brutale, ci ammoniva e ammoniva se stesso con queste parole.
"Ci toglieranno anche il nome: e se vorremo conservarlo, dovremo trovare in noi la forza di farlo, di fare sì che dietro al nome, qualcosa ancora di noi, di noi quali eravamo, rimanga". Il nome è identità, è umanità. Quando i nazisti trasformarono (o almeno tentarono di farlo) i deportati in numeri, in codici impressi a forza nella carne, avrebbero voluto privare quegli uomini della loro umanità. Ridurli a mere cifre, svuotati di ogni valore. È così che si perpetua l'orrore: negando la dignità di esseri umani. Perché un numero è solo un numero e non c'è sentimento, in un numero.
Levi mantenne sempre la forza di lottare per il diritto di essere chiamato uomo. Nel ricordo che neanche il più brutale degli orrori poté cancellare. Di fronte alla disumanità riscoprì e maturò il suo esser persona.
In The Handmaid's Tale questo ruolo è parimenti condiviso da tutte le donne sulla scena. Ognuna di esse deve ricordare. "Noi ricorderemo" ribalta il suo vuoto significato esteriore e diventa grido alla Resistenza. La forza (e l'onere) della memoria passa da tutte le protagoniste. Passa  da Moira che scopriamo essere stata madre e tenera amante. In lei si staglia il valore dell'esser donna nel ricordo compassionevole per il figlio e nella delicata ma straziante assenza dell'amata.
Ecco, la perdita. Non esiste ricordo e valore della memoria senza una perdita, senza qualcosa che viene meno.
Moira aveva rischiato di perdere la sua umanità di pari passo con la perdita di Odette. Ma è nel suo ricordo, nel ricordo dell'amata che riscopre se stessa. "Puoi chiamarmi Odette", sentiamo proferire timidamente la dottoressa nel flashback. Il nome è presentazione. Diventa superamento della barriera istituzionale ("Non sono più il tuo medico"), incontro di anime, di uomini. Là affonda il primo passo e l'amore. Nell'incontro.
È lo stesso incontro, o meglio, ritorno, che unisce June con Janine ed Emily. Anche da loro passa l'onere della memoria. In loro promana un ritorno che si fa nuovo incontro, potenza della parola, profondità di un'emozione. In quello scambio di nomi c'è il senso dell'umanità che ritrova se stessa.
Un'umanità che dal dolore della perdita nell'attentato riscopre il desiderio di superare la distanza che separa due identità per ricomporsi nella splendida unione del sentirsi tutti, indistintamente, uomini. I nomi si svelano l'uno dopo l'altro, le ancelle non sono più ancelle. Sono donne. Di nuovo.
Come a inizio episodio avevano tolto il velo rosso dal viso così ora si spogliano della maschera di schiave per riscoprirsi donne.
"June. È il mio nome. Non sono mai riuscita a dirtelo". Se i nomi pronunciati durante la parata funebre in apertura erano nomi/non-nomi da schiave ("Dileo", "Dihal", "Diben", "Diduncan", "Dijohn"), quelli liberamente espressi in chiusura sono nomi autentici (Brianna, Joanna, Dolores, Janina). È tutto qui il senso di una lotta che ribalta lo status quo, che ribalta le coercizioni di un regime oppressivo e si impone come grido di libertà. Tutto in un nome. Lo stesso nome, associato a una foto, che costituisce l'autentico, vibrante commiato che le donne morte nell'attentato ricevono in Canada.
È proprio là, nella terra di libertà del Nord che ai cappi dell'impiccagione degli oppositori al regime si contrappongono visivamente i nastri bianchi appesi ai rami, simboli del lutto per le donne scomparse. La forza di tutte le donne, la Resistenza che si diffonde come un incontrollabile virus di nome in nome non si arresta qui. Non si ferma a June e alle sue amiche.
Ma passa anche da un'insospettabile interprete.
Meno insospettabile, a dire il vero, dopo lo scorso episodio. Serena già nella 2×06 si era svuotata del posticcio appellativo/non-nome di Signora Waterford, seppure in un flashback. Ora riconquista la sua identità di donna autonomamente. Riprende le redini dei suoi ideali, di quell'idea di mondo del quale era stata spogliata (e si era lasciata spogliare) a opera di uomini capaci di strumentalizzarla a ragion di potere. "Lui [il signor Waterford] non è qui, Serena", sussurra June alla donna. Serena.
La potenza del nome che riavvicina due identità. Che lega le individualità. Nel veder pronunciato il suo nome, Serena sembra ritrovare se stessa. Sembra reinvestita della sua forza di donna. E di donna punk, come l'avevamo definita nella precedente recensione.
Così, Serena, riesce a incastrare il generale Cushing, l'ennesimo uomo in balia della forza delle donne. Ma fa di più. Restituita alla sua dignità, riabilita anche June. "Sei una redattrice", afferma sicura, con un'interessante uso del tempo presente.
June, dopo aver riconquistato il suo nome, si riappropria della penna.
Quella penna che è espressione dell'affermazione di sé in un campo lavorativo ormai irrimediabilmente precluso, almeno fino a questo punto. E così il finale di questo immaginifico episodio di The Handmaid's Tale ci mostra che c'è un'alternativa alla rivolta violenta. Che, a volte, ha un potere più esplosivo spingere il tasto di una penna a molla che l'innesco di una bomba. Sta tutto nell'importanza del chiamarsi per nome e nella dignità di chi non smette mai di considerarsi uomo. Anzi, donna.
LEGGI ANCHE – The Handmaid's Tale: Feeling Good