The Flash è appena iniziato, e le cose iniziano già a mettersi malissimo per il nostro Barry Allen.
Nel finale della quarta stagione abbiamo lasciato i festeggiamenti del Team Flash in seguito alla sconfitta di Devoe e alla salvezza dell'intera città. Tutto sembrava proseguire bene, finché l'arrivo di una ragazza già vista nei precedenti episodi non ha lasciato tutti senza parole. Nora (Jessica Parker Kennedy), la figlia di Iris (Candice Accola) e Barry (Grant Gustin), è tornata nel passato compiendo un "grosso, grosso errore".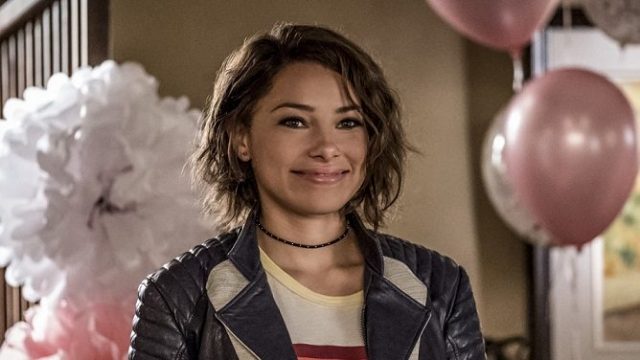 L'apertura della nuova stagione di The Flash non è differente dalle precedenti: i personaggi che amiamo maggiormente sono lì, insieme e il tempo pare non essersi mai fermato. Eppure la stagione è ricominciata il 9 ottobre e con essa i problemi che seguiranno all'arrivo di Nora.
Sono molte le domande che cercano risposta, così come i dubbi che sorgono in seguito a questo improvviso arrivo. Ma procediamo per ordine.
A partire dall'introduzione iniziale dell'episodio, ci rendiamo conto che i fatti saranno vissuti in prima persona da Nora. La giovane figlia dei West-Allen si farà chiamare XS: nel futuro è infatti l'eroina di Central City, che costantemente cerca di eguagliare il coraggio e le epiche imprese del padre. La ragazza spiega al Team Flash qual è il problema che l'ha spinta ad avere un contatto con la sua famiglia, correndo il rischio di alternare la linea temporale.
Nora non riesce a tornare nel suo tempo, rimasta ormai bloccata nel passato con i suoi genitori.
Nulla è dato al caso: il vero motivo che l'ha spinta a tornare indietro viene mascherato dalla giustificazione più banale che si potesse avere, e che non ha convinto granché gli spettatori. Trascorrere del tempo con i suoi genitori sembra infatti l'obiettivo principe della ragazzina, malgrado i rischi ai quali è andata incontro siano molteplici. In particolar modo, così come ci era già stato anticipato dallo stesso produttore esecutivo Todd Helbing, Nora vuole legare il più possibile con la sua figura paterna.
Ma questo non è affatto l'unico scopo di Nora.
Quello che scopriamo in questo episodio si collega, finalmente, al giornale che sin dalla prima stagione continua ad apparire come l'ancora di un futuro sicuro, eppure sconosciuto. Il titolo dell'articolo scritto da Iris nel 2024, "Flash scomparso. Svanisce nella Crisi", adesso è approfondito grazie all'intervento di Nora. Barry svanirà nel nulla, in circostanze misteriose, e non farà più ritorno (almeno, per i successivi 25 anni, cioè fino al 2049).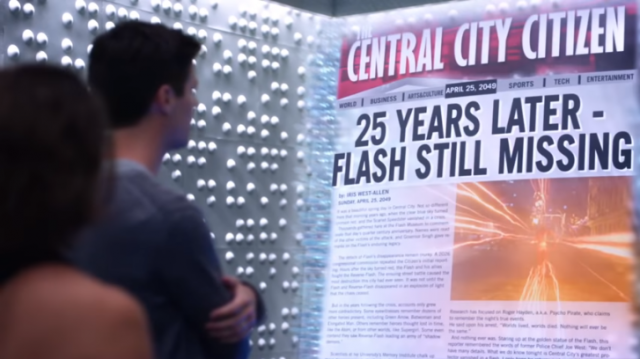 È questo il motivo che ha spinto la ragazza a tornare indietro nel tempo. Approfondire il suo rapporto con il padre del quale non ha alcun ricordo e, soprattutto, salvarlo. Perché il velocista scarlatto sia scomparso non viene spiegato, malgrado Nora sia decisa a scoprire la causa di tale sparizione. Non ci vuole un genio per capire che la figlia dei West-Allen ha rischiato di rovinare la linea temporale per salvare semplicemente il padre da un futuro già scritto.
Pare che la crisi attesa sin dalla prima stagione, annunciata dall'Anti-Flash, avverrà prima di quanto possiamo immaginare.
Non sappiamo con certezza se Nora riuscirà nel suo intento, ma le aspettative per questa quinta stagione sono altissime. Probabilmente ne sapremo di più nei successivi episodi, o addirittura nel crossover Elseworlds, che vedrà l'avvento di Batwoman nel DC Universe.
Ciò che possiamo sicuramente aspettarci dalla nuova stagione di The Flash è un gran numero di sorprese e colpi di scena.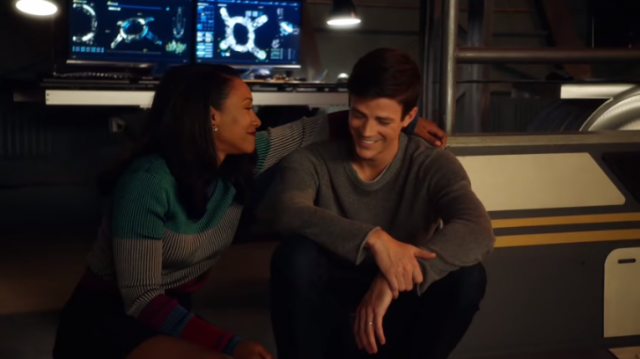 Le critiche mosse a questo episodio riguardano principalmente il modo di approcciarsi all'arrivo di Nora. Se Barry è stato riluttante sin dall'inizio nel vedere in giro la propria figlia proveniente dal futuro, Iris pare non curarsi delle possibili conseguenze causate dalla presenza di Nora. Dopotutto i viaggi nel tempo sono sempre stati un argomento principale in The Flash. Si avverte un po' di ipocrisia nei dialoghi dei personaggi, che cercano una qualsiasi giustificazione purché Nora continui a restare nella loro timeline. A parte questo, il modo in cui la nuova arrivata cerca di farsi coinvolgere nella vita del padre è quasi toccante. La scena in cui Flash, Kid Flash e la stessa XS cercano di far vibrare un aereo sul punto di precipitare è stata splendida.
Parecchie volte è stato ribadito come l'Anti-Flash sia la nemesi per eccellenza di Barry. Eppure in questo episodio non abbiamo potuto fare a meno di considerare quanto importante sia stata la sua figura nella vita del velocista scarlatto.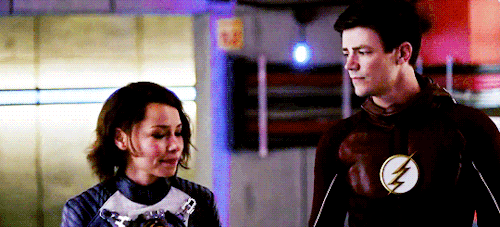 Barry usa infatti le stesse parole di Eobard Thawne per aiutare Nora a vibrare per la prima volta e salvare centinaia di vite. E ci riesce.
Il rapporto con la madre Iris è appena sviluppato: si avverte tensione, freddezza. L'interpretazione di Candice Accola è stata davvero umana, si percepiva quanto Iris soffrisse di quel distacco da parte di sua figlia. Il suo entusiasmo è spento sul nascere quando, durante il loro primo approccio, Nora non fa altro che ricercare Barry, quasi ignorando sua madre. Probabilmente nei successivi episodi la loro relazione verrà intensificata, rivelando il motivo di tale distacco. Per il momento, ciò che è certo è che il legame tra Nora e Barry è forte, ed incredibilmente tenero.
Nel corso di questo episodio si cerca di rispondere anche ai punti interrogativi riguardanti Caitlin, lasciati nel precedente finale di stagione.
Ebbene, dopo aver perduto la sua parte metaumana – Killer Frost – Caitlin (Danielle Panabaker) decise di chiedere aiuto a Cisco (Carlos Valdes), in modo da percepire la presenza della "collega". La rivelazione lasciò tutti senza parole, poiché grazie alle vibrazioni di Ramon si scoprì che la dottoressa Snow possedeva i propri poteri sin da bambina; quel ricordo mostrava infatti una piccola Caitlin giocare con la bici, prima di cadere e vedere in uno specchietto il suo alter ego, Killer Frost.
Un caso più unico che raro, visto che rappresenterebbe la prima metaumana ad aver acquisito i poteri prima dell'esplosione dell'acceleratore di particelle. Nella 5×01, grazie all'aiuto di Ralph Dibny (Hartley Sawyer), Caitlin scopre che il certificato di morte di suo padre è un falso. Egli potrebbe infatti essere ancora vivo.
In tal modo sarebbe possibile cercarlo per chiedere delucidazioni riguardo il suo passato, e come abbia ottenuto i suoi poteri.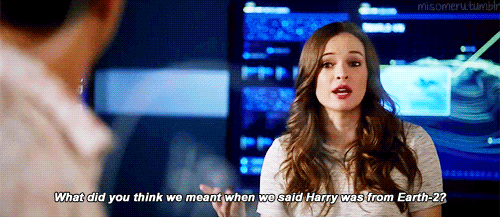 Le scene in cui Ralph scopre l'esistenza del multiverso, o il riferimento a Ritorno al futuro fatto da Barry e frainteso da Iris, sono state esilaranti.
Le successive battute poi sono state parte integrante di una Serie Tv che ci mancava ormai da troppo tempo. The Flash è anche questo: azione, ironia e amicizia, tutte in un unico show. I personaggi di Elongated Man, Kid Flash (Keyinan Lonsdale) e Cisco hanno avuto soltanto dei piccoli ruoli in questo episodio iniziale. Ciò non esclude che proseguendo con la serie, riusciranno a occupare nuovamente la scena come in passato.
La conclusione dell'episodio introduce infine il villain di cui si è tanto parlato durante l'attesa della questa quinta stagione: Cicada. Ebbene, il metaumano ha fatto il suo ingresso giusto pochi minuti prima della fine, eliminando il primo villain sconfitto da Flash in questo primo episodio, Gridlock, senza alcun ripensamento. Antagonista principale del velocista scarlatto non si fermerà dinanzi a nulla pur di eliminare ogni metaumano presente a Central City.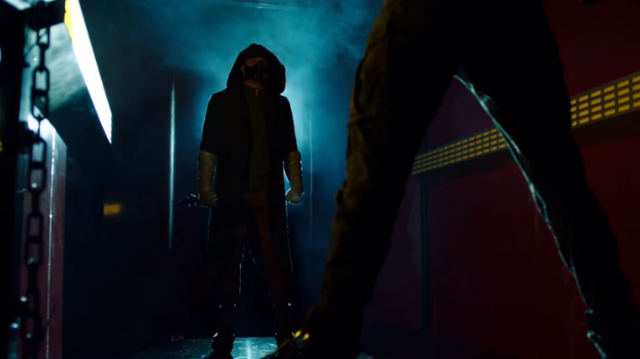 Ricordiamo infatti che il nemico di questa stagione, malgrado sia egli stesso un metaumano, prova repulsione verso tutti i criminali dotati di poteri.
Questo primo episodio di The Flash ci ha soddisfatto, ma non tantissimo. Forse perché ci aspettavamo più risposte, forse perché è stato sviluppato un po' troppo velocemente. Nelle stagioni precedenti il distacco tra la season finale e il nuovo pilot è sempre stato evidente, permettendo allo spettatore di elaborare quanto accaduto nel corso del tempo. Nel nostro caso, gli eventi sono ripartiti esattamente da dove li avevamo lasciati, ed è stato giusto così. Forse abbiamo solo bisogno del secondo episodio al più presto e che la serie riprenda il ritmo incalzante a cui siamo abituati. In ogni caso, è bello riavere il supereroe scarlatto dinanzi a una nuova sfida.
Quella di far conciliare il proprio futuro con il suo presente, ancora da scrivere.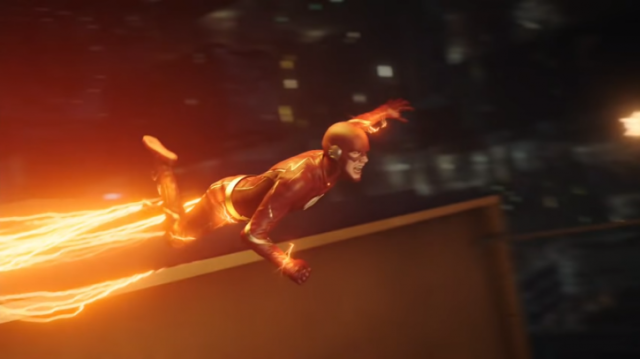 Siamo certi che Nora gli darà del filo da torcere. Possiamo aspettare lacrime e improvvisi disastri causati proprio dai due velocisti di Central City, perché in The Flash succede sempre così. Saranno parecchie le novità di questa quinta stagione: l'arrivo di nuovi personaggi e il ritorno di vecchi. Risposte a domande lasciate in sospeso e soluzioni da trovare per sanare un futuro incerto e ancora confusionale.
In attesa del prossimo episodio ("The Death of Vibe"), non ci resta che tenere le dita incrociate e fare il tifo per la nuova velocista di casa West-Allen.
Il futuro è ormai nelle sue mani.