Confermo che quest'anno è iniziato ottimamente per The Big Bang Theory, che mette a segno un'altra ottima puntata, questa 11×13.
Un ritorno alle origini intelligente, perché finalmente si parla di nuovo di fisica.
Sheldon, infatti, è in crisi: tutti i suoi colleghi sono a buon punto con il proprio lavoro, mentre lui è bloccato. Non riesce ad andare avanti con la materia oscura e non ha altri progetti. Insomma, è in una fase di stallo.
Ultimamente la scienza ha latitato in The Big Bang Theory, e forse è questa una delle cose che ha fatto calare la Serie, oltre alla ormai mancanza di originalità. Ma forse le cose adesso stanno cambiando.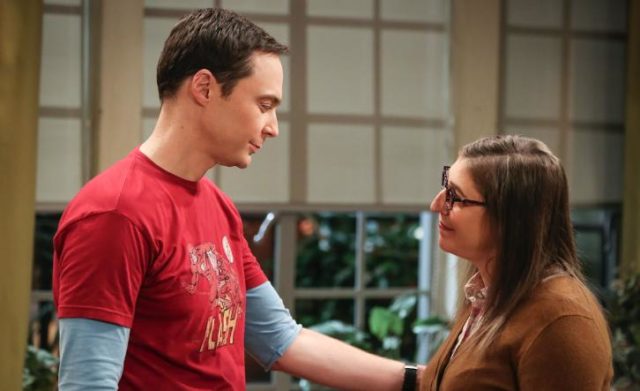 Questa 11×13, infatti, è divertente e fresca come le vecchie puntate di The Big Bang Theory. Pur riprendendo delle situazioni della Serie Tv e rivisitandole, stranamente non risulta noiosa né ripetitiva, segno che il ritmo funziona. In realtà, tutta la puntata funziona.
Dopo aver capito di essere a un punto morto, Sheldon decide di rimettersi a lavorare su consiglio di Amy, ma la ragazza viene prontamente "cacciata" di casa da Sheldon, perché non lo fa concentrare. Amy, ovviamente, si "rifugia" da Leonard e Penny, che non possono fare altro che accoglierla. E si crea una forte complicità di tra Leonard e Amy, che iniziano a fare esperimenti insieme. Chiaramente non è una complicità di tipo romantico, ma la cosa infastidisce ugualmente Penny, che si annoia. E così va da uno Sheldon ancora più in crisi perché, pur cercando di lavorare, non ci riesce. Addirittura fa dei calcoli sulla possibilità che aveva sua madre – che l'ha chiamato – di incontrare un ex vicino di casa.
Molto simpatica la scena in cui lui le chiude il telefono in faccia, ma poi la richiama perché non sopporta di non sapere le cose.
Comunque, Penny va dà Sheldon con una pizza (bussando ironicamente tre volte e dicendo il suo nome – tenendo conto che quello dove adesso vive Sheldon era l'appartamento di Penny, è stato un richiamo decisamente nostalgico, che ha funzionato a dovere). E gli fa notare che la materia oscura è la sua "scienza di ripiego", perché in realtà lui è ancora innamorato della teoria delle stringhe, che aveva lasciato perché non riusciva a fare passi avanti.
C'è un dialogo piuttosto divertente in proposito, con Penny che finge di capire le spiegazioni di Sheldon. Uno Sheldon che, alla fine, riesce a risolvere la teoria delle stringhe, proprio grazie al contributo di Penny. E, a tal proposito, è epica la scena successiva, in cui Penny torna a casa da Leonard e Amy, affermando con molta nonchalance di aver aiutato Sheldon a risolvere la teoria e accennando a un linguaggio tecnico. Ho adorato, davvero.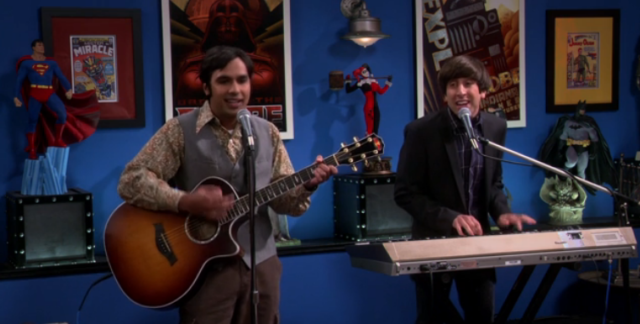 L'altra storyline di questa puntata di The Big Bang Theory, invece, riguarda Howard e Raj, che devono suonare a un bar mitzvah, con il gruppo che avevano creato tempo fa. Ma Howard è molto occupato con la figlia e il lavoro, specie tenendo conto che Bernadette è ancora a letto per via delle complicazioni della seconda gravidanza. Così, Howard chiede a Raj di sostituirlo, rimanendoci malissimo quando Raj non si fa alcun problema a farlo. Chiama, infatti, immediatamente Bert, il geologo.
Allora cerca di mettersi a comporre la sua musica, ma subito Bernadette lo rimanda da Raj. E decidono di lasciare anche Bert nel gruppo, che ha dato il suo contributo con una canzone sui massi. Divertentissima, così come quella su Sherlock Holmes e il Dottor Watson che cantano Howard e Raj mentre provano.
Insomma, una puntata simpatica e divertente, questa 11×13 di The Big Bang Theory che ci fa passare venti piacevolissimi minuti. Speriamo solo che anche la prossima puntata sia all'altezza!