Torna l'appuntamento con The Alienist e torna quindi la caccia tra le vie oscure e malfamate della New York del 1896. Mentre i nostri protagonisti tentano in tutti i modi di incalzare il killer, non si rendono conto di essere loro stessi sempre più messi alle strette.
Il sesto episodio di The Alienist intitolato "Ascension" ci mostra come la capacità umana di mandare tutto all'aria sia impeccabile e puntuale. Il piano messo in atto dal gruppo fallisce non una ma ben due volte, la prima a causa di fattori esterni mentre la seconda per la disattenzione di alcuni personaggi e la stupidità di altri. Nel quarto episodio (qui la recensione) avevamo scoperto l'identità di Silver Smile, o così almeno credevamo. Perché nello scorso episodio è sembrato chiaro che Van Bergen, ricco e facoltoso rampollo di buona famiglia con inclinazioni piuttosto particolari, non abbia in realtà nulla a che fare con il vero serial killer. Questo episodio conferma la teoria di Kreisler quando infatti il giovane viene ucciso mentre al bordello si presenta una figura misteriosa.
Un sesto episodio che ci lascia sbigottiti più per gli eventi riguardanti i singoli protagonisti che per l'evoluzione della trama in generale.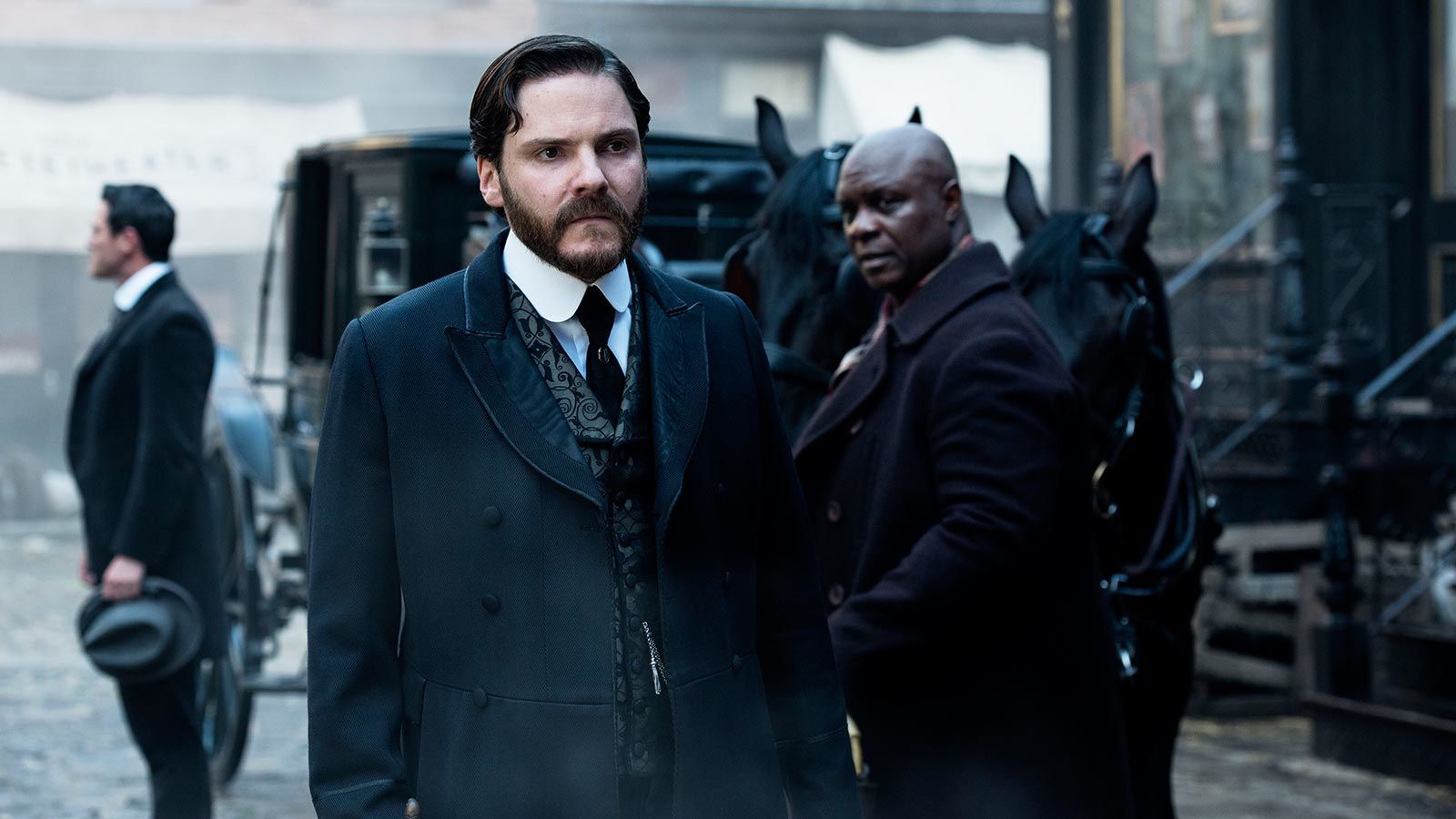 Per le strade di New York un cavallo bianco giace a terra morto. Il suo candore circondato dallo sporco dei ragazzacci di strada, rappresenta l'innocenza spezzata delle giovani vittime del serial killer. 
In questo panorama angosciante continua la caccia di Laszlo, Sara e John i quali sembrano arrivati a un punto di svolta dopo la scoperta della scorsa puntata. Il killer parrebbe colpire ragazzi di strada che gli ricordano l'ambiente in cui egli stesso è cresciuto, gli omicidi inoltre seguirebbero le ricorrenze religiose. C'è un che di mistico quindi nel terribile atto che l'omicida compie, egli lo fa per rendere omaggio o come atto di spregio? Forse si potrebbe protendere per la seconda opzione.
Ma il piano, di per sé ingenuo, fallisce per ben due volte. Il giovane Steve si fa convincere a fare da esca ma quando dentro il bordello cattura le attenzioni del killer, gli altri sono tutti presi dai loro problemi personali per fare alcunché. Il risultato? Un altro ragazzino viene trovato sfigurato e ucciso ai piedi della Statua della Libertà.
I suoi omicidi sono una blasfemia. Contro la religione e poi contro la libertà, santa protettrice della democrazia.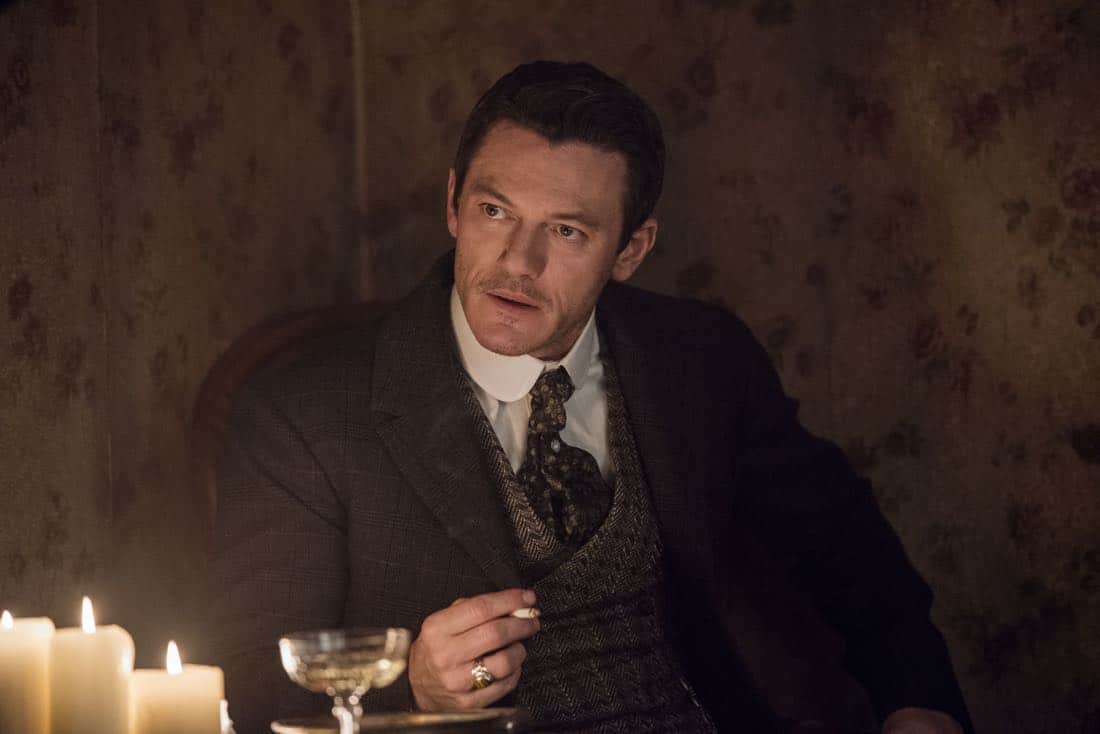 E mentre l'intelligenza del killer viene sottovalutata, tanto da portare a tragici risultati e a una situazione di stallo per le ricerche, il rapporto tra i nostri protagonisti giunge a un punto di svolta. 
Moore ha smesso di bere, l'abbiamo già visto nello scorso episodio, e la sua forza di volontà sembrerebbe rivelarsi maggiore di quella del collega Laszlo. Kreizler ci è stato presentato fin da subito come un uomo razionale e pratico, qualità che hanno attratto la giovane Sara affascinata dalla sicurezza dell'uomo, ma questa impassibile maschera sembra stia andando in pezzi a poco a poco. Un passato misterioso aleggia intorno al dottore e a scoprire maggiori indizi è proprio la segretaria, asso nella manica del gruppo. 
In uno dei momenti più intensi dell'episodio, Kreizler schiaffeggia Sara rivelando tendenza violenta e irascibile che spaventa la donna e lascia attoniti gli spettatori.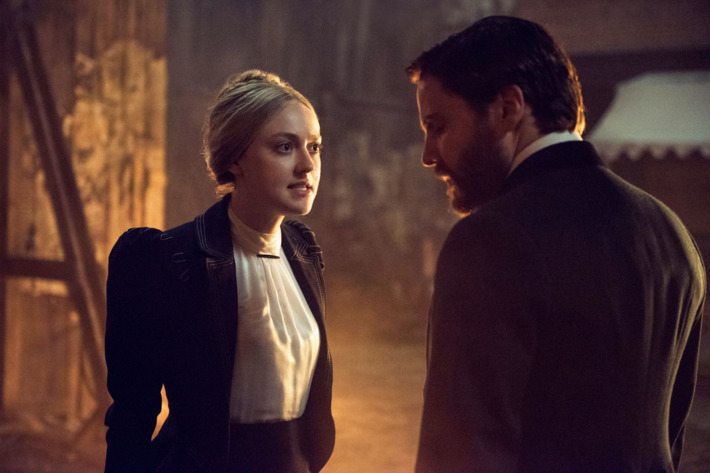 In conclusione il sesto episodio di The Alienist non segna un passo avanti di rilievo nella storia ma quanto nell'evoluzione dei personaggi. Io credo che a questo punto mentre la consapevolezza di Moore e Sara all'interno della vicenda sia più forte e chiara, quella invece di Kreizler vacilla tra fantasmi del passato, desideri nascosti e una insicurezza della propria capacità di giudizio. Ma soprattutto la domanda che adesso mi pongo è: Kreizler è davvero chi dice di essere?