ATTENZIONE: questo articolo contiene SPOILER sulla 4×11 di Riverdale.
L'inverno è finalmente arrivato nella cittadina di Riverdale e con il freddo si fanno più pungenti anche le ostilità tra Riverdale High e Stonewall Prep. Nella scorsa puntata (qui trovate la nostra recensione), le due scuole rivali si sono affrontate sul campo da football, senza esclusione di colpi e inganni. Oggi, invece, le vediamo affrontarsi in un Quiz Show, quello per cui Betty ha allenato senza tregua Veronica, Cheryl e Toni fino ad arrivare alla sfida finale contro la scuola del suo ragazzo, capeggiata (ovviamente) da Bret.
È interessante notare come, dato il flashforward del precedente episodio che aveva avuto come protagonisti Betty e Bret, la 4×11 di Riverdale si concentri molto sui loro personaggi. La giovane Cooper, infatti, continua imperterrita nel proprio ruolo di investigatrice, con l'intenzione di scovare tutti i segreti di Bret e di intimorirlo con qualche sciocca provocazione. Il capo della squadra della Stonewall, però, non si lascia spaventare perché conosce il punto debole della sua avversaria: la vergogna di aver avuto Hal Cooper (aka The Black Hood) come padre.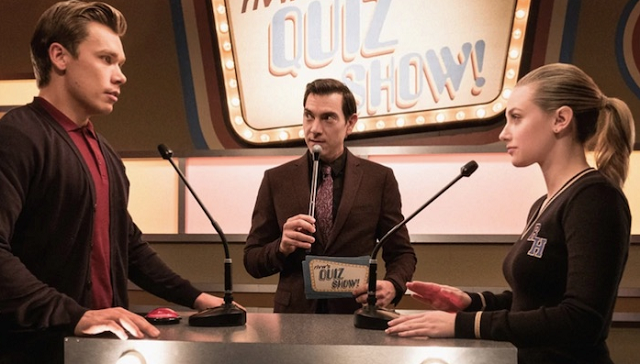 Bret rivela a Betty che Jughead ha in programma di scrivere il romanzo dei Baxter Brothers con protagonista il famigerato Black Hood, serial killer di Riverdale.
Un colpo basso per il Serpent che, consapevole di poter ferire la persona a lui più vicina, ha comunque scelto di assecondare la richiesta dei suoi superiori. Come se non bastasse, il fantasma di The Black Hood torna a tormentare Betty ancora una volta quando la giovane scopre di non essere stata ammessa a Yale, al contrario di Jughead e Bret, in quanto figlia di un noto criminale. In un impeto di frustrazione, rabbia e profonda delusione, il suo primo pensiero è quello di recarsi dal padre e, di fronte alla sua tomba, riversare tutto l'odio contro una lastra di pietra. In una scena che ci mostra la Betty umana e vulnerabile, Alice è l'unica in grado di consolarla, promettendole vendetta contro Bret e i reclutatori di Yale.
È così che la vedova Cooper, adulta consapevole dei rischi che corre e che farebbe correre a Betty, decide di fornire a sua figlia le risposte per il Quiz contro la Stonewall. Ovviamente, nonostante la giovane decida di non usufruirne, queste finiscono per tornare a galla nel momento sbagliato e per procurare notevoli danni alla sua carriera accademica e a quella giornalistica di Alice. Una scelta sciocca e incomprensibile la sua, un'involuzione nel percorso di crescita del personaggio interpretato da Mädchen Amick.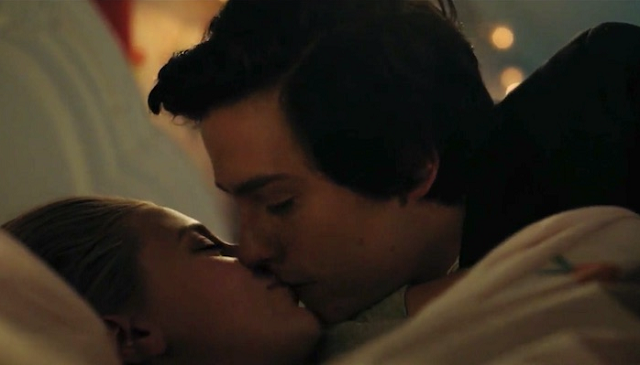 Nonostante l'importanza di Betty nella 4×11 di Riverdale, anche Archie, Veronica e Cheryl devono fronteggiare diverse difficoltà.
Archie inizia ad aprire gli occhi sulla vera natura di suo zio Frank, inaffidabile e bugiardo, che lo mette nei guai con il cantiere di Fred (morto a seguito di un incidente nel primo episodio della stagione) e con tutti gli operai che vi lavorano, compreso Tom Keller. Al giovane Paladino Rosso sembra non andare mai nulla per il verso giusto. Quella che poteva essere per lui un'importante figura paterna, si sta rivelando nient'altro che un uomo disposto a rubare i soldi degli operai per investirli in una "scommessa dalla vincita sicura". Ancora una volta, Archie Andrews si è fidato della persona sbagliata.
Veronica e Cheryl, invece, cercano di procedere con determinazione nel progetto del rum, anche senza licenza per gli alcolici. Per questo motivo La Bonne Nuit, da locale clandestino, si trasforma in una sala da ballo. Questo non ferma papà Hiram che per l'ennesima volta intralcia la felicità di sua figlia, distruggendo tutta la riserva di rum. Tralasciando il fatto che due giovani liceali americane non dovrebbero poter bere, figuriamoci vendere alcolici, Ronnie e Cheryl spostano la loro produzione nell'ex bordello di Penelope, sperando di fare affari con qualcuno dei suoi vecchi clienti.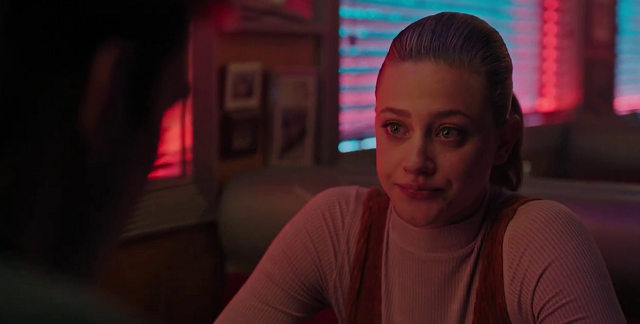 Infine, l'immancabile flashforward degli ultimi minuti, risalente a un mese dopo gli avvenimenti della puntata, questa volta presenta una scena difficile da decifrare, che serve a poco per la ricostruzione dell'accaduto, se non a mostrarci una Betty distrutta dall'assenza di Jughead. Un'assenza su cui è ancora tutto da scoprire, e l'attesa comincia a diventare snervante, perché nulla in questo e negli episodi precedenti sembra condurre al motivo per cui Jughead Jones dovrebbe essere stato ucciso, né a chi potrebbe averlo fatto.
Riverdale sta riducendo gli elementi crime a questi pochi minuti, lasciando la ricostruzione della vicenda alla fantasia del pubblico. Un metodo forse non proprio efficace per mantenere alta l'attenzione. Solo andando avanti con le puntate vedremo se questa serie riuscirà a sciogliere i nodi della trama al meglio.