Spoiler Allert! Non leggete oltre se non avete visto (o non volete sapere niente de) l'episodio 13×02, "Catastrophe and the Cure" di Grey's Anatomy, in cui le cose per Karev si mettono male.
Dopo 12 lunghe stagioni Grey's Anatomy è tornato con un "mai una gioia", stavolta per Karev, anche se OVVIAMENTE Meredith non è esclusa. Infatti la puntata iniziale si è aperta con De Luca portato nel nostro amato/odiato ospedale sotto spalla del suo assalitore Alex.
Tutto questo a causa di un grosso malinteso, infatti la sua ragazza Jo Wilson era ubriaca e De Luca la stava assistendo quando sbilanciato è caduto su di lei nel momento in cui Karev rientrava in casa. Purtroppo ha vinto il suo vecchio istinto di prenderlo a pugni. Tutto ciò implica che, nel frattempo, durante il matrimonio di Owen e Amelia, non sono nemmeno riusciti ad arrivare al ballo senza ulteriori problemi e medici che devono correre in ospedale prima del tempo…
Ciò non di meno, c'è da considerare che pensava che lui stesse approfittando della sua ragazza. In ogni caso la puntata scorsa ci ha lasciati con Alex che confessa di essere stato lui a rovinare la faccia di De Luca, mettendo a rischio addirittura la sua vista e di conseguenza la sua carriera da chirurgo. Nel frattempo Meredith stava andando, dopo una serie di esitazioni, a raccontarlo alla Dottoressa Bailey, impossibilitata moralmente a tenere il segreto in quanto chirurga, mentre li tiene facilmente alla sorellastra riguardo all'uomo che piace ad entrambe, il Dottor. Riggs.
In ogni caso ritroviamo Karev che, nervoso, si prepara ad affrontare una nuova giornata di lavoro e le conseguenze del suo comportamento. La Bailey inoltre si rende conto che ha bisogno di più occhi e orecchie all'interno dell'ospedale e chiede al marito di adempiere a questo compito, così come lei aveva fatto negli anni con Webber. Al suo rifiuto compare dal nulla Webber e si propone di farlo lui stesso, perché è in grado di muoversi senza essere visibile, e sparire senza che nessuno se ne accorga. Detto questo scompare, mille punti stima!
Le accuse e la controparte
"No matter how bad it gets, no matter how scary.. nothing is bad as broccoli"
Questa citazione è solo un esempio di un Karev che nel corso della puntata viene frequentemente mostrato nelle sue spoglie di chirurgo pediatrico. Viene riconosciuto quanto sia cambiato nel corso delle stagioni, da bulletto sarcastico che era nei primi episodi a difensore dei poveri bambini ammalati, africani e non.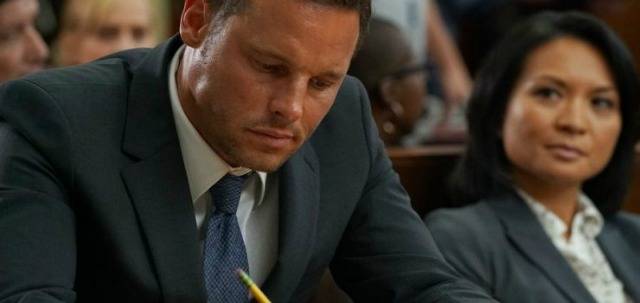 Purtroppo però deve affrontare un'accusa di reato, più grave ancora di quello che si era sospettato, e tuttavia continuare a lavorare con il costante timore di andare in prigione come tutti i suoi amici di gioventù, una gioventù da cui pensava di essersi allontanato del tutto già dal momento in cui ha scelto di iscriversi a medicina.
D'altronde con tutti sti pensieri, e incontrando poi anche Jo, per nulla disposta a perdonarlo, gli sfuggono dei segni di infezione di uno dei suoi pazienti che finisce per rischiare il rene appena trapiantato. Un errore dopo l'altro Alex si butta sempre più giù e Meredith cerca goffamente di aiutarlo, perché è parte della famiglia di vecchia data, tra l'altro uno dei membri originali della serie. Credo che ne siano rimasti solo quattro, questi due più Bailey e Webber, Grey's Anatomy li sfoltisce peggio di Game of Thrones!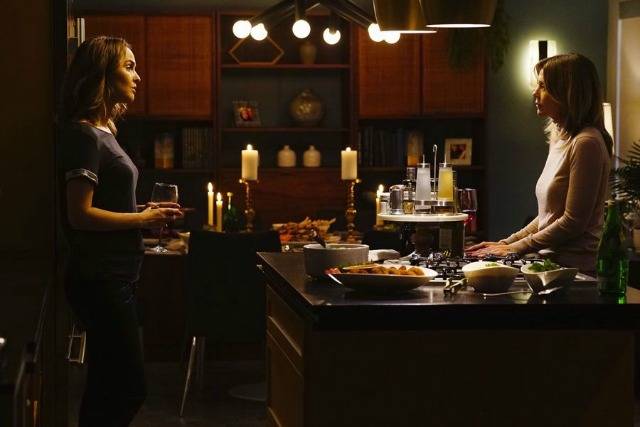 Comunque alla fine Meredith salva il rene del bambino e la Bailey, dopo averci fatto capire quanto sia delusa da Karev, spiega che è perché era quello che era migliorato di più lì dentro, e vederlo "regredire" così è un gran speco. Severo ma giusto, lo farà lavorare in ambulatorio per ora, grazie ad una delle informazioni che le ha fornito il Dottor Webber.
April, Jackson e Harriet.. famigliola non molto felice
Sì, nemmeno ad April non gliene va bene una. Dopo essere stata tagliata per bene per salvare lei e la sua bambina, è arrivato il momento per lei di finire le terapie per la ferita: peccato che la bambina sia pronta ad andare a casa senza di lei. Così Jackson si prende cura della neonata e anche di April, che però non vuole essere aiutata in nessun modo, visto che sono divorziati, e non dimentica di ribadirlo.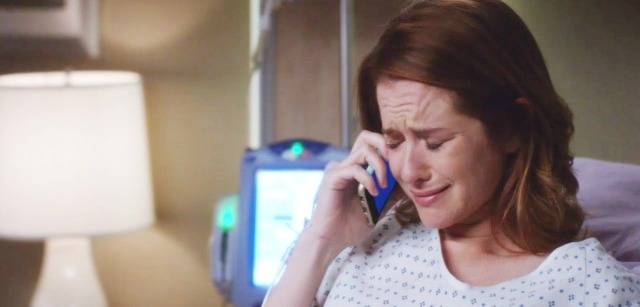 Il carattere di April è forte, lei è certamente una donna determinata, ma qui non si accorge di quante belle cose ha a causa della sua condizione di obbligata a letto: la sua bambina è sana, cosa non banale in questo caso, visto il dramma della volta prima, e Jackson le sta vicino il più possibile.. sembra anzi lasciarci intuire una possibile sistemazione per questi due, anche per come Avery ha reagito alle parole di Webber, che lo invita ad aiutarla in ogni caso e ad essere tenace.
Meredith però non ne fa una giusta!
Meredith in questa puntata è stata in grado di perdere tanto. Già dal fatto che dopo aver promesso a Pierce di non mentirle più, in realtà sapevamo che le ha tenuto nascosto e raccontato il falso un secondo dopo, si capisce che si sta cacciando in un bel problema.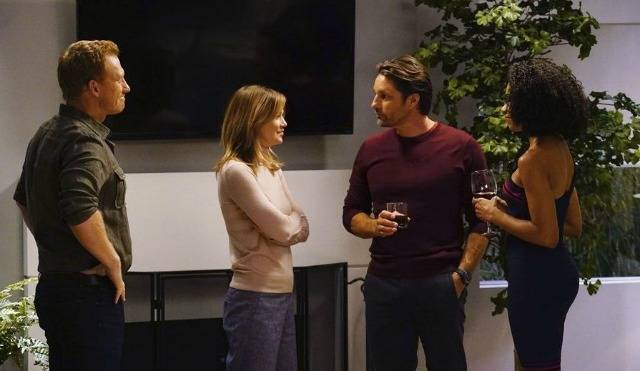 Inoltre la spinge a chiedergli di uscire pur di mantenere la sua copertura, ma poi corre da Riggs e gli dice, anzi gli annuncia che la sorella gli avrebbe chiesto di uscire e lui a quel punto avrebbe dovuto rifiutare gentilmente. Peccato che lui sia stato talmente gentile che Pierce ha semplicemente deciso di dargli tempo anziché toglierselo dalla testa, come era palesemente il piano di Mer.
Inoltre, consapevole di ogni dettaglio della vita di Alex che ultimamente ha preso il ruolo di "persona" di Cristina, non per sua volontà, Meredith riesce comunque ad incastrarlo ulteriormente nella melma di problemi in cui Karev nuota in sta nuova stagione.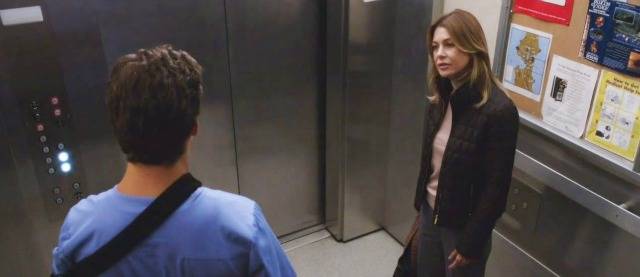 Esempio chiaro e palese è certo quando in ascensore sceglie di parlare con De Luca e finisce con l'usare parole completamente sbagliate tanto che lui crede di esser stato minacciato. Inoltre lo racconta a Karev distraendolo dai risultati dell'esame del bambino con il rene trapiantato, lo invita alla cena da Owen e Amelia solo perché lei deve andare per Riggs ma non sapendo che c'è Jo e quando la incontra, fa anche l'errore di parlare di Alex.. Non impara mai..
Un po' nella seconda parte della puntata si riprende e fa qualcosa di buono come salvare il rene del bambino, e ancora consolare Karev in maniera più efficiente, ma poi finisce parlando di famiglia come persone che si aiutano "Dalla culla alla tomba" rivolta a sé e Alex, ma poi si scorda della sua "vera" famiglia, quella con Pierce e Amelia.
Insomma una puntata con degli alti e bassi per i personaggi in generale, è un peccato che non viene seguita molto la parte di De Luca, nel senso che sappiamo che porta rancore ma poco altro, come fosse secondario, e anche un po' criticabile che Jo viene mostrata come l'acida di turno, senza tante spiegazioni, a parte un po' ad Amelia, ma messe da parte in fretta nel corso della puntata. Sembra piuttosto un puntata preparativa, in attesa di qualcosa di grosso. Vedremo che succederà…