Non so voi, ma io una Serie Tv con protagoniste Olivia Pope e Annalise Keating so di volerla. Non mi ero resa conto però di quanto, prima di vedere la 7×12 di Scandal e la 4×13 di How to Get Away with Murder.
Mi è bastata una singola scena nell'episodio 4×12 di How to Get Away with Murder perché la mia aspettativa salisse alle stelle e, francamente, sono felice che – almeno stavolta – Shonda non mi abbia deluso.
Ma, del resto, Shonda non delude praticamente mai quando affronta tematiche delicate come quelle dei diritti.
Non delude quando si tratta di rappresentare in maniera intelligente i personaggi LGBT o i personaggi di colore. E la ringraziamo di cuore per questo.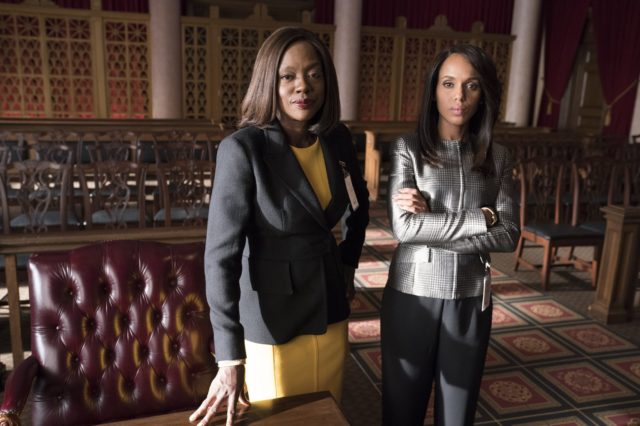 Faccio questa premessa perché in queste due puntate i diritti e il razzismo sono stati il tema portante. Insomma, potevamo già immaginarlo visto che la class action di Annalise è stata una delle principali storyline di questa quarta stagione di How to Get Away with Murder.
Ma analizziamo le puntate. Nella 7×12 di Scandal solo Annalise e Michaela erano presenti. E abbiamo assistito – oltre che a una Michaela comprensibilmente isterica per essere in presenza dei due Presidenti – alla definizione del rapporto tra Olivia e Annalise. Entrambe, infatti, sono due donne forti, abituate a combattere da sole – o quasi – le proprie battaglie. Abituate a non fidarsi di nessuno. Sono donne abituate a comandare, a risolvere i casini di chiunque… a parte i propri.
A ciò si aggiunge un certo livore di Olivia nei confronti di una donna così simile a lei. Livore che si trasforma in rispetto e persino ammirazione quando capisce che Annalise non ha intenzione di fermarsi davanti a niente. Che ha bisogno di quella class action esattamente come ne ha bisogno lei.
Michaela, invece, è alle prese con l'attrazione che prova per Marcus Walker, che è esattamente l'uomo dei suoi sogni. Peccato che però sia fidanzata con Asher, come tutti sappiamo. Eppure, nonostante le remore iniziali, ci finisce a letto. E tutti, da Connor a Oliver, passando per Laurel, lo capiscono appena li vedono insieme. Tutti, tranne ovviamente il nostro ingenuo Asher, che invece si ritrova ad ammirare Marcus.
Sono sicura che questa bomba esploderà entro la fine di questa stagione di How to Get Away with Murder. Dobbiamo, quindi, aspettarci una rottura? O riusciranno a superare questo tradimento? Personalmente, propendo per la prima ipotesi, specie dal momento che Asher era già decisamente provato dall'altro tradimento di Michaela, l'alleanza della ragazza con Laurel.
I ragazzi della Keating hanno fatto poco in questa puntata, ma comunque hanno portato un po' avanti le storyline: Frank rivela finalmente a Laurel che sua madre le ha mentito, che potrebbe addirittura avere a che fare con la morte di Wes; Connor viene ringraziato pubblicamente da Annalise per l'apporto alla class action, cosa che Michaela non sembra prendere benissimo. Inoltre Simon si sveglia dal coma mentre Isaac Roa, il terapista, è in coma per overdose.
Comunque, a spiccare è Viola Davis, com'era prevedibile. Al centro di tutto il suo personaggio riesce a cavarsela. Grazie all'aiuto di Olivia, è vero, ma soprattutto grazie alla sua enorme forza d'animo.
Non si fa scoraggiare quando Olivia le urla contro che non è abbastanza, che la sua reputazione è totalmente rovinata e che è un pericolo per la stessa class action, che dovrebbe fare un passo indietro. Non si fa spaventare dal rifiuto di Mellie, la Presidente, né dalla corruzione di un giudice. Insomma, Annalise è sempre Annalise e alla fine riesce a coronare il suo sogno: discutere un caso davanti alla Corte Suprema e vincere.
Ultimo appunto: fenomenale la scena in cui Annalise va in crisi, proprio poco prima di andare davanti alla Corte Suprema e chiede della vodka. La fragilità di Annalise viene fuori, ma anche la sua forza, perché – grazie all'aiuto di Olivia – lei quella vodka non la usa.
Insomma, queste due puntate di Scandal e di How to Get Away with Murder sono state una montagna russa, una scarica continua di adrenalina. In pratica: sono state tutto quello di cui avevamo bisogno.