# #
Lo ammetto, questo nuovo episodio di How To Get Away With Murder mi è particolarmente piaciuto. Il ritorno di Donna Ophelia per salvare la sua amata Anna Mae; lo sfogo di Laurel al funerale di Wes; Nate e Olly che ci hanno mostrato un nuovo lato di sé… ma soprattutto lei: Annalise!
# #
La leonessa ha deciso di tirar fuori gli artigli!
Ed era pure ora, aggiungerei!
Prima di buttarci a capofitto nel nuovo delirio di How To Get Away With Murder, un piccolo riassunto della puntata precedente (per i dettagli, leggete qui). I Keating Four in preda a svariate crisi nervose stanno precipitando nella depressione, mentre Bonnie sta tentando in tutti i modi di scagionare Annalise, o perlomeno di farla uscire da galera. Per farlo ci spedisce il mio bel manzone in galera – si, Frank, logico no?! – ma questo non aiuta nessuno. Nate è combattuto tra il dire e il fare (la cosa giusta) e un'Annalise ammosciata continua a piangersi addosso in cella in compagnia di due allegre signore.
# #
Molto bene, ci siete? Possiamo cominciare!
Torniamo alla sera dell'incendio, a quando Frank sta pedinando Wes per conto di Bonnie. La donna sta tentando di ricattare Nate per farsi dire qualcosa, quando Frank la chiama spiegando che lo ha perso di vista. Entrambi sono d'accordo sul non fargli del male, il che questo, a mio giudizio, è un tantino sospetto…
…Ma mai quanto un Wes che si spaccia per "Christophe" dopo aver chiamato un numero di emergenza!!!
Ci siamo persi qualcosa di fondamentale?!?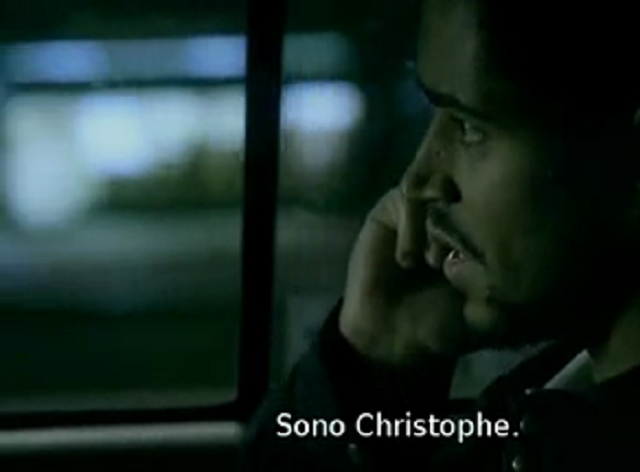 Nel presente, Laurel sta per essere dimessa dall'ospedale, con Michaela che prova in tutti i modi a tirarla su con un bel paio di abiti nuovi. Non sembra avere troppo successo però! È il giorno del funerale di Wes, e lo stesso dell'udienza di Annalise. Tra una Bonnie che ripete la sua arringa allo specchio e i Keating Four pronti per la messa dell'amico, anche Frank appare a rallegrare i miei occhi perché si trova in aula con Annalise in questo strano processo dai doppi indiziati.
Alla cerimonia per Wes Laurel sta spendendo due parole d'amore verso il suo ragazzo, cominciando però con il piede sbagliato… per finire ancora peggio! Sbraita contro tutti i presenti, affermando che nessuno lo conoscesse davvero, e che magari sono anche contenti per la morte di un potenziale avversario.
Fantastica! Finalmente una scena decente in cui mostra una qualche emozione sincera!
Era ora!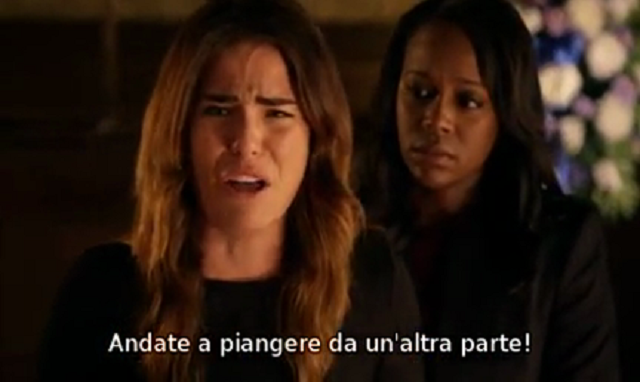 Si trascina giù dal leggio e sparisce superato il portone della chiesa.
Nello stesso momento, in aula, Annalise intravede la madre fare capolino nella stanza. Con sua – e di Bonnie – enorme sorpresa, la povera vecchina deve subire l'ennesima bocciatura della richiesta di cauzione della figlia. La procura sembra essere sempre un passo avanti, qui sento puzza di bruciato. Ma ci ritorneremo in seguito. E Frank chiede al suo avvocato di essere più clemente verso la prof., e di seguire le sue indicazioni. Anche questo sembra un po' sospetto, e anche su questo torneremo in seguito…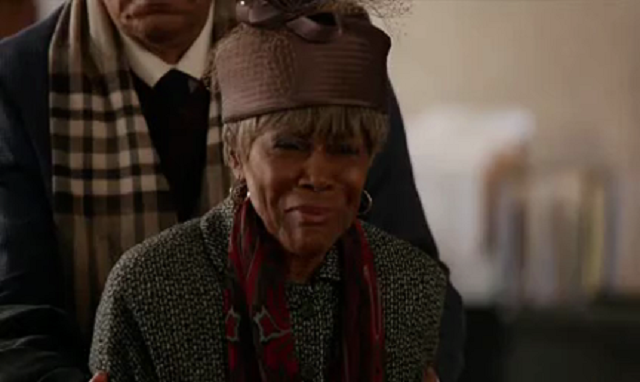 Tornata in gabbia, Annalise è ancora sconvolta, e questa volta non lascia correre le accuse della compagna di cella attaccabrighe, al contrario, le inveisce contro che se non tiene a freno la lingua, "sarà la volta buona che uccide qualcuno".
Laurel non risponde alle chiamate dei compagni, e la vediamo in obitorio dove tenta di visitare il corpo di Wes per l'ultimo saluto. Ma la dottoressa si rifiuta, pregandole di andare dal procuratore per avere l'autorizzazione. Ancora fuori dalla chiesa, i detective chiamano Oliver al cellulare, chiedendogli di passare per fare due chiacchiere. Il ragazzo sta per avere un crollo nervoso, ma questo è l'ultimo dei suoi problemi.
Ophelia va a trovare la figlia in galera, raccontandole di aver sgridato Nate per non averla aiutata, e che ora avrebbe preso in mano la situazione. Si consegnerà alla polizia raccontando la verità, di come sia stata lei a incendiare la casa. Annalise è sconvolta: sua madre soffre di demenza, sta confondendo l'omicidio del cognato e il rogo avvenuti tanti anni prima con il suo caso, sotto lo sguardo sconvolto del padre.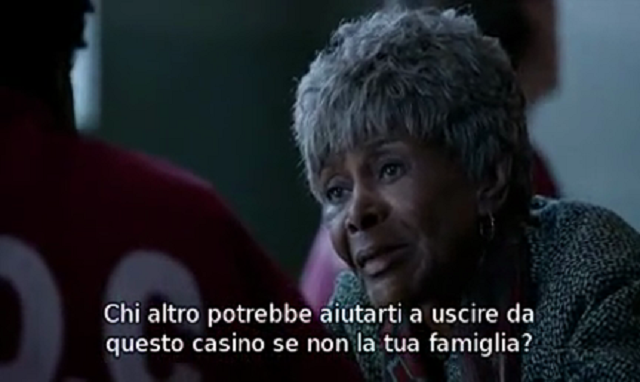 I Keating rimanenti e Bonnie stanno preparando Ollie all'interrogatorio, con poche speranze che possa riuscirci. Eppure, sotto una pressione che sta per seppellirlo, lo supera brillantemente. È davvero un ottimo bugiardo, dopotutto.
Con sommo dispiacere di Connor, che realizza finalmente quanto poco "illibato" sia il fidanzato…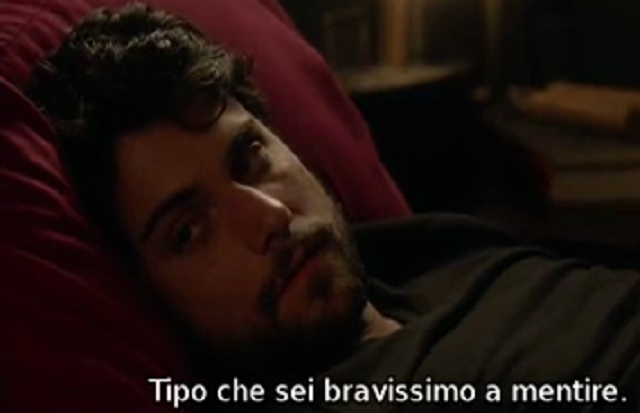 Laurel è ancora data per dispersa, solo che ora sta tampinando Nate per farsi dare una mano ad entrare in obitorio. E ci riesce. Mentre si sta preparando a salutare per l'ultima volta Wes, Nate apre la cella e… Wes non c'è!!! Al suo posto si trova un altro cadavere. Che fine ha fatto?
Nate piomba nell'ufficio del procuratore e li riempie di minacce per negligenza, mentre Bonnie annuncia a Annalise la bella notizia. La prova che la incastra è scomparsa, e fa prendere loro una boccata d'aria fresca. Ma nonostante ciò Annalise sembra ancora poco incline a festeggiare, la prega di lasciarla in pace ma di provvedere alle cure della madre. È l'unica cosa che conta.
E finalmente Laurel torna a casa, dove Michaela le fa una ramanzina e la mette a letto. Le ragazze si chiedono se sia stato davvero Frank, o se il vero colpevole stia ancora vagando per le strade. Il giorno dopo la sveglia di buon'ora dicendole che le ha procurato un appuntamento con Frank per avere quelle risposte.
Alla presenza del suo avvocato a con le videocamere a riprendere il discorso, Laurel prega con gli occhi Frank affinché le dica la verità. Ha davvero ucciso Wes? Non potendo rispondere, si fa accompagnare fuori dalla stanza, ma sembra che alla ragazza sia bastano. Non è stato lui. Ma questo lo sapevamo già un po' tutti… Lo ripete davanti ai ragazzi, che sembrano crederle.
Siamo ancora al punto di partenza: chi è l'assassino di Wes?
I genitori di Annalise tornano a trovarla e cercano di capire come far funzionare le cose. Il padre la rassicura che sarà sempre vicino a Ophelia, ma lei non ci crede. Sentendo aria riscaldarsi, l'anziana donna si allontana lasciandoli soli a discutere. Le accuse volano l'uno verso l'altra, ma ormai non è più il tempo di preoccuparsi, ci sono problemi più urgenti da affrontare.
E sembra che questo sia lo scossone che la prof aspettava da tempo…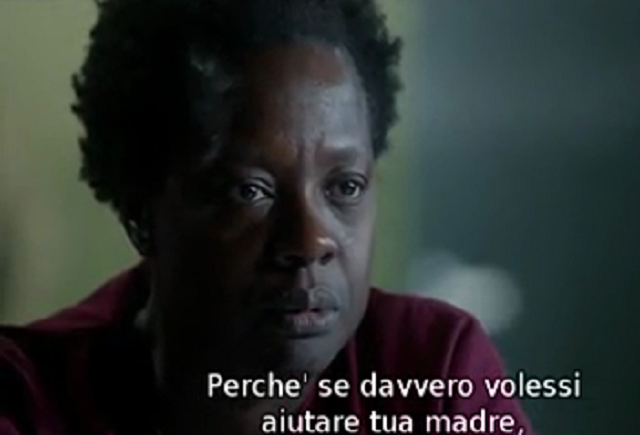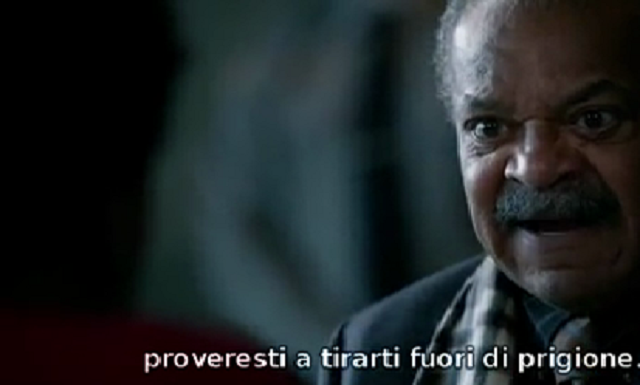 Ora deve darsi da fare e trovare un modo per uscire in fretta da quella gabbia di matti, e visto che nessuno riesce ad aiutarla, meglio far da sé. E per fortuna, perché il suo piano funziona alla perfezione. La bulla detenuta insieme a lei è stata davvero facile da manipolare, e con due paroline riesce a farsi riempire di botte. Finita in infermeria e prontamente fotografata da Bonnie, ha una carta da giocare: o il giudice le concede la cauzione a causa del rischio della sua vita, o le foto finiranno sui giornali generando un terremoto mediatico.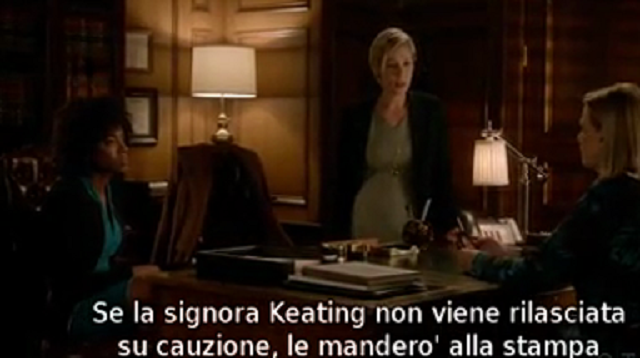 Detto fatto: le porte della prigione si spalancano davanti a lei, con Ophelia felicissima di riportare a casa la sua bambina. In fin dei conti, il padre aveva ragione. A volta basta un po' di incoraggiamento, anche se mascherato. Quando nota però che l'anziana è ancora scossa in vista del processo e del fatto che possa ancora finire dentro, Annalise la rassicura che ormai è tutto finito. Una bugia a fin di bene non è mai troppo grave, vero?
Una delle scene più toccanti di sempre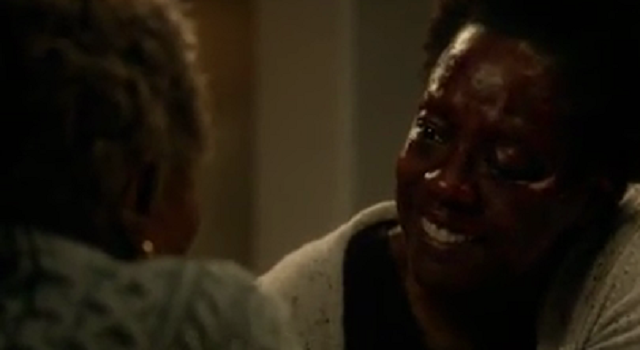 A fine giornata, Connor e Oliver si ritrovano a letto a ripercorrere i fatti. Mentre Ollie se la ride ripensando alla scenata di Laurel al funerale, Connor gli fa notare, con un nodo alla gola, quanto sia davvero bravo a mentire – prima a lui, poi alla polizia – e su tutto non c'è molto da ridere.
Pensandoci però, Ollie confessa al fidanzato che ne ha detto un'altra di bugia, ma che questa può salvar loro le chiappe: ha una copia dei dai del cellulare di Annalise, quello da cui ha cancellato tutto dopo l'incendio. Ogni hacker che si rispetti si lascia una via di fuga.
Frank chiama Bonnie al cellulare, spaventandola per aver violato l'etica parlandole senza l'avvocato, ma il bonazzo la rassicura – lo ha licenziato, ora si difende solo – e le chiede di vedersi in privato. Al più presto.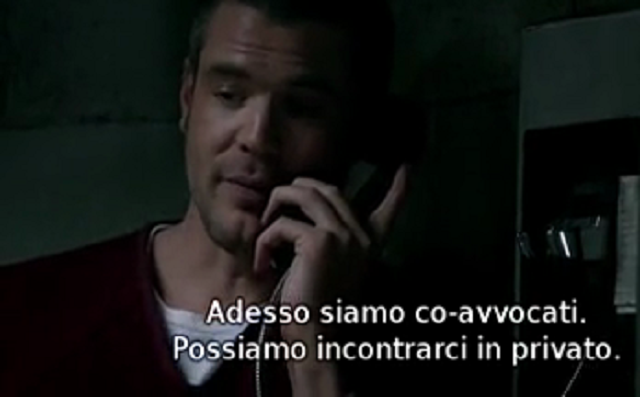 Ma il bello deve ancora venire!!!!!!
L'ufficio del procuratore chiama Nate per aggiornarlo sulla sparizione del cadavere. Aveva ragione: c'è un complotto dietro il caso di Wes. Il corpo non è stato perso, qualcuno ha firmato affinché sia trasferito. Chi? Lui, Nate. C'è la sua firma che lo inchioda.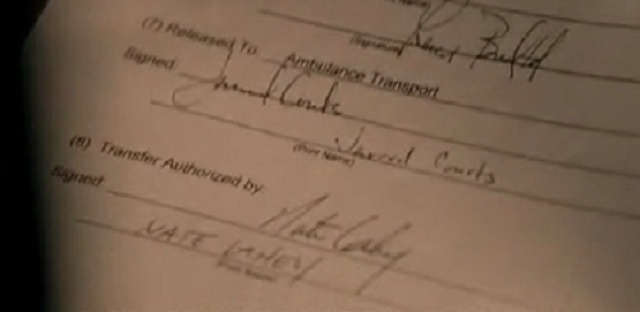 Senza di dire una parola, torniamo con la mente alla notte dell'incendio. Nate va a cercare Annalise in casa sua, sale al piano di sopra ma non c'è. Sente dei passi nell'ingresso e si affaccia: è Wes.
COOOOSA ho appena visto?
È stato lui l'ultimo a vederlo?
Lo ha bruciato vivo?
Lo ha ucciso prima?
E Frank è stato davvero riconosciuto da Laurel?
E Annalise quanto sapeva di tutta questa faccenda?
Per altre domande, e si spera, qualche risposta, appuntamento alla prossima settimana
con il nuovo episodio di How To Get Away With Murder!