Attenzione: evitate la lettura se non volete imbattervi in spoiler sulla 7×02 di Game of Thrones
Quando si parla di Game of Thrones, l'ultima cosa da fare è dare per scontato qualcosa. L'hanno fatto in tanti, e quasi tutti sono stati costretti a ricredersi. Potrebbe essere così anche stavolta, a prescindere da quello che sarà il risultato. Immaginare un trionfo finale di Daenerys Targaryen richiede pochissime abilità deduttive e non saremo noi a smentire l'ipotesi più credibile sulla conclusione del gioco dei troni, ma è altrettanto vero che non si possa dare per certo. Un palese vantaggio politico-militare è una buona ipoteca, senza esser tuttavia una garanzia di successo (Robb Stark, purtroppo, docet).
La 7×02, incentrata per ampi tratti sui primi passi a Westeros della Madre dei Draghi, l'ha confermato per l'ennesima volta. Se si pensa al quadro che si configurava fino all'attacco di Euron che ha infiammato l'ultima parte dell'episodio, molto è cambiato in pochissimi minuti. Cersei ha ritrovato una piccola speranza di preservare la propria egemonia senza alzare un dito, mentre Daenerys rischia seriamente di perdere due alleati preziosissimi (e uno mestamente ancorato alle paure del passato) ancor prima di dare avvio alla guerra contro i Lannister. Alla faccia di chi si era affrettato a concentrarsi solo sulla minaccia incombente della Lunga Notte.
La prima sconfitta in battaglia, oltretutto, non è l'unico problema che dovrà affrontare Daenerys. In virtù dell'insensatezza di una conquista ridotta alla trasformazione in cenere di ogni cosa (vero, Mad Queen?), la preoccupazione principale della giovane Targaryen è il rapido inserimento nell'intricata rete politica di Westeros, fondabile sulla costruzione di alleanze solide, durature e affidabili. L'eterogeneità delle forze in campo non può essere appianata dalla comunanza dell'obiettivo finale: avere un nemico condiviso non crea automaticamente un'amicizia, e lei l'ha capito. L'ago della bilancia sarà, come sempre, Tyrion, il Lannister atipico che la avvicinerà a Jon anche se appesantito dall'ingombranza del cognome che porta, specie se si ha a che fare con una Tyrell meno lungimirante del solito ed una dorniana irreprensibile, ora divenuta dono imprescindibile per celebrare l'alleanza Greyjoy-Lannister.
L'unico punto a favore di Daenerys in Stormborn è il chiarimento con Varys, finalmente capace di giustificare il suo appoggio incondizionato alla Khaleesi (il Master Plan è ormai inattuabile). La fiducia è un credito che si acquisisce col tempo, e il Ragno Tessitore, come Tyrion con chi sa scindere l'uomo dalle proprie origini, l'ha meritata ampiamente. Lo stesso non si può dire dei gemelli Lannister, i cui debiti da pagare suonano ormai come una minaccia a senso unico. Lo dimostra lo scambio di battute tra Jaime e il redivivo Randyll Tarly, personaggio che in questa stagione potrebbe assumere un ruolo molto interessante. Alla Mad Queen non resta altro che un titolo sterile, l'astuzia di Qyburn e l'audacia di Euron, un alleato pericoloso da gestire con grande attenzione. Lui, come Ditocorto per gli Stark: Petyr Baelish, un tempo impeccabile, ha commesso l'ennesimo errore, ma sa trarre vantaggio dal caos meglio di chiunque altro. Le frizioni tra Jon e Sansa, in parte appianate dalla partenza del primo e la relativa reggenza provvisoria della seconda, costituiscono per l'ex Maestro del Conio una grandissima occasione, forse l'ultima.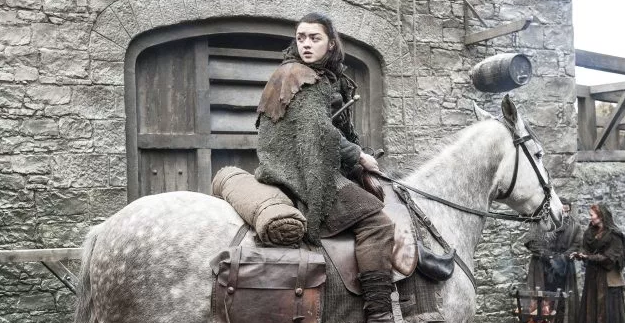 Grande Inverno, tuttavia, riaccoglierà presto un'altra Stark e il re degli intrighi dovrà stare molto attento (soprattutto al pugnale che possiede, ne abbiamo parlato qualche giorno fa). Il ritorno a casa di Arya sarà un momento chiave della settima stagione e in Stormborn abbiamo vissuto una premessa agrodolce. L'incontro con Nymeria, oggetto nelle ultime ore di opinioni discordanti, ha un valore simbolico fondamentale. I metalupi incarnano perfettamente il carattere del loro padrone e Arya, plasmata dagli eventi vissuti fin dalla morte del padre, è molto diversa dalla ragazzina che avevamo conosciuto sette anni fa. Ha trovato una sua indipendenza e ha bisogno di una famiglia che dovrà riconoscerla, non di una catena. Lei, come Nymeria, incapace per questo motivo di abbandonare il branco e seguirla.
La 7×03 ci dirà tanto sul suo destino e farà altrettanto con Jorah, ora nelle mani del tirocinante Sam. Siamo sicuri che riuscirà a curarlo dal morbo grigio (Game of Thrones ci ha abituato a giustificare ogni morte con cognizione di causa) e siamo altrettanto certi del ruolo che ricoprirà nella lotta contro gli Estranei: una volta guarito e, di conseguenza, immunizzato dal terribile male, il cavaliere più sfortunato dei Sette Regni dovrebbe recarsi al ghetto di Valyria e cercare il leggendario acciaio con le informazioni per produrlo, offrendo un apporto basilare per la creazione delle armi necessarie. Siamo sicuri, ma non possiamo darlo per scontato: ogni teoria è tale fino a prova contraria, e tutti i fan di Game of Thrones lo sanno fin troppo bene. Esclusi quelli che non avevano preventivato le difficoltà che Daenerys avrebbe affrontato per conquistare il Trono di Spade: non avevano ancora capito quanto potesse essere pericoloso annunciare prematuramente un vincitore.
Antonio Casu