Dopo un inizio molto (forse troppo) macchinoso, nella sua 1×08 Game of Thrones sembra essersi messo finalmente in moto. L'immagine del domino è la più abusata in contesti del genere, ma onestamente è difficile trovare una metafora migliore per descrivere quello che succede nei 59 minuti di The Pointy End. Tutti i pezzi cadono uno dopo l'altro, in una concatenazione di eventi ovvia almeno quanto inevitabile.
Una "punta acuminata" che si ricollega alla scena finale dell'episodio precedente, alla quale va dato il merito di aver squarciato finalmente il velo di ipocrisie, cospirazioni e intrighi che sono il collante stesso del Gioco dei Troni. A rompere l'equilibrio è stato Ned Stark, ma in un Poker ad altissimo piatto come quello che si gioca ad Approdo del Re, la mano migliore è sempre la pazienza.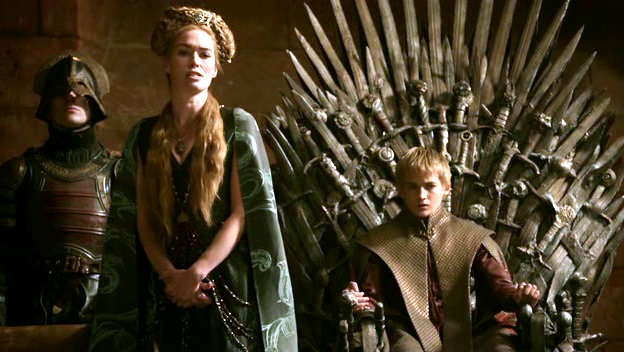 Ned ha calato in fretta tutti i quattro assi che si ritrovava tra le dita (la verità, la presunta alleanza con Ditocorto, l'onestà e la fedeltà ai Baratheon), ma la regina Cersei ha risposto con una scala colore, tutta d'Oro Lannister per la precisione, occupata nel suo gradino più alto dal Re bambino, suo figlio.
Da lì in poi, a carte in tavola, non si è più potuti tornare indietro. Game of Thrones è partito, ed è una gara dalla quale non ci si può ritirare.
IL VIAGGIO DI GAME OF THRONES
Inizia il viaggio di Sansa, che in realtà non si muove dalla capitale, ma che inizia a scoprire come le illusioni di una vita idealizzata, come quelle che cantano i menestrelli, sono più eteree delle parole di una serenata che si perdono nel vento.
Inizia il viaggio di Arya, la quale ha il tempo di un'ultima, preziosissima lezione da parte di Syrio prima di scappare verso l'ignoto, in una delle scene più toccanti dell'intera stagione, probabilmente proprio perché della probabile fine del primo spadaccino di Braavos non vediamo nulla.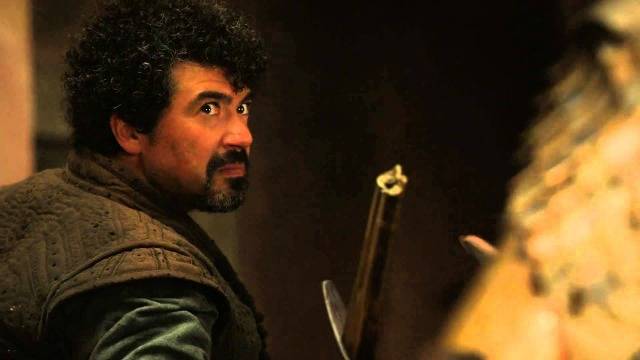 Usare i propri sensi, prima di tutto il resto, e solo dopo elaborare i risultati dell'esperienza sensoriale. Guardare non è vedere, sentire non è ascoltare. Mai dare qualcosa per scontato, anche un colpo alternato destra-sinistra. Capire, prima di ogni cosa, che bocca, mani e cervello non sono necessariamente collegati, e che ciò che dice la prima quasi mai, in Game of Thrones, trova corrispondenza negli altri due. La figura di Syrio sarà più importante per Arya di quella di suo padre, probabilmente. Forel sa come si gioca, solo non ne ha voglia.
Guardare non vuol dire vedere, cara ragazzina morta. Riuscire a vedere è il vero segreto dell'arte della spada.
Il maestro si rifiuta di arrendersi nonostante tutto. È solo, senza armatura, in netto svantaggio fisico, armato solo di un bastone di legno spezzato. Eppure, anche di fronte alla morte certa, ha solo una cosa da dire alla scomoda interlocutrice: non oggi.
Inizia il viaggio dei Lannister, che dopo anni passati a preparare il momento della presa del potere, finalmente vedono un loro consanguineo occupare il Trono di Spade. Non solo, è Lannister la regina, è Lannister la guardia reale, è Lannister il Primo Cavaliere. Nell'arco di pochi giorni, tutti i 7 regni sono Lannister. Ma prendere il potere non significa necessariamente saperlo mantenere. La cosa vale quando lo si ottiene con la forza delle braccia, come Robert, e a maggior ragione è pura verità quando è la forza del denaro a consegnartelo.
Inizia il viaggio di Jon Snow, con il primo, vero incontro con un non-morto. L'inverno sta calando sul continente occidentale, ma a Nord sembra già l'ora delle tenebre. Solo la luce, immedesimata nel fuoco, può sconfiggerle. Ma la luce può anche generare ombre, dubbi, tormenti, come quelli di un figlio sospeso tra un giuramento recitato a voce alta e un altro sottinteso, di fedeltà a un padre che forse non ha potuto regalargli il proprio cognome, ma che sicuramente è stato capace di tramettere cuore e integrità morale.
Inizia il viaggio di Robb Stark. Non più un ragazzo (e non provate a ripeterglielo) coperto dall'ingombrante figura del padre, ma un uomo che quello stesso padre vuole salvare, per riportarlo in un Nord che si sente ferito nell'orgoglio. Tutti alzano i propri vessilli per i Lupi di Grande Inverno, non c'è bisogno di forzieri o promesse. È una fedeltà che non si può comprare, ma che non si può dare per scontata.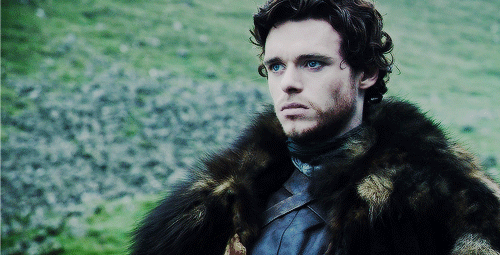 Il figlio di Ned e Cat sembra averlo capito, tenendo in mano uomini più esperti e valorosi di lui, con la sola forza di un carattere che è l'esatta miscela dei suoi geni. Onesto, sincero, generoso e al contempo mai ingenuo, sospettoso quando serve e vendicativo. Sarà capace di bluffare?
Inizia il viaggio di Daenerys Targaryen. Fino a questo momento, prima una pedina nelle mani di suo fratello, poi una "semplice" Khaleesi. Apprezzata, ben voluta, ma pur sempre in secondo piano rispetto al Khal e ai suoi fratelli di sangue. Di fronte a quella che per lei è un'ingiustizia, non ha più paura di metterci la faccia per fermarla.
Il fatto che i Dothraki vivano da sempre di razzie e soprusi cambia poco. Se per lei è sbagliato, superfluo, inutile, semplicemente non va fatto. Della ragazzina impaurita che cercava aiuto nelle ancelle per avere almeno un legame fisico con il proprio marito non c'è più nulla.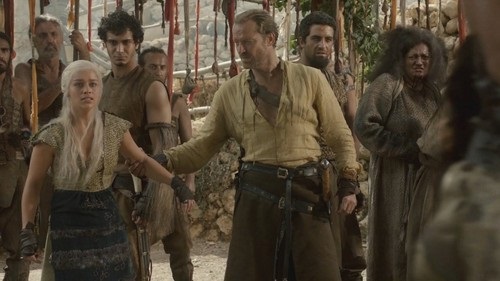 Al suo posto è nata una regina. Una che se proprio dovrà sbagliare preferirà farlo con le proprie idee, piuttosto che con quelle degli altri.
Il viaggio di Tyrion era già iniziato nel momento in cui è stato catturato da Catelyn Stark. Il vero banco di prova arriverà nella prossima puntata, probabilmente, con l'inevitabile scontro tra Leoni e Lupi che lo vedrà, per volere stesso di suo padre, ineditamente in prima linea, senza la comoda coperta del cognome Lannister (con annessi e connessi) sotto alla quale proteggersi.
Una protezione che ormai nessuno può garantirsi, ora che la palla infuocata nota ai più come Game of Thrones ha iniziato a rotolare prendendo velocità. Il viaggio è iniziato, e per ognuno dei protagonisti, per come si stanno mettendo le cose, potrebbe finire da un momento all'altro.
E qual è l'unica cosa che possono dire?
Non oggi.