The Haunting of Villa Diodati (qui la recensione della puntata) aveva aperto la strada al penultimo episodio della dodicesima stagione di Doctor Who. Un po' come era successo nella terza e nona stagione. Thirteen aveva cercato di non cedere alle richieste di Ashad il Lone Cyberman, seguendo le direttive di Jack Harkness. Ma non c'era riuscita. E gli aveva ceduto l'I.A. con la quale ricostruire l'impero Cybermen. Cosa che Ashad aveva prontamente fatto.
È lui il punto forte di questo episodio di Doctor Who.
Già in The Haunting of Villa Diodati si era mostrato un avversario forte e ben caratterizzato. In Ascension of the Cybermen ribadisce quanto sia potente e pericoloso. In un efficace dialogo il Dottore psicanalizza Ashad. Porta alla luce il conflitto interiore del Cyberman: un essere dotato di emozioni che odia la sua condizione. E Ashad ammette che è vero. Ma è questo che lo muove, lo stimola e lo motiva, grazie all'I.A. che gli ha dato il dono della comprensione. Portandolo a convincersi che il suo destino si compirà solo con l'ascensione dei Cybermen. Non sappiamo cosa sia. Forse qualcosa che trascende i corpi robotici? Il finale potrà chiarire questo dubbio.
In generale i Cybermen sono decisamente migliorati nella dodicesima stagione di Doctor Who. I Dalek, ad esempio, si sono trasformati molte volte. Hanno avuto un approfondimento maggiore dei Cyberman. Questi ultimi erano troppo statici, sempre uguali, costruiti quasi con leggerezza. Nella 12×09 dimostrano che anche un involucro di latta ha un'anima. Mostrarci un volto dietro quella maschera aiuta in questo. Anche se bisogna ricordare a Chibnall che i Cybermen vogliono convertire e non sterminare. Quella è la catchphrase dei Dalek.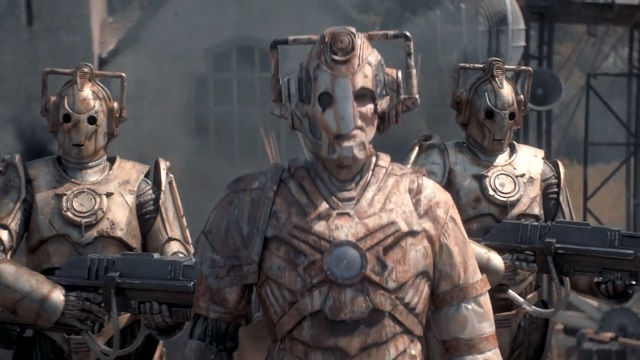 C'è solo una cosa che fa storcere il naso. Per fermare i Cybermen il Dottore usa un macchinario che annulla l'inibitore di emozioni. Così infatti Ten sconfiggeva questi villain nella seconda stagione. Sapeva che era una mossa crudele perché avrebbe fatto impazzire gli uomini diventati Cybermen. Ma era l'unico modo per batterli. Ne era devastato, si scusò per il dolore che avrebbe causato. Thirteen invece usa questo dispositivo con leggerezza, come una difesa qualsiasi. È vero che poi non funziona, ma è l'atteggiamento stesso del Dottore a essere cambiato. Dove sono finiti i suoi dilemmi morali?
Un Dottore che, ancora una volta, si impone sui suoi companion, dimostrando di non sentirsi al loro pari. Certo, si comporta così perché non vuole perdere nessuno a causa dei Cybermen. Non vuole che ci sia un'altra Bill Potts.
La Fam si trova nuovamente divisa. Ryan e Thirteen da un lato, Yaz e Graham dall'altro. Le storie in cui sono coinvolti sono avvincenti ma mostrano quanto i companion siano stati gestiti male. Tra tutti Yaz. Nelle ultime puntate le sono stati regalati più spazio e più profondità. Il problema è che adesso è troppo tardi. Lei e Graham dimostrano di essere grandi amici. Hanno passato tanto tempo nel TARDIS (sapete che c'è una costellazione ispirata all'iconica scatola blu?) e vissuto mille avventure ma hanno mai avuto un dialogo on screen insieme? Perché Yaz interagisce in maniere significativa con Ryan o con il Dottore. Lo stesso Graham.
Le relazioni tra i membri del TARDIS dovrebbe essere il nucleo centrale di Doctor Who. Non gli alieni.
L'episodio inoltre indugia eccessivamente su Graham. Viene esaltata la sua positività e il suo cambiamento. Segnali che solitamente anticipano l'uscita di scena di un personaggio. Un chiusura comunque è necessaria dato che sappiamo che Ryan, Yaz e Graham non ci saranno per la prossima stagione.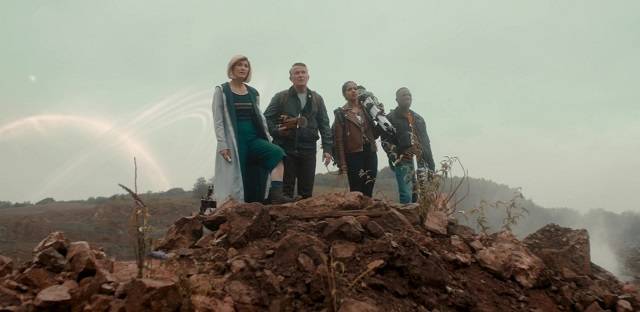 Tra le tante – anzi troppe – trame di Ascension of Cybermen ce n'è una che non ci incastra niente con le altre. Cosa che dà fastidio, quasi disturba. Sto parlando di Brendon.
Vediamo tutta la sua vita, da quando era un trovatello fino alla pensione. Sappiamo che è immortale poiché esce illeso da una sparatoria e una caduta rovinosa da una scogliera. Ma la domanda è solo una: chi è veramente questo Brendon? La sua resurrezione e il modo in cui avviene fa pensare a Jack Harkness. Ma se fosse lui non si spiegherebbe perché il padre di Brendon e il poliziotto sono sempre giovani e sottopongono Brendon a un trattamento con un macchinario che ricorda quello che i Time Lord usano per celare la loro identità. Quindi qualcuno non voleva essere trovato ed è stato nascosto in Brendon. Ha vissuto un'intera vita per poi essere recuperato. Ma chi? Il Dottore? Ruth? Ma quando il ragazzo è morto non si è rigenerato. Potrebbe essere quel Timeless Child di cui il Maestro aveva parlato? Oppure non è altro che il volto del Lone Cyberman?
Le ipotesi sono tante. In ogni caso, durante la puntata, ci chiediamo il perché seguiamo questa storia. C'è qualcosa di strano, di sbagliato in quello che vediamo. Speriamo che il tutto venga chiarito al più presto. O questa parte sarà solo un peso.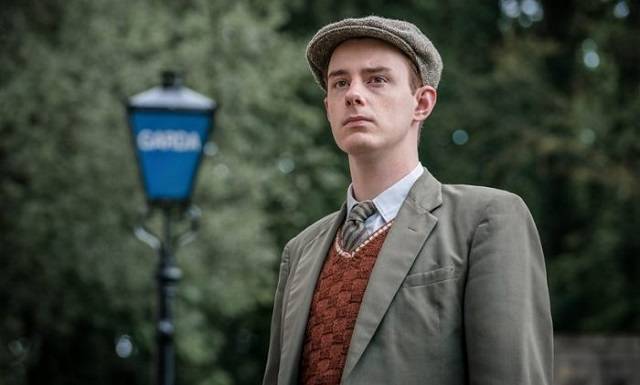 Ma è proprio nel finale che arriva il momento più scioccante. Non solo appare Gallifrey, ma anche il Maestro con una delle sue entrate a effetto. Aspettiamo il suo arrivo da quando è iniziata la dodicesima stagione di Doctor Who. E il tempo delle risposte sembra essere vicino. Anche se non si spiega come abbia fatto a fuggire dalla prigione in cui era stato rinchiuso e come sia approdato su Gallifrey. La sua comparsa promette disastri nell'ultimo episodio. Alla fine sarà lui il vero nemico?
Ma queste due apparizioni ci inducono a farci altre domande: i Cybermen e il Timeless Child sono collegati? Che cosa c'entra Gallifrey con i Cybermen?
Possiamo concludere dicendo che Ascension of the Cyberman è un episodio ben costruito soprattutto a livello estetico, con degli scenari post-apocalittici affascinati e ben fatti. A livello narrativo ci sono una bella tensione e adrenalina grazie a un villain come Ashad e alla sua caccia che risulta asfissiante, senza speranza e coinvolgente. Il problema è che la prima parte di questo episodio è troppo lunga e ampia, tale da renderlo incompleto.
La carne al fuoco è molta. Tante sono le domande sollevate in Ascension of Cybermen e, in generale, in tutta la dodicesima stagione di Doctor Who. Gallifrey, il Timeless Child, Ruth, il Maestro, i Cybermen, Brendon: sono tutte storie che devono trovare una risposta nell'ultimo episodio della stagione. In attesa di questo, non ci resta che chiederci: riuscirà il finale a sciogliere tutti i nodi?