Sta arrivando l'era glaciale… Il sole sta precipitando
I motori si fermano e il frumento avvizzisce
Un errore nucleare… Ma io non ho paura
Londra sta annegando… Ed io…
Io vivo vicino al fiume!
Chissà se il britannico Charlie Brooker nella composizione di questo quinto episodio della quarta stagione di Black Mirror aveva in mente la canzone degli inglesissimi The Clash. L'anno di uscita di quel singolo di assoluto successo, il 1979, è lo stesso dell'incidente di Three Mile Island. Il più grave incidente nucleare avvenuto negli USA. Nel testo crudo, violento e volutamente irrisorio di London Calling si concretizzava tutto il timore di una generazione. La drammatica paura del futuro. L'errore nucleare diventava così espressione di un'angoscia più recondita, di un'idea di vuoto che lentamente si stava aprendo sotto i piedi del movimento punk.
Metalhead non è l'episodio più riuscito di Black Mirror. Non è il più critico. Non è il più coinvolgente o disturbante.
Eppure, in quel vuoto d'immagini si respira il peso di chi risposte non ne ha. Di chi ci espone, tragicamente, alla visione di un futuro brullo e privo di colori. È ciò che non c'è che fa la forza di Metalhead. L'assenza diventa il peso più opprimente che potremmo mai provare. Tutto è già compiuto. La lotta è finita. Rimane il silenzio di un bianco e nero post-apocalittico. Il deserto di un mondo che è stato e, forse, non tornerà. L'umanità, quella ostinata, caparbia vita che non si arrende, è ancora là. C'è, anche se non si vede. È al di là di una radio dalla frequenza distorta, occlusa irreparabilmente alla vista dello spettatore. È in un nugolo di resistenza che si nasconde nel grigio di un mondo finito.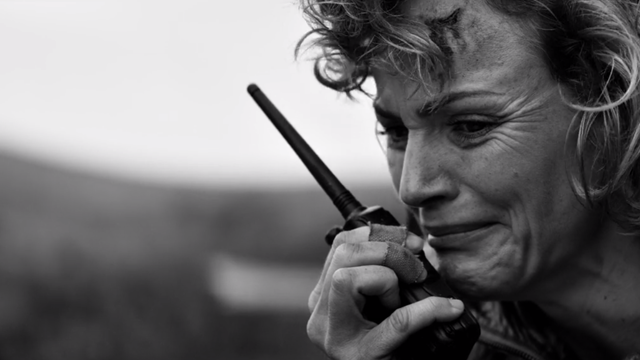 È negli occhi della protagonista. In quel suo affannarsi stanco e disperatissimo. È in noi. Nel nostro sguardo distaccato nei confronti di una donna di cui non sappiamo nulla e per cui non proviamo alcuna compassione. Il vuoto del mondo investe ogni cosa, investe anche Bella. Colpisce i sentimenti. Li attutisce, li ovatta. Il minimalismo ambientale si riflette in quello umano, nell'apparente vacuità di una missione come altre.
Charlie Brooker abbandona il sentimentalismo (finto) di Hang The DJ e mette da parte anche la tragedia dell'uomo.
Davanti a lui rimane il nulla cosmico. Il deserto dell'esistenza. Non c'è protagonista in Metalhead, non c'è eroe o antieroe tragico. Non c'è emozione. L'horror vacui che ci domina non è contenibile. Spaziamo con lo sguardo in cerca di qualcosa. E quel qualcosa non c'è. C'è solo la fredda asetticità di una macchina. La sua imperterrita volontà di compiere una missione. Di annientare l'incoerente esistenza dell'uomo, l'illogicità dell'umanità che rischia la vita per qualcosa di pragmaticamente futile. E che per questo è destinata a soccombere di fronte alla freddezza dell'automa. L'uomo e la macchina non si fermano. In un balletto lungo tutto l'episodio si inseguono e fuggono, ostinati nella loro contrastante missione. L'umanità e il deserto. La vita e la meccanica.
Aggrappata al nulla Bella resiste e insiste. Lotta, si danna. Noi siamo esclusi da quella lotta. Non ne comprendiamo le ragioni. Siamo passivi spettatori di un dramma che non ci riguarda. O almeno sembra non poterlo fare. Tutto diventa esercizio virtuosistico di suspense, sintetico thriller d'inseguimento.
Metalhead è un interludio. Un momento di riflessione tra un atto e l'altro della quarta stagione di Black Mirror.
Non c'è critica sociale, non c'è riflessione sottesa. C'è solo il senso di qualcosa di compiuto. Lo sguardo stanco e freddo della telecamera che si posa su quel rigurgito d'azione. Su quella lotta di una guerra ormai persa. La magnifica modernità classica delle musiche di Penderecki accompagna ogni scena. Accompagna soprattutto l'esito finale che restituisce il senso di un'umanità ormai in catene. Il bianco e il nero. Il classico e il moderno si mescolano incessantemente. C'è la nostalgia del passato, il vuoto del presente. C'è il senso post-moderno dell'intero manifesto programmatico del geniale compositore polacco. Perché in lui, in quel suo respiro classico, nelle sue melodie si registra il significato tardo-moderno della nostra società. Non è solo nostalgia. Non è tanto questo. È il senso di perdita, il vuoto esistenziale di fronte a un'età classica che, forse, non è mai esistita davvero.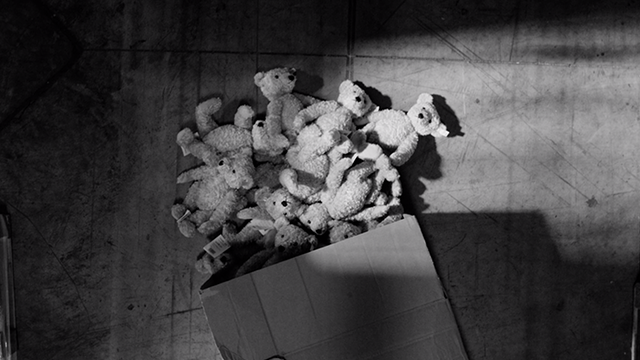 Così la riattualizzazione di Bach in Penderecki diventa critica implicita alla distanza che ci separa (ma ci lega anche) a quel mondo classico. Il bianco e nero diventa memoria del passato ma anche espressione del vuoto del presente. Il dolore classico di Penderecki è traccia di un ricordo ma anche drammatica attualità di modernità. È l'uomo oltre il tempo. È il senso, o meglio il non-senso post-moderno. Lo sguardo che si volge al passato e contempla stancamente il vuoto del presente. Che ritrova coscienza di sé nel dolore.
In questo episodio di Black Mirror il bianco e nero diventa grigiore post-apocalittico ma anche nostalgia di un mondo che abbiamo portato al fallimento.
Di una 'tecnica' che, usando le parole di Galimberti, "Noi continuiamo a pensare come uno 'strumento' a nostra disposizione, mentre la tecnica è diventata l''ambiente' che ci circonda e ci costituisce secondo quelle regole di razionalità che, misurandosi sui soli criteri della funzionalità e dell'efficienza, non esitano a subordinare le esigenze dell'uomo alle esigenze dell'apparato tecnico". È proprio questo che accade in Metalhead di Black Mirror. C'è la concretizzazione materiale di una 'tecnica' che vale in sé e per sé. In questo mondo l'uomo è relegato a incoerente presenza. I 'cani' seguono una logica di funzionalità in cui l'uomo non può rientrare. Per questo deve essere eliminato.
La distanza tra l'uomo e la macchina è tutta qui, in una lotta che in entrambi i casi è ostinata ma profondamente antitetica. La macchina mira all'avanzamento in termini di produttività, l'uomo in umanità. È incoerente, l'uomo. Divinamente contraddittorio. Rischia la vita per un peluche, per un oggetto privo di utilità pratica. Per qualcosa che non è strumento al servizio dello sviluppo. Lo fa in nome dell'umanesimo. In nome dell'inestirpabile senso d'amore, pudore e affetto che va perfino contro la natura. Va contro l'istinto di sopravvivenza, la continuità della specie. È illogico, l'uomo. È mostro (Crocodile, 4×03) e angelo.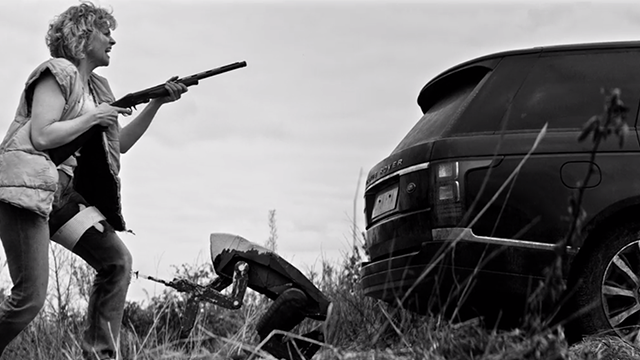 La sublime associazione tra la definizione di 'cane', il 'migliore amico dell'uomo', e le macchine stabilisce una ricercata dissonanza che si va ad aggiungere al bianco e nero (che è nostalgia classica ma anche assenza di vitalità) e alle stridenti liriche di Penderecki. L'uomo e la macchina. Tutto attorno l'ambiente sospeso, ormai in balia della tecnica. Vuoto, deserto, incolto. Solo tecnologia che si autoproduce, che si autorigenera. La vita diventa meccanica artificiale e soprattutto artificiosa.
L'esito non può che essere quello della sconfitta. Un esito già segnato dal contesto post-apocalittico.
Anche l'ultima speranza, affidata a un gesto d'amore, perisce di fronte all'efficienza tecnica. Di fronte a una macchina che può essere sconfitta singolarmente ma che è ormai ingranaggio perfetto di una 'tecnica' che trova ragione in sé e per sé. E si impone sopra tutto. Black Mirror prende aria in questo episodio. Si ferma. Sospende la critica e l'attacco sociale. Guarda a un mondo che non c'è più e ci ricorda che quel deserto è il nostro deserto. E che quell'uomo alla mercé della tecnologia siamo noi. Brooker sembra qui quasi chiederci di resistere. Di recuperare la nostra natura in nome della resistenza di fronte a quella 'tecnica' che rischia di imporsi sopra tutto e tutti. E la risposta, l'unica risposta, non può che essere nell'uomo e nella sua (incoerente) umanità.