Questa volta non vi parlerò propriamente di una serie tv, bensì di qualcosa di molto simile: vi parlerò di un reality show.
Che vi piacciano o meno, è impossibile che non abbiate mai sentito parlare di RuPaul's Drag Race, il reality americano condotto da RuPaul Charles in onda dal 2009, dapprima sull'emittente LogoTv e successivamente su VH1.
Dal 2009 a oggi RuPaul's Drag Race si classifica tra i reality più seguiti. Ma di cosa parla esattamente? È possibile già intuirlo dal titolo, parla di Drag Queen. Lo scopo è quello di trovare la prossima Drag Superstar in una competizione, un po' come American Next Stop Model. In Italia, tra l'altro, si utilizza anche America's Next Drag Queen per riferirsi a questo programma televisivo.
Ogni anno le aspiranti Drag Queen partecipano ai casting inviando un loro video di presentazione. Nella fase successiva ne selezionano al massimo quattordici che saranno le concorrenti del reality. A questo punto comincia la gara. Dopo la presentazione di ciascuna Drag Queen, le concorrenti si ritrovano già catapultate all'interno del format. Già alla prima puntata qualcuno sarà costretto a tornare a casa. Severo, ma giusto.
Di solito i primi concorrenti ad andare a casa vengono dimenticati dal mondo, ma durante la decima stagione di RuPaul's Drag Race, Vanessa "Vanjie" Mateo ci ha dimostrato che non è sempre così. Quel "Miss Vanjie. Miss Vanjie. Miss… Vanjie" ancora risuona nelle mie orecchie forte e chiaro.
Tornando alla competizione, ecco come si svolge. Di solito, ogni singolo episodio si compone di tre fasi:
La Mini Challenge
La Main Challenge
L'eliminazione
La Mini Challenge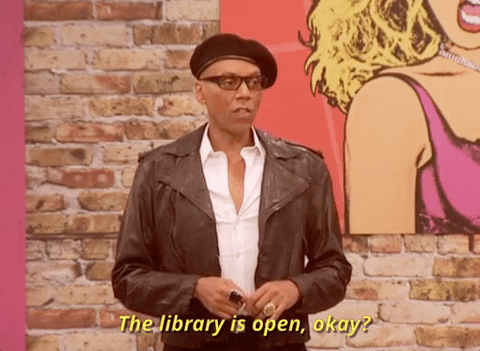 Nella prima fase del reality, quella della Mini Challenge (o Mini sfida), i concorrenti devono dimostrare di riuscire a portare a termine la sfida lanciata da RuPaul in un tempo decisamente breve. E una volta terminata, verrà annunciato un vincitore che inizialmente godeva di qualche agevolazione per la fase successiva, ma ormai questo fattore è passato in secondo piano.
Di solito le Mini Challenge cambiano sempre, ma ce ne sono alcune che si ripetono ogni anno. Una di queste è la sfida della "Libreria" che, detto così, non rende esattamente il concetto. Per capire a pieno questo concetto bisogna prendere in considerazione l'espressione "Reading" in inglese, traducibile con l'azione del leggere in italiano.
Secondo Urban Dictionary, nella cultura gay questa espressione (Reading) indica l'azione di individuare, mettere in evidenza e ingigantire i difetti di qualcuno, di solito facendolo pubblicamente e davanti al diretto interessato. Detto in breve lo scopo è quello di sparare a zero su qualcuno avendocelo di fronte. Il che potrebbe essere alquanto istruttivo.
In RuPaul's Drag Race, durante la Mini Challenge, il concorrente che avrà creato l'insulto più divertente e malizioso, vincerà. La sfida viene appunto chiamata la sfida della Libreria per la correlazione tra il verbo che letteralmente significa leggere e il secondo significato che assume. Quindi, se doveste sentire il signor RuPaul dire "The Library is Open" (La libreria è aperta), fate attenzione perché le Drag Queen sanno che "Reading is what? Fundamental!" (Leggere è cosa? Fondamentale!) e la prendono molto sul serio.
La Main Challenge
Nella seconda fase del reality, che è quella che ha peso maggiore ai fini della competizione, ai concorrenti viene chiesto di svolgere una prova. Proprio come nella fase precedente, viene annunciato il vincitore della sfida che riceve un premio. Di solito i premi consistono principalmente in trucchi, vestiti e parrucche.
Anche in questo caso, ci sono delle prove che si ripetono costantemente durante le varie edizioni di RuPaul's Drag Race. Come ad esempio lo Snatch Game, versione Drag del più celebre Match Game. Ogni concorrente, durante la prima della sfida, deve scegliere un personaggio famoso di cui vestirà i panni durante il gioco. Una volta scelto, si forma la platea di celebrità. Si scelgono due ospiti che avranno il ruolo di concorrenti. Lo scopo del gioco è rispondere alle domande di RuPaul in maniera divertente e coerente con il personaggio che si interpreta.
Vince chi è stato più divertente e ha impersonato meglio la celebrità scelta. Tecnicamente, nel gioco reale, lo scopo è quello di trovare due risposte che combaciano alla domanda posta dal conduttore da parte di almeno uno due ospiti e di uno concorrenti in platea. Ma se così fosse potrebbe vincere chi ha più fortuna e non chi è stato più creativo con le risposte e ha fatto divertire di più. E non possiamo permettere che questo accada. MAI!
Spesso ai concorrenti viene chiesto di creare un Outfit utilizzando materiali non convenzionali o seguendo temi ben definiti. Altre sfide consistono nel mostrare le abilità artistiche di ciascun concorrente: ballo, canto, recitazione e comicità sono all'ordine del giorno.
L'eliminazione
L'ultima fase del reality è quella dell'eliminazione. Durante questa fase ai concorrenti viene chiesto di creare un look a tema e sfilare sulla passerella davanti ai giudici. I giudici di solito sono quattro fissi più un giudice speciale che cambia ad ogni puntata. Da John Waters e Kathy Griffin, passando per Khloé Kardashian, Pamela Anderson, Neil Patrick Harris (il Barney Stinson di How I Met Your Mother) e Lady Gaga, in RuPaul's Drag Race ci sono stati tutti. Tra i giudici fissi, invece, spicca il nome della meravigliosa e cattivissima Michelle Visage, migliore amica di RuPaul con l'ossessione per Madonna.
L'eliminazione è la fase in cui i concorrenti vengono giudicati per il loro lavoro e da questo dipende la loro sorte. Il look sulla passerella è fondamentale, ma vengono tenuti in considerazione anche i risultati e l'impegno dimostrato durante la prima e la seconda fase della gara, ovvero durante la Mini e la Main Challenge.
Dopo le critiche si individua il migliore della settimana, che, fino alla quinta stagione, vinceva l'immunità dall'eliminazione per la puntata successiva. Adesso, invece, ricevono abiti, gioielli, viaggi o quantità di denaro da spendere presso gli sponsor del programma. Insomma il vincitore di un episodio di RuPaul's Drag Race non torna quasi mai a casa a mani vuote.
Assieme al migliore, si individuano anche i due concorrenti peggiori. E qui comincia il vero spettacolo. Le due Drag Queen peggiori dovranno affrontarsi in una sfida all'ultimo sangue: il Lip-Sync.
Two queens stand before me. Ladies, this is your last chance to impress me, and save yourself from elimination. The time has come, for you to lip sync FOR YOUR LIFE. Good luck, and don't fuck it up.

(Due regine sono in piedi davanti a me. Signore, questa è la vostra ultima possibilità di impressionarmi e di salvarvi dall'eliminazione. È arrivato il momento… per voi di cantare in playback a costo della vostra vita. Buona fortuna e non mandate tutto a puttane.)
ndr. In italiano non rende come in inglese, lo so bene.
Alla fine del Lip-Sync la Regina che avrà pesentato lo spettacolo migliore, che avrà reso meglio l'illusione del canto in playback e che avrà dimostrato più carattere, si salverà.
L'altra, purtroppo, sarà eliminata immediatamente.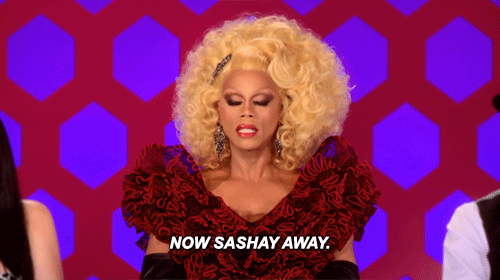 Personalmente adoro questo RuPaul's Drag Race perché è il connubio perfetto tra Arte e Trash. Ognuna delle Drag Queen in questo reality è una professionista (come dice Shangela Laquifa Wadley nella sua canzone Werquin' Girl: I'm a pro, I'm a professional!). Sono delle artiste a 360°.
Conoscono il Make-Up meglio di quanto potrei mai fare io, sanno ballare, sanno intrattenere, non tutte sanno cantare o essere delle comiche, ma la maggior parte di loro possiede tutte queste qualità. Sono pratiche, riescono ad arrangiarsi e a trovare una soluzione a tutti gli imprevisti che gli capitano sul cammino. Lavorano tantissimo. Sono costantemente in giro per il mondo ad intrattenere le masse.
La maggior parte di loro ha un'etica del lavoro che in poche persone hanno. Pensate ad Alyssa Edwards (a cui Netflix ha dedicato un reality che si chiama Dancing Queen e che è disponibile con la prima stagione già dal 4 ottobre) proprietaria di una compagnia di danza, nonché insegnante di giorno e Drag Queen di notte.
Oppure pensate alla meravigliosa Bianca Del Rio che è così dannatamente divertente, cattiva e spettacolare che le hanno addirittura prodotto due film e pubblicato un libro (Hurricane Bianca e Hurricane Bianca 2 + Blame it on Bianca Del Rio: The Expert On Nothing With An Opinion On Everything).
Per non parlare poi di miss Shangela Laquifa Wadley che dopo varie apparizioni televisive, tra cui una in Glee e 2 Broke Girls, e dopo aver recitato in Hurricane Bianca e Hurricane Bianca 2, ha ricevuto l'offerta da Lady Gaga di interpretare il ruolo di una Drag Queen nel film già campione di incassi A Star Is Born, remake dell'omonimo film dell'1937, prodotto e diretto da Bradley Cooper.
Amo RuPaul's Drag Race anche perché è Trash con la "T" maiuscola. In ogni puntata ci sono almeno un paio di liti e discussioni che tengono vivo l'interesse per la competizione e che ti fanno sbellicare dalle risate. Immaginate uno scontro fra dive costante, ecco questo è ciò che accade in quasi tutti gli episodi. Il dramma è sempre dietro l'angolo. Per citare la meravigliosa dispensatrice di saggezza Bianca Del Rio:
We're Drag Queens in a competition! The only thing worse is fucking prison!

(Siamo Drag Queen in una competizione! L'unica cosa peggiore è la fottuta prigione!)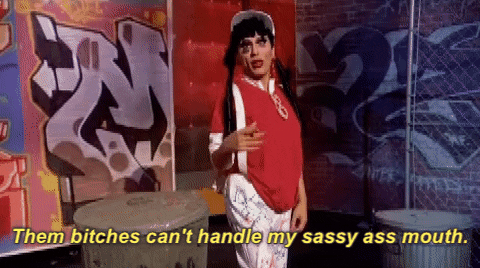 Sono convinta che tutti debbano guardare questo show. Perciò, se non lo avete ancora fatto, vi consiglio di farlo, perché vi svolterà l'esistenze e creerà dipendenza. La competizione ti rapisce completamente, la personalità di ciascun concorrente ti stupisce, la loro creatività ti fotte il cervello e le loro liti ti tengono attaccato allo schermo più di quelle tra Tina e Gemma a Uomini e Donne. Sarete trascinati in un mondo di glitter, paillettes e accettazione.
Perché il messaggio di RuPaul's Drag Race è questo: non devi aver paura di essere te stesso e di mostrarti al mondo per quello che sei. Non devi avere paura di mostrare la tua arte. Questo reality è un monumento all'accettazione di se stessi e all'amore per se stessi. Cattura perfettamente l'essenza della famosa frase nonché titolo della canzone finale del Rocky Horror Picture Show: DON'T DREAM IT, BE IT. In breve tempo vi innamorerete di questo mondo magico che è il mondo delle Drag Queen, ve lo garantisco.
If you can't love yourself, how the hell you gonna love somebody else? Can I get an Amen up in here?!