Incredibile pensare che una serie tv basata sulle vicende di un gruppo di dipendenti comunali presso il dipartimento per la manutenzione dei parchi pubblici possa essere in qualche modo divertente o stimolante. Bene, Parks and Recreation è questo e molto altro ancora: una ventata fresca di ottimismo e leggerezza. La comedy entusiastica di cui avevamo bisogno.
Ma partiamo dal principio, la serie sì si basa sull'ordinaria routine di uno strambo ufficio, ma come tutte le serie corali, c'è un personaggio che spicca leggermente rispetto agli altri, ed in questo caso il suo nome è Leslie Knope.
Leslie è l'eroina di questa storia, il collante principale dell'intero gruppo, la protagonista senza la quale non esisterebbero né l'amicizia né i parchi.
Interpretata da Amy Poehler, Leslie è completamente ossessionata dai parchi ed è l'unica dell'intero ufficio a interessarsi davvero al suo lavoro e a lottare per ottenere maggiori risultati nel suo campo. Sogna di diventare la nuova Hillary Clinton ma nel frattempo si destreggia tra il suo ruolo di vice direttore e una corsa alle elezioni comunali di Pawnee.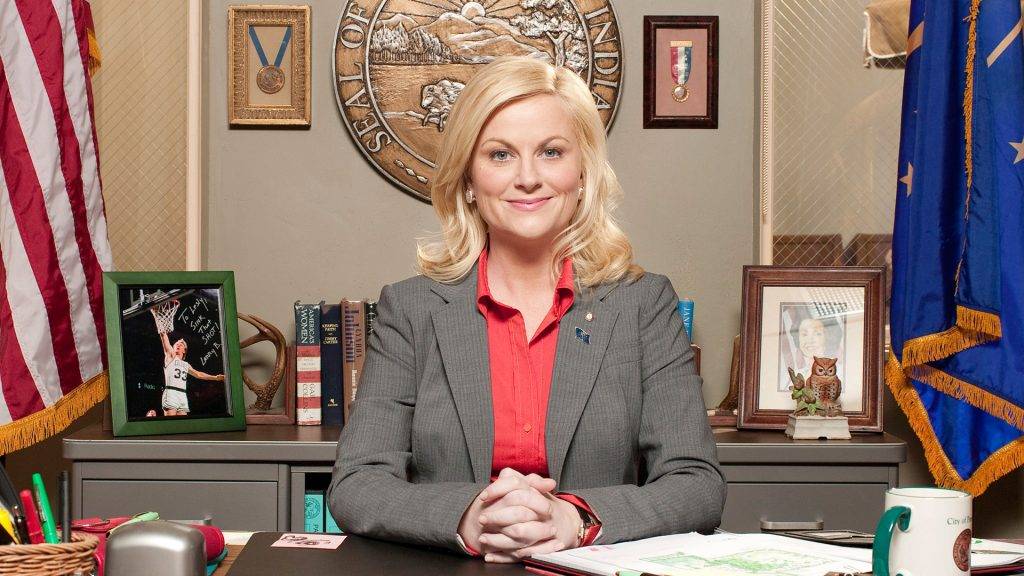 A far compagnia e ad alleggerire il peso delle responsabilità che gravita sulle spalle di Leaslie, ci sono i suoi colleghi fannulloni e disinteressati.
Addentrandoci nell'ufficio conosciamo Ron Swanson, il direttore del Dipartimento Parchi e Aree Ricreative, che pur mostrandosi inizialmente burbero e schivo si dimostra invece una persona di cuore rappresentando per Leslie e per tutto l'ufficio una dura ma anche dolce figura paterna.
Poi c'è Tom Haverford, interpretato da Aziz Ansari, subordinato di Leslie che preferisce svolgere qualsiasi attività piuttosto che eseguire il suo lavoro. Tra un progetto e un altro si destreggerà nel mondo dell'imprenditoria, il più delle volte con scarsi risultati.
Ann Perkins è invece un'infermiera di Pawnee che diventa la migliore amica di Leslie quando quest'ultima si interessa di costruire un parco proprio nei pressi di casa sua, progetto che impegnerà i nostri protagonisti per quasi tutta la durata della serie.
Quasi per caso invece incontriamo April Ludgate, la cinica assistente del Dipartimento, che non segna in agenda nessun appuntamento per ordine di Ron e Andy Dwyer, ex fidanzato di Ann e in seguito marito di April che bazzica nel dipartimento senza meta divenendo poi lustrascarpe pur di frequentare i suoi nuovi amici.
In questo complesso miscuglio di personalità, tutti trovano comunque il loro spazio nel mondo e nell'ufficio. Facendosi forza l'un l'altro i nostri inconcludenti protagonisti riusciranno a raggiungere i loro traguardi, piccoli o grandi che siano.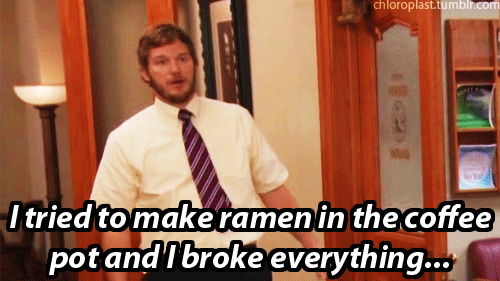 Parks and Recreation è una seria leggera perché è la giusta medicina dopo una brutta giornata, pronta ad accoglierti con il suo scalmanato gruppo di amici ogni volta che ti senti solo. Parks and Recreation è una boccata d'aria fresca, una carica di ottimismo ed entusiasmo.
Con la tecnica del falso documentario conosciamo a fondo i protagonisti, principali o secondari che siano ed inevitabilmente ci affezioniamo a tutti considerandoli una sorta di seconda famiglia. La caratterizzazione dei personaggi, così attenta e volta a un macchiettistico appena sfiorato, è forse uno dei motivi per cui mi sono appassionata così tanto a questo show.
Con situazioni al limite del reale ridiamo a crepapelle di ogni stramba avventura che viene affrontata durante la serie, dalla caccia all'opossum, alla festa in onore del pony Little Sebastian. Cresciamo e ci divertiamo con i nostri protagonisti in un turbine di sola allegria.
I momenti più 'drama' ci sono ma sono limitatissimi, quasi marginali. Anche quando troviamo una puntata che si occupa di una questione più seria, la sceneggiatura porta tutto sempre al ridicolo non scadendo però nello scontato ma mostrando una critica sempre intelligente e pensata.
Parks and Recreation è una serie positiva che fa della sua leggerezza il suo punto di forza con una comicità che non annoia mai ma che diverte sempre senza stancare.