Game of Thrones, prima stagione, ottava puntata. O, per meglio dire, Episodio VIII. Per capire la puntualizzazione, occorre contestualizzare un attimo.
Come potrete evincere dalla data scritta sotto al titolo, questo articolo è andato online nell'ultima decade di dicembre del 2017. Lo dico ben sapendo che, parlando di una pagina Web, è molto probabile che qualcuno la legga anche tra un paio di anni o giù di lì.
In tal caso, potreste dirmi se nel frattempo l'Inter ha vinto qualcosa?
Dovete sapere che in questi giorni di fine 2017 è uscito al cinema Star Wars Episodio VIII: The Last Jedi, e che la scimmia stellare sulla spalla del sottoscritto è ancora abbastanza su di giri, alcuni giorni dopo la visione della pellicola.
Quindi, le pagelle di questa puntata subiranno notevolmente l'influsso della malattia mentale Forza dilagante nell'autore, il quale è tutt'ora convinto a 28 anni e spiccioli che un giorno riuscirà a spostare il telecomando dal tavolino alla sua mano con il solo ausilio della propria mente.
Chi invece sta leggendo queste righe "in Diretta", diciamo, credo sia già quantomeno consapevole (al di là dei gusti personali) della presenza in sala di Luke, Leia, Rey e compagnia. In caso contrario, mi faccia avere tramite commenti le coordinate geografiche della propria spedizione antartica incastrata nei ghiacci, una navicella targata Hall of Series verrà a recuperarvi al più presto.
Detto ciò possiamo iniziare. Ovviamente, nell'unico modo possibile*.
Tanto tempo fa,
in un continente lontano lontano…
GAME OF THRONES
Episodio VIII
THE POINTY END
C'è tumulto nel continente occidentale.
L'ingiustamente definito traditore Ned Stark è
stato imprigionato dall'ingiustamente definito Baratheon
Re Joffrey, con l'accusa di tradimento alla corona e al Trono di Spade.
Per gli uomini e le donne Stark i giorni nella capitale si fanno motlo pericolosi,
ma un'altra minaccia sta incombendo sugli uomini, un nemico creduto ormai sconfitto
e che invece dal profondo Nord di westerosè pronto a ritornare col suo carico di atrocità.
Mentre ad Est continua la storia d'amore tra Daenerys e Drogo, il giovane Lupo Robb Stark sta per
intraprendere una coraggiosa missione per salvare la vita di suo padre Ned e le sorti della sua famiglia…
*per una corretta fruizione, inclinate lo schermo e allontanatelo da voi verso l'alto mentre leggete.
LE PAGELLE DELLA 1×08 DI GAME OF THRONES
L'IMPERO COLPISCE ANCORA – VOTO 8
Gli sgherri del malvagio Darth Joffrey assaltano il tempio Jedi, uccidendo tutti i guerrieri che si trovano di fronte. Il maestro Syrio vede interrotta la lezione dagli Stormtrooper imperiali.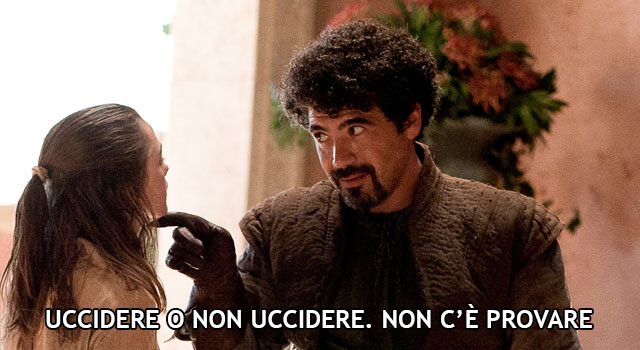 La principessa Sansa denota ancora una volta scaltrezza e acume, minacciando di andare a raccontare alla Regina Lannister, madre del neoincoronato Re Lannister, figlia del Primo Cavaliere Lannister e sorella del futuro comandante della guardia personale del Re, guarda caso un Lannister, le atrocità commesse al palazzo di Ned Stark dai soldati Lannister.
Arya invece ha il suo battesimo del fuoco. Cioè, del ferro. Va beh, ci siamo capiti.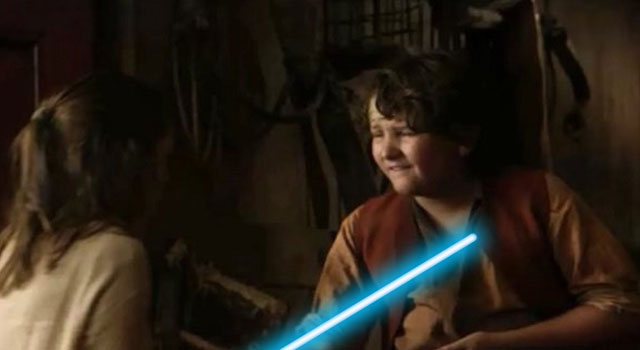 Nel frattempo, un irriconoscibile Varys va a fare visita ad Eddard Stark nelle segrete della Fortezza Rossa.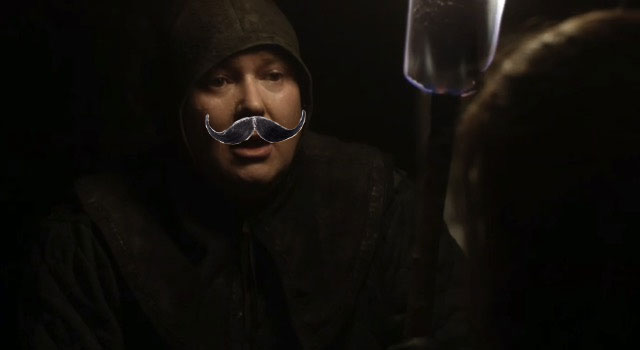 Ned ha sulla coscienza un Meta Lupo, i suoi servitori, la sua guarnigione e pure il Re. Ed è ad Approdo del Re da una settimana.
IL PRIMO EDITTO DEL GIOVANE RE È DESTITUIRE SER BARRISTAN, ED È SUBITO JOFFREY IL ROTTAMATORE – VOTO 5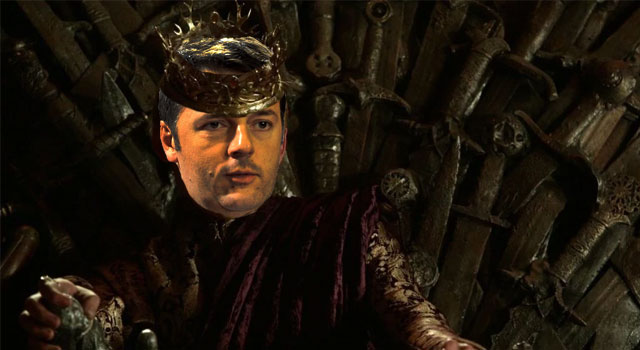 ROBIN BRONN E LITTLE TYRION VAN PER LA FORESTA, URCA URCA TIRULERO OGGI SPLENDE IL SOL – VOTO 7
IL RISVEGLIO DELLA FORZA – VOTO 6
Alla barriera fanno ritorno un paio di Ranger molto riservati. Cadaveri che hanno visto giorni migliori, ma che non è detto che non ne vedano altri.
Intanto, arrivano brutte notizie da casa per Jon Snow, da comunicare con le dovute pause sceniche.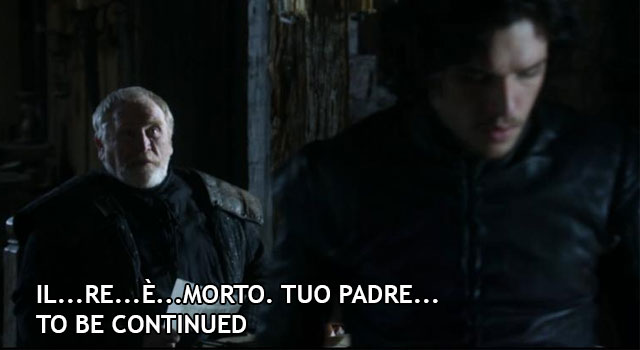 La voce che vuole Ned Stark essere un traditore circola nel Castello Nero più velocemente del virus gastrointestinale quella volta che il cuoco non si è lavato bene le mani. Il sempre premuroso Ser Allister Thorne prevede la fine di Jon, impiccato sulla forca.
In un angolo, un noto poeta fiorentino dal naso adunco prende appunti sul concetto di contrappasso.
JON SNOW SUGGERISCE LA PRIMA COSA UTILE IN 8 PUNTATE E NESSUNO LO CAGA – VOTO 3
SPETTRO È NERVOSO. STRANO, EPPURE NON C'È IN GIRO ANIMA VIVA – VOTO 2 (alla battuta)
AGGRESSIVO LO ZOMBIE, È UNO CHE SI SCALDA FACILMENTE – S.V. (Sopra Vedi, giovane Skywalker)
UNA NUOVA SPERANZA – VOTO 6
Mattinata all'apparenza di routine per i Dothraki. Colazione alle 7, una Call alle 8 e mezza, riunione alle 9 e stupri e saccheggio selvaggio alle 10 e 45, ma veloci che poi c'è da fare il report di fine massacro.
Dopo la conquista, Drogo bisticcia con un suo amichetto e si fa un graffio da nulla. Per sua fortuna, una gentile signora si offre di aiutarlo.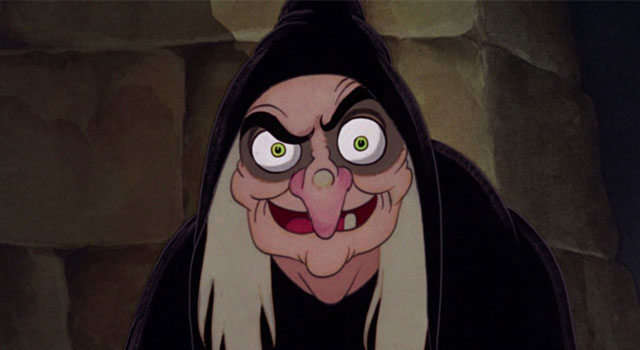 Il Khal non è convinto, ma sappiamo tutti che in una coppia, anche in quella composta da una piccola ragazza bionda e una spietata macchina di morte assetata di sangue, chi porta i pantaloni è sempre quella senza barba.
E che sia Game of Thrones o la vita vera, se lei ti chiede un parere non è per tenere in considerazione la tua opinione, ma solo per rimarcare il predominio lasciandoti l'illusione di contare qualcosa.
Ultime raccomandazioni di Robb prima della partenza verso la guerra. L'ultima volta che Bran ha promesso di non fare qualcosa è volato giù da una torre. Si mette bene.
Grande Inverno è passata nell'arco di qualche settimana dall'essere comandata da un valoroso condottiero saggio e giusto a un giovane sbarbato e impulsivo fino ad arrivare a un bambino caduto di testa da una buona dose di metri. Di questo passo può salire al potere anche gente del calibro di Hodor o Trump.
La battaglia più attesa di Game of Thrones è alle porte. Robb mostra a sua madre il messaggio di Sansa.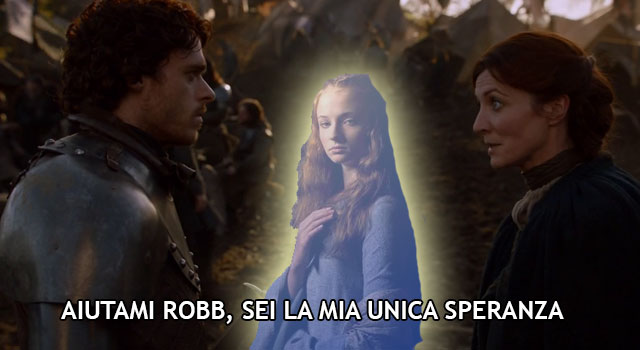 Tywin Lannister, invece, è pronto a schierare in prima linea un'accozzaglia di barbari, un nano e un mercenario. Non vedevo una marmaglia del genere nella stessa formazione dai tempi dell'Inter di Stramaccioni.
IL VIAGGIO DI CAT DA SUA SORELLA CONTINUA AD ESSERE UN SUCCESSONE – VOTO 5
OSHA TROVA UN GROSSO MOTIVO PER RIMANERE A GRANDE INVERNO – VOTO 7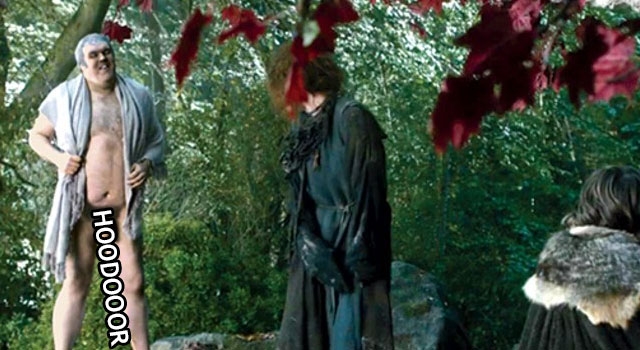 DANY OSSERVA IL LAVORO DEI GUERRIERI DI SUO MARITO COME UN VECCHIO DAVANTI A UN CANTIERE – VOTO 4
La citazione della settimana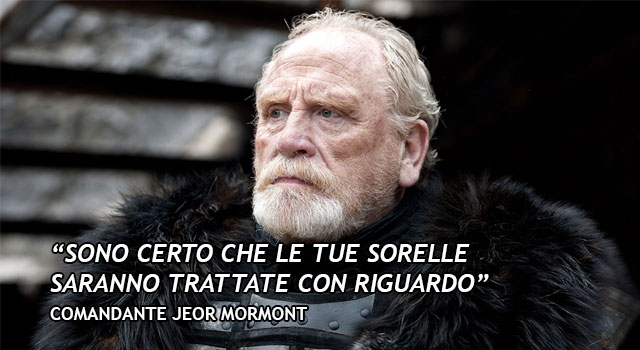 Le previsioni del Gufo con Tre Occhi
Dopo ogni episodio elargiremo profezie sui destini dei protagonisti di Game of Thrones. I quali potranno tranquillamente risponderci, se sono capaci di scrivere sulla tastiera con una mano sola…
Sansa abiura suo padre e chiede a Robb di fare la pace. Sicuramente questo peccato giovanile non tornerà a tormentarla.
Robb è fortunato ad avere un compagno di avventure saggio e leale come Theon.
Osha preme per andare a fare la guerra a Nord, non a Sud. Stolta femmina, cosa ne saprà mai lei di strategia militare?!