Fresca fresca di un mega rinnovo (leggete qui), Outlander continua a darci spunti per nuovi articoli. Oggi vi raccontiamo tutto sulla cittadina che appare all'inizio della storia di Claire, quella che, nella storia, è Inverness. Mi raccomando se non avente ancora iniziato la Serie (PERCHÈ???) o se siete rimasti indietro col racconto, fermatevi! Evitate gli SPOILER.
Nel 1945, l'infermiera Claire Randall torna dal fronte e si ricongiunge al marito, Frank Randall, sposato poco prima di partire per la Guerra. I due decidono di partire per un viaggio, una seconda luna di miele. La scelta ricade sulla Scozia, luogo in cui Frank vuole ritrovare le tracce delle sue origini. La coppia arriva a Inverness, una ridente località scozzese, considerata la capitale delle Highlands; lì alloggiano in una piccola locanda in centro.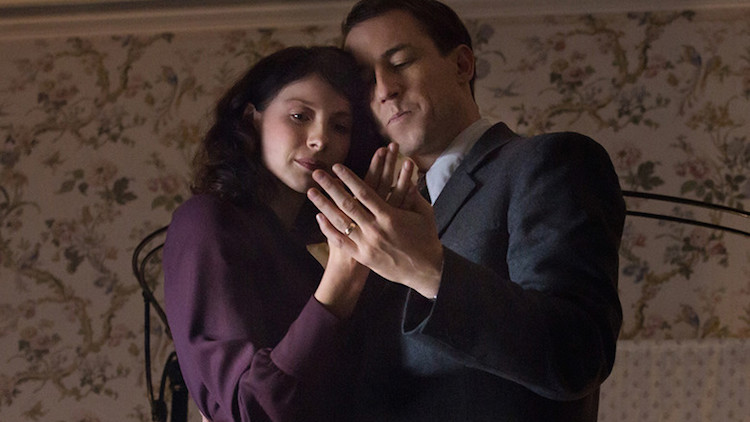 In realtà, nonostante Inverness sia vicina a molti luoghi simbolo per la Serie, la location scelta per girare queste prime scene è un'altra. Stiamo parlando di Falkland.
A differenza di Inverness, Falkland è un borgo molto piccolo che conta meno di 1200 abitanti e che conserva, ancora oggi, tutto il fascino degli antichi villaggi nati attorno alla corte reale. Proprio queste sue caratteristiche hanno fatto sì che gli sceneggiatori la preferissero a Inverness che, invece, ha tratti più "metropolitani".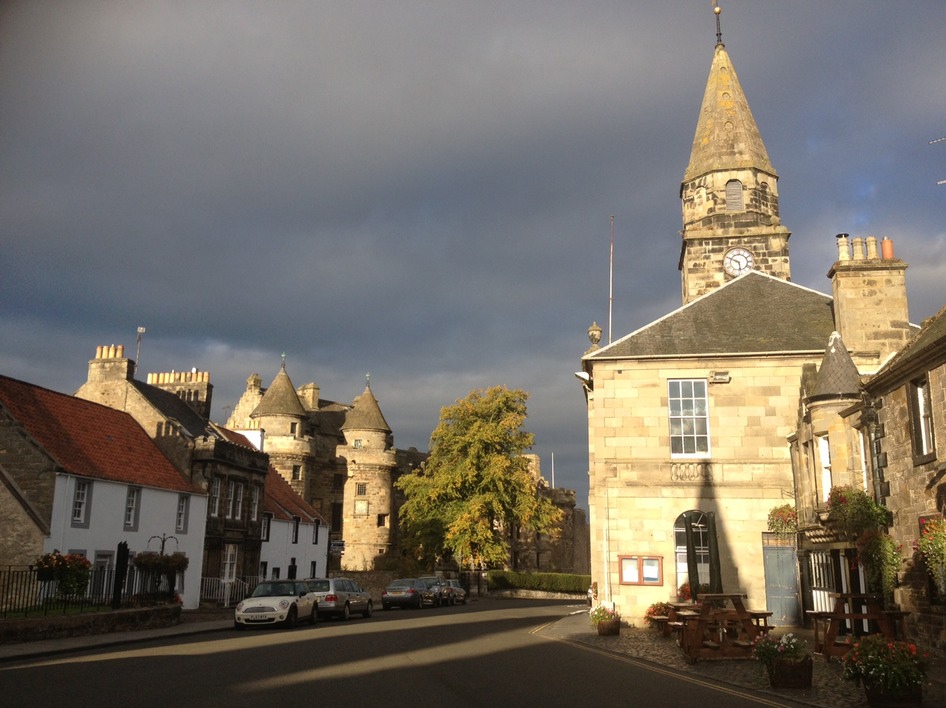 Situata più a sud rispetto a Inverness, Falkland nacque come villaggio conosciuto col nome di Parish of Kilgour, nome della chiesa di riferimento. In seguito alla costruzione del Castello di Falkland, il villaggio crebbe sempre di più fino al giorno in cui il Castello venne acquistato dalla Corona Scozzese. Quest'ultima lo trasformò, nel XIV secolo, nel Falkland Palace, considerato uno dei migliori esempi di architettura rinascimentale. Il borgo divenne, quindi, centrale nella storia della Scozia; il Palazzo, di proprietà degli Stuart, era luogo di riposo e svago per la Famiglia Reale e tutto il paese beneficiava di questa presenza.

Prendendo spunto da "colui che tutto sa e tutto ci fa amare", ovvero Alberto Angela, noi di Hall of Series tenteremo, oggi, di portarvi virtualmente a Falkland. Così ritroveremo alcuni dei luoghi simbolo di Outlander (leggi qui per un altro viaggio virtuale nel mondo di questa Serie Tv).
Come abbiamo già detto, la Serie Tv inizia con la luna di miele di Claire e Frank che, separati dalla Guerra, si ritrovano. La coppia di sposi alloggia nella locanda di Mrs.Baird, una simpatica donna scozzese che li accoglie raccontandogli i retroscena di alcune leggende locali. Ebbene questo albergo esiste veramente: si chiama The Covenanter Hotel. Oggi è chiaramente diventato uno dei luoghi più visitati dell'intera Scozia; trovare una stanza libera è una vera e propria impresa.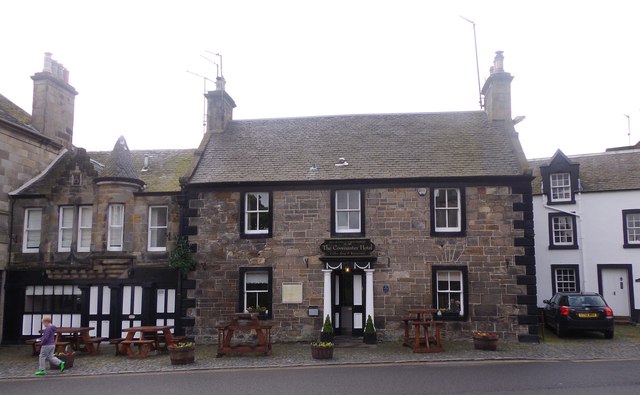 "Durante una notte buia e tempestosa", Frank, tornando in albergo, vede un uomo di spalle, vestito con il tipico kilt scozzese, che osserva la sua Claire nella stanza d'albergo.
Quello che Frank non può sapere è che quell'uomo è l'anima gemella di sua moglie, Jamie Fraser e che, di lì a poco, la sua vita cambierà completamente.
Questa è una delle scene più significative di tutta la Serie e ci fa immediatamente capire di cosa Outlander parla. Siamo davanti a un amore unico e senza tempo che non conosce confini. Anche in questo caso, è possibile ritrovare a Falkland il luogo da cui "lo scozzese sconosciuto" osserva la nostra protagonista. Sto parlando della Fontana di Bruce; si tratta di un monumento posto al centro del paese a pochi passi dal portone di ingresso del Falkland Palace. La fontana è dedicata ad Onesiphorus Tyndall-Bruce, custode del Palazzo Reale per molti anni, a partire dal 1828.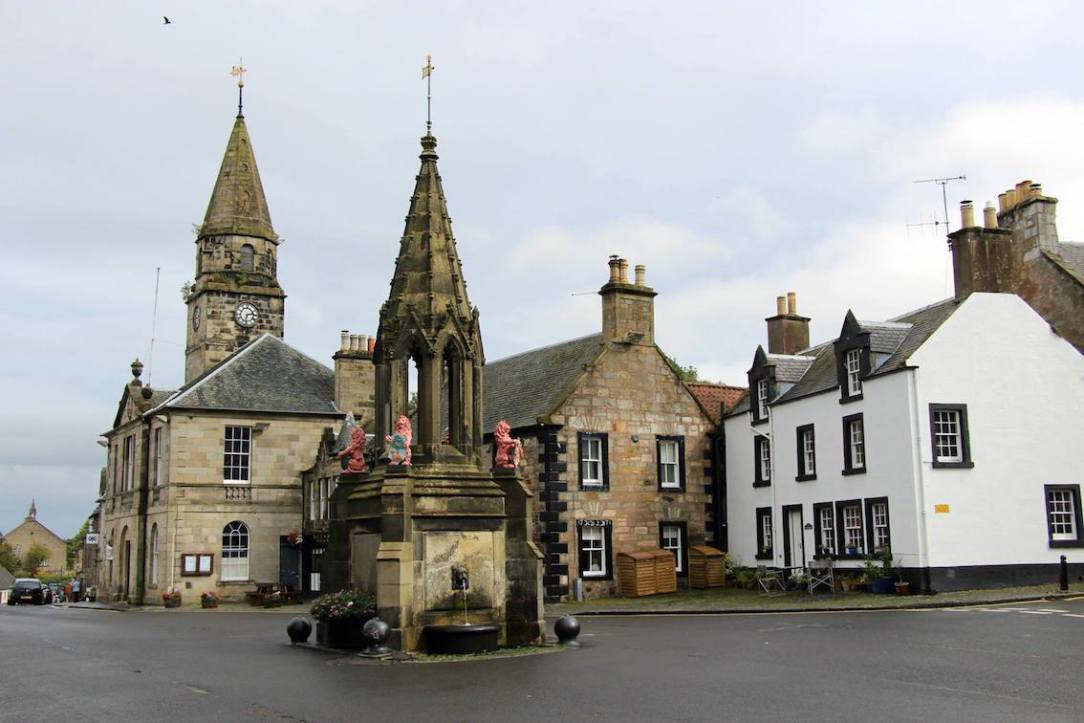 Quando si avvicina la battaglia di Culloden (che decreterà, di fatto, la scomparsa dei clan scozzesi), Claire ritorna nel "suo tempo" per proteggere il bambino che porta in grembo. La sua vita, però, non sarebbe più potuta essere la stessa. Dopo vent'anni Claire torna in Scozia insieme alla figlia Brianna per partecipare al funerale del Reverendo che aveva accolto lei e Frank (ormai morto) durante il loro viaggio di nozze; resasi conto di quanto amore provi ancora per il suo Jamie, racconta tutto alla figlia iniziando una vera e propria ricerca.
Le vicende scozzesi vissute dai Fraser sono storiche. Le tracce si ritrovano ancora nei libri e nei registri ufficiali.
Jamie è sopravvissuto a Culloden? Chi della sua famiglia è riuscito a sfuggire dalla furia delle Giubbe Rosse? Tutte queste informazioni Claire le cerca negli archivi di Inverness che sono stati allestiti nelle stanze di quello che è, nella realtà, il Municipio di Falkland.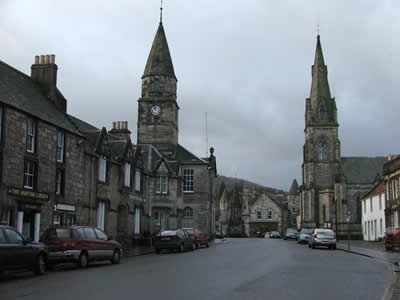 Chiaramente in ogni angolo del centro di Falkland si respira aria di Outlander; noi abbiamo solo cercato di farvi immergere ancora di più in questa magica atmosfera raccontandovi un po' di più su uno dei set principali della Serie.
Fateci sapere se ci siete stati e, perchè no?!, postate le vostre foto!
Alla prossima!
Passate anche dagli amici di Everything Outlanderღ