Ottime notizie per i fan di Outlander: la Starz ha rinnovato l'amata Serie Tv fino alla sesta stagione! Il drama storico tornerà sui piccoli schermi per una quinta e sesta stagione. La notizia, che sta facendo il giro del web, ha entusiasmato i fan, che non vedono l'ora di vedere i nuovi episodi.
Outlander è una storia basata su una serie di libri di Diana Gabaldon. La Serie continuerà lo schema utilizzato fino ad oggi: ad ogni stagione corrisponderà un libro della Gabaldon. Le appena rinnovate quinta e sesta stagione di Outlander avranno circa 12 episodi ciascuna e la storia narrata si baserà rispettivamente su The Fiery Cross e su A Breath of Snow and Ashes.
Ma le buone notizie non finiscono qui! La Starz ha anche annunciato che la quarta stagione di Outlander, composta da 13 episodi, arriverà sui piccoli schermi a novembre 2018. Le riprese di questi imminenti episodi sono attualmente in corso in Scozia.
Siete curiosi e volete qualche anticipazione? Il network ha rilasciato tre foto della quarta stagione. Da questo momento in poi, potrebbero esserci degli spoiler!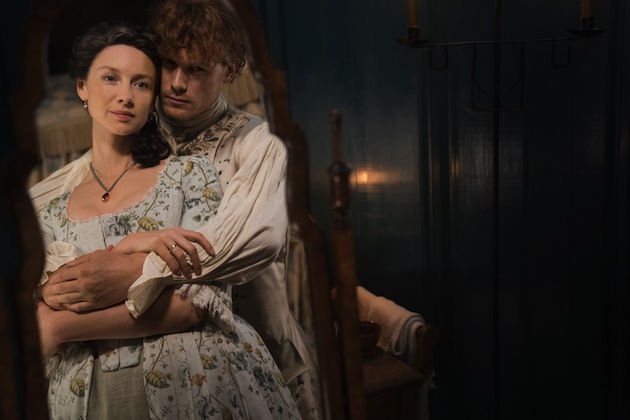 Due delle foto rilasciate dalla Stark raffigurano Claire (Caitriona Balfe) e Jamie (Sam Heughan). In una di esse vediamo la bellissima Claire ben vestita, insieme a Jamie. I due sembrano essere in una casa ben arredata: la scena potrebbe riferirsi a quando la zia di Jamie, Jocasta, organizza una cena di benvenuto per la coppia alla piantagione di River Run.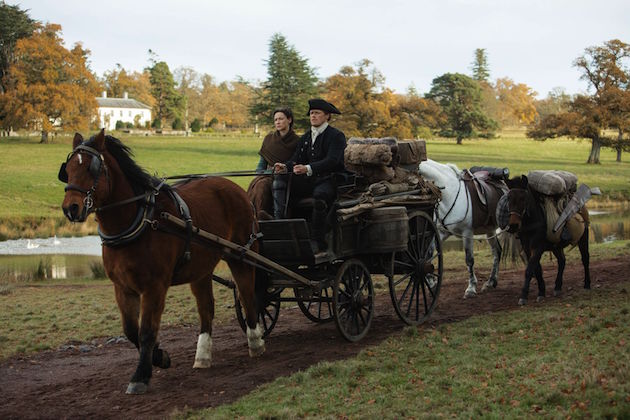 Nella seconda foto vediamo Claire e Jamie che, guidati da un cavallo, trasportano viveri e altri due cavalli. Infine, nella terza foto rilasciata dalla Starz, vediamo Bree, seduta, in compagnia di Roger. Sullo sfondo notiamo quella che sembra essere una gran folla. Sembra che i due stiano apsettando il festival celtico dell'estate del 1969 in New England.