Attenzione: questa recensione contiene spoiler per chiunque non abbia visto la 6×11 'Tougher Than the Rest' di Once Upon a Time.
Ma quanto è passato?
Ma veramente tanto tempo, così tanto che mi ero dimenticata persino il nome del figlio di Belle e Tremotino. Insomma, nei precedenti episodi di Once Upon a Time, è successo tutto e niente. La Regina Cattiva è stata trasformata in un serpente (…), Emma e Regina sono state spedite in un mondo creato da un desiderio di Emma stessa e i Charmings dormono beatamente (chi in un modo e chi in un altro).
Ma questa seconda parte di stagione porta con sé tantissime novità, a partire dall'IMPAZIENZOMETRO, uno strumento che userò per valutare la puntata a fine recensione.
Ma adesso partiamo con i commenti alla 6×11 Tougher Than the Rest.
Come non ricominciare questa seconda parte di stagione di Once Upon a Time con questa meravigliosa espressione di un Henry che abbiamo scoperto essere meno inutile nella realtà alternativa. Ma è tutta un'illusione, perché tanto è solo una misera comparsa (meglio così).
Ma prima ancora di vedere il CATTIVONE Henry alle prese con la ricerca delle sue mamme, abbiamo un flashback sulla vita di Emma nella sua giovane età. Riusciamo finalmente a capire da dove deriva il suo cognome, proprio dalla storia del Brutto Anattroccolo che riesce a trasformarsi in cigno. Mentre Henry gira in tondo, Emma guarda gli alberi e comincia a escogitare un piano per far tornare a casa lei e Regina, la quale però non fa altro che pensare al suo amato Robin e non se la fila proprio.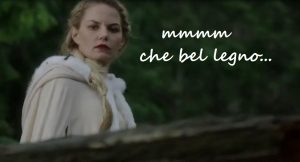 A Storybrooke la situazione è diventata quasi ingestibile e il principe azzurro è pronto a intervenire con lo stesso spirito che lo contraddistingueva un tempo.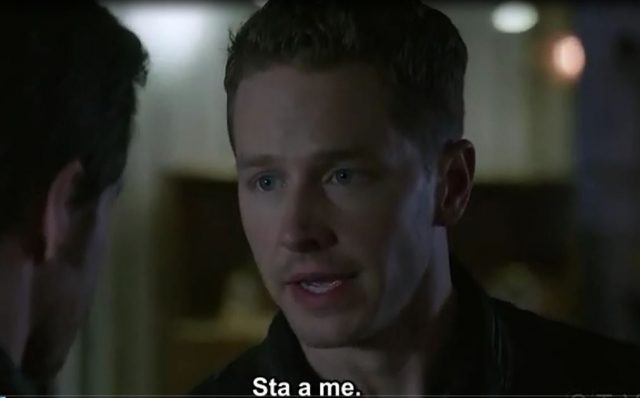 Ecco qua! Che dite, forse si sta pian piano risvegliando il suo lato selvaggio?
Noi lo speriamo, perché da quando lui e Snow sono sotto la maledizione del sonno, Biancaneve è stata di gran lunga più risolutiva di David. Eeeeh le donne…
Ma in questa puntata è evidentemente più importante quello che succede dall'altra parte, nella realtà alternativa.
Qui torniamo a simpatizzare per Regina che cerca in tutti i modi di approcciarsi a Robin, giusto per capire se sente la sua mancanza. Entra nella taverna che in quel fatidico giorno di tanto tempo fa Trilli le aveva mostrato. E questa volta non può far altro che entrare e andare a riprendersi il suo grande amore. Ma l'accoglienza non è delle migliori.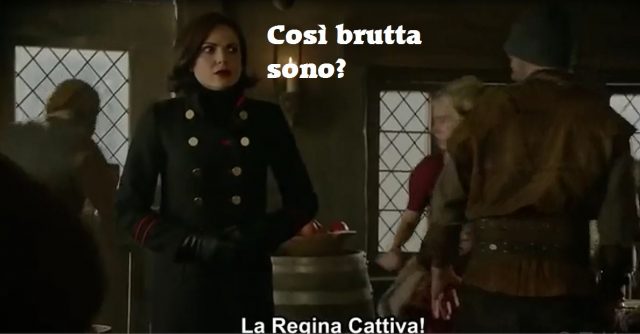 I due piccioncini non fanno neanche in tempo a conoscersi meglio che vengono interrotti dallo sceriffo della Foresta di Sherwood, un certo belloccio, che di nome fa Nottingham.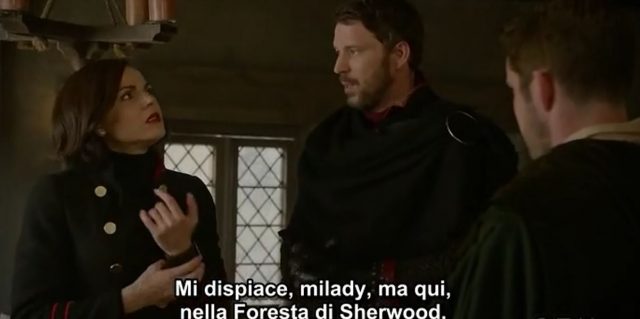 Tutti veramente brutti in questa puntata, bisogna sottolinearlo. Dispiacerebbe molto non rivedere Nottingham nelle prossime puntate, è vero, è stato leggermente rozzo, però è carinooo! Chissà se Rumple (della realtà alternativa) lo ha ucciso definitivamente.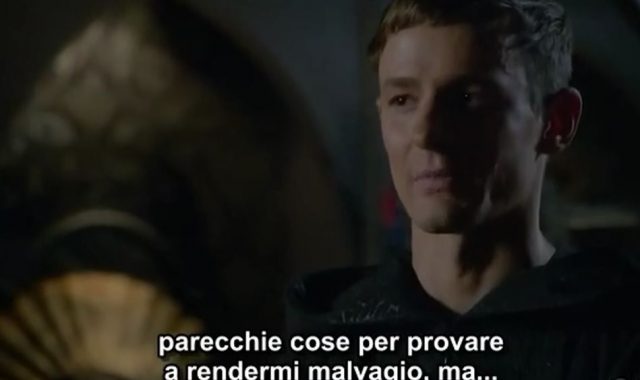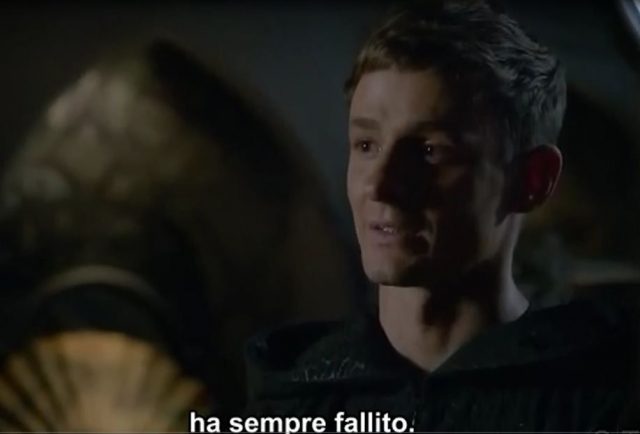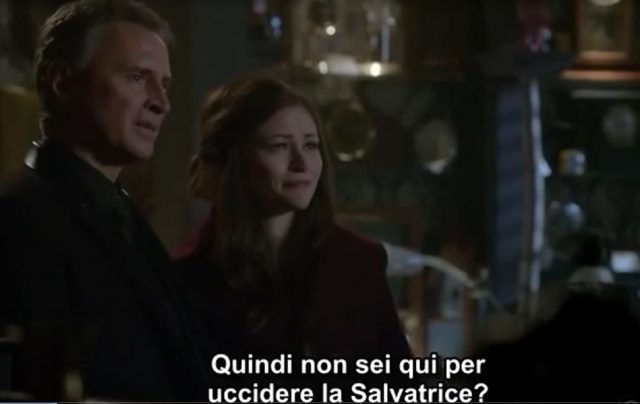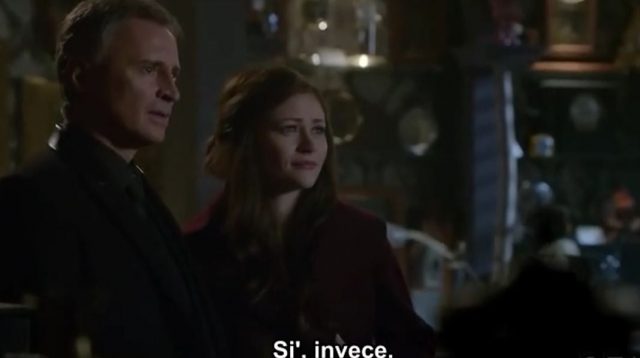 LA COERENZA!
Tale padre, tale figlio. In questa famiglia non sanno neanche più loro cosa fare, chi uccidere e chi salvare, ma comunque…
Dall'altra parte della Foresta, Emma va a trovare Pinocchio e insieme, non senza parecchie difficoltà, riescono a creare un portale dallo stesso albero a cui Emma era stata affidata alla sua nascita.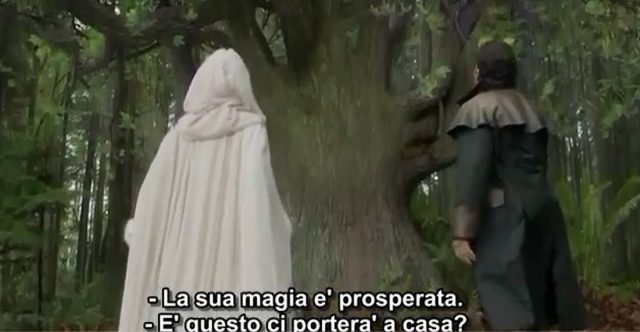 Una di queste difficoltà si chiama Killian Hook, una versione più stravagante e meno sobria del pirata che siamo abituati a vedere a Storybrooke.
Questo Hook è l'elemento TOP della puntata, una chicca, che insieme alle battute di Emma e ad i momenti di tenerezza di Regina, ha fatto sì che la puntata di Once Upon a Time avesse un fascino particolare.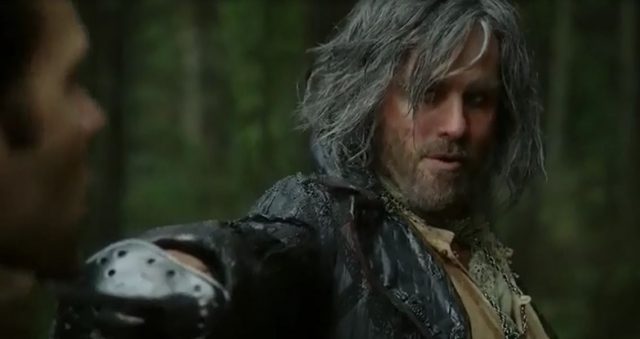 Va beh, solo Hook può essere affascinante e carismatico anche così!
Ma torniamo a parlare di Regina. L'ideona del secolo che potrebbe mettere fine alle disgrazie del sindaco viene, niente di meno che, da Emma.
Chi l'avrebbe mai detto?!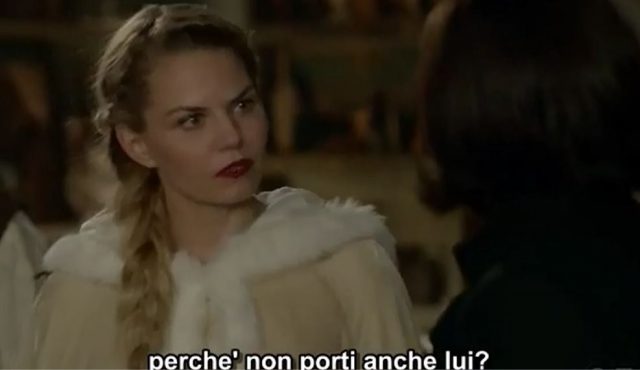 Questo volevamo sentire! Quasi quasi Emma riconquista posizioni in classifica per i personaggi più divertenti della Serie .
Grazie all'albero gentilmente donatogli da Pinocchio, Emma e Regina riescono a tornare indietro, ma …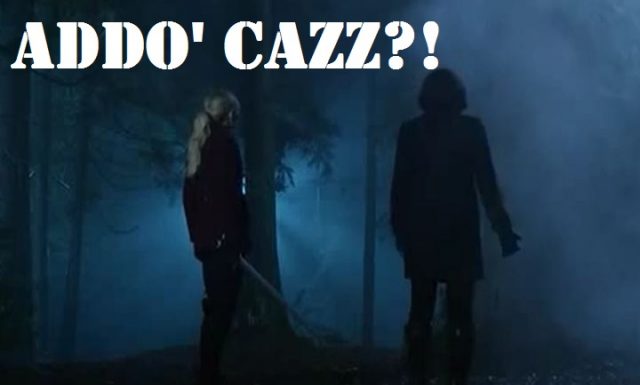 Dove cacchio è Robin?!?!?!?
Non potevano darci un ennesimo desiderio distrutto! Robin doveva tornare in qualche modo, ed è finalmente tornato!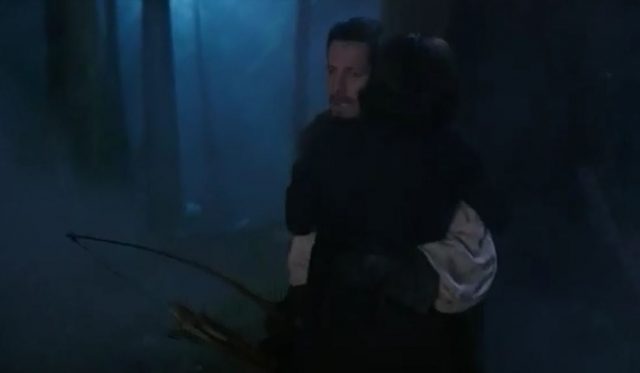 E finalmente una GIOIAAAAAAAAAA!
Regina infatti, è presa da un attimo di agitazione e lo abbraccia, e noi già desiderosi di varie manifestazioni d'affetto tra i due, non veniamo accontentati.
Come a voler dire, per adesso vi siete meritati solo questo, poi vediamo se il rapporto potrà evolversi in altro. In effetti si sono ritrovati solo ora, e Robin non è proprio il Robin che ci ha lasciato tempo fa.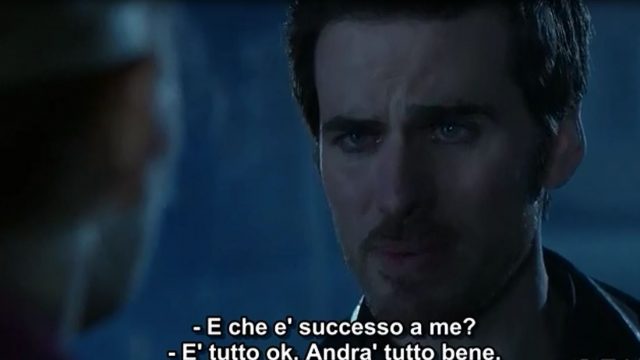 Veniamo a lui. É successo di tutto! E la versione alternativa che abbiamo visto non ci è affatto dispiaciuta.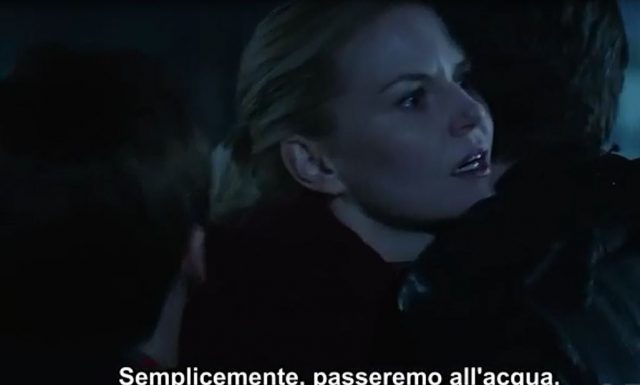 Questa battuta vale l'intera puntata!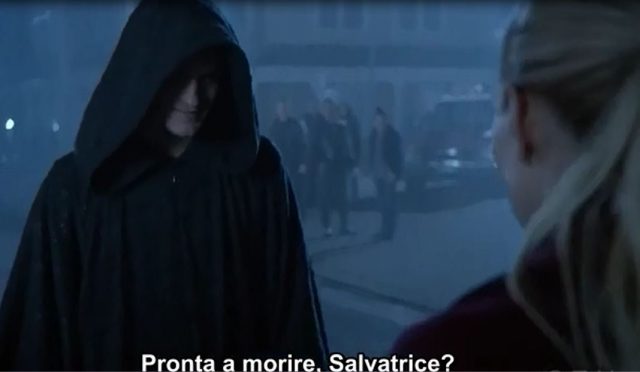 Abbiamo aspettato questo scontro per un'intera prima parte di stagione. Adesso è arrivato e ci ha lasciati senza parole. Cosa dire?
Da una parte Emma ha dimostrato di poter essere la Salvatrice che non ha mai avuto il coraggio di essere finora, dall'altra lo scontro è durato veramente troppo poco. Non ha ripagato a pieno le aspettative che avevamo da inizio stagione.
A mio parere, la risposta a tutto sta nei tremori.
Emma ha saputo sconfiggere, almeno per ora, Gideon (che pare abbia il nome di un personaggio dei videogiochi). Ma non finisce qui, non può finire qui. Vedremo cosa ci riserverà il futuro, e quale altro assurdo piano metterà in pratica quell'incoerente ragazzino sbarbato.
La guerra ora è conclusa e tutti possono passare ai baci e agli abbracci.
Ma non tutti sono in vena di feste e abbracci.
Mentre tutti festeggiano…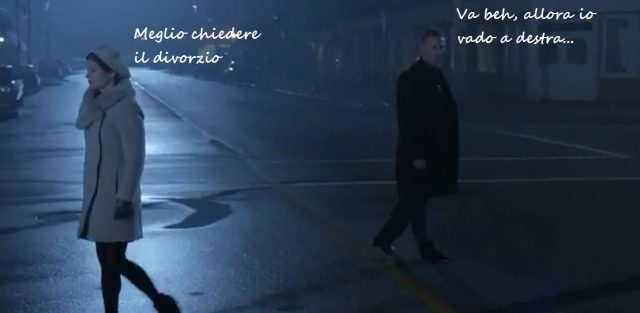 Le novità e i ritorni di fiamma non finiscono qui, perché abbiamo anche la nostra buona dose di Rumbelle, teneri e carnosi come sempre. Non si sa più neanche se sperare che tornino insieme, non si capisce più nulla su quello che voglia fare Rumple, su cosa sia diventato e su cosa voglia Belle.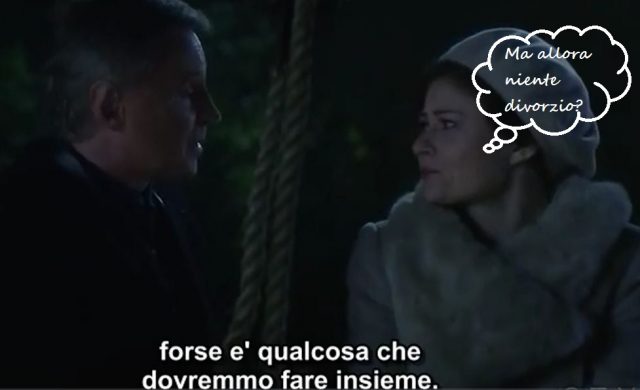 Ed ora la novità di questa seconda parte di stagione:
L'IMPAZIENZOMETRO!
Per questa puntata il livello è: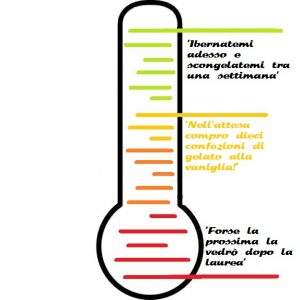 Appuntamento alla prossima settimana, con un Gideon sempre più ARRABBIATO!