Non so come sappia quello che sa, ma sa tante cose
Si potrebbe riassumere con questa frase di Rick Rubin l'insospettabile acume dell'ospite della nuova puntata di Non c'è bisogno di presentazioni. Stiamo parlando di Mr Shawn Corey Carter, meglio noto come Jay-Z. Dopo Barack Obama, George Clooney e Malala Yousafzai, David Letterman cambia ancora una volta registro. Ogni ospite ha una cultura, una professione e una storia diversa da raccontare, e forse è proprio questo aspetto che permette allo show di confermarsi come un appuntamento piacevole e interessante.
Arrivati alla seconda metà di stagione, con soli due appuntamenti rimasti, possiamo cominciare a tirare le somme dell'effettiva resa di Non c'è bisogno di presentazioni.
Nel commento alla prima puntata avevamo detto che, per valutare la bontà dell'intero prodotto, sarebbe stato necessario attendere gli episodi successivi per misurare l'efficacia delle altre interviste e la relativa presa sul pubblico. Giocatosi l'asso Obama all'esordio, nelle puntate successive la qualità del programma è rimasta alta, vuoi per il pedigree comunque elevato dei successivi ospiti, vuoi per l'abilità dello stesso Letterman nel condurre ogni episodio su binari simili ma differenti quanto basta.
Non è più il Dave irriverente e indiavolato che quasi godeva nel mettere in difficoltà l'interlocutore ai tempi del Late Show. Scordatevi frecciatine o domande troppo taglienti. Il "nuovo" format da chiacchierata sbottonata con una personalità importante, di cui tessere principalmente le lodi, risulta meno ruffiano di quanto potrebbe apparire. La pacatezza con la quale si viaggia sull'altalena delle domande permette allo spettatore di rilassarsi e seguire il tutto senza grossi affanni.
La puntata 1×04 aveva già destato scalpore ancor prima di uscire, grazie alle succulente anticipazioni rilasciate. Sono tanti i siti musicali e non che hanno riportato estratti del commento del rapper sul coming out della madre. La canzone Smile, tratta dall'ultimo album dell'artista, 4:44, affronta per l'appunto il delicato argomento in questione.
Oltre a questo "scoop", è un Jay-Z loquace, riflessivo e a tratti visibilmente emozionato quello che si confida a Letterman in Non c'è bisogno di presentazioni.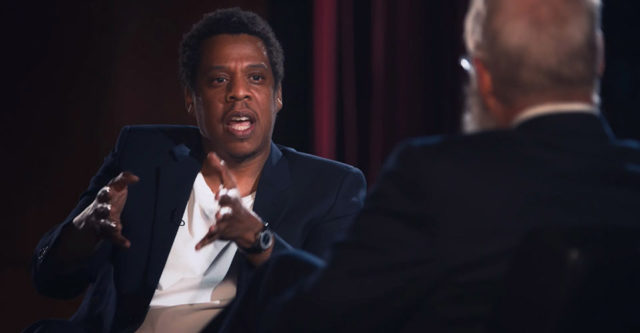 L'artista vincitore di ben 21 Grammy si racconta a ruota libera coprendo un vastissimo ventaglio di argomenti. Si inizia elencando le sue influenze artistiche, finendo ovviamente per menzionare miti del calibro di Tupac e Notorious B.I.G. L'infanzia difficile trascorsa nelle case popolari di Brooklyn, con un padre assente e una madre molto giovane con quattro figli da sfamare. La carriera da venditore di crack e la cattiva strada imboccata che solo un miracolo ha impedito terminasse con un arresto o con una pallottola in testa. E ancora l'importanza della passione per la musica e le parole, alimentate dall'esempio della sua insegnante di inglese.
Per gli amanti dell'hip hop, l'intervista è un compendio imperdibile di aneddoti e valutazioni su temi caldi e grandi classici. Tra questi, la faida sanguinosa tra East Coast e West Coast degli anni '90 o la definizione di flow spiegata semplice semplice a un Letterman a suo agio nella parte del vecchio antidiluviano. Il marito di Beyoncè si sofferma anche su quali siano le peculiarità dei grandi rapper:
Puoi avere una bella voce, e puoi semplicemente dire quasi qualsiasi cosa. Pensa a Snoop Dogg, può dire anche solo 'uno-due-tre e quattro' e tu pensi 'oh mio Dio come suona bene'.  (…) Prendi Eminem, la sua cadenza e il suo ritmo sincopato sembrano quasi una batteria, è incredibile in questo. (…) Ci sono diversi modi per essere davvero bravi. Alcune persone lo sono in tutto".
Non manca ovviamente un passaggio sull'amico-nemico Kanye West, definito un fratello per il quale l'affetto rimane intatto anche al netto di qualche litigio.
Come sempre in Non c'è bisogno di presentazioni abbiamo il consueto momento in esterna di Dave. E il protagonista può dar filo da torcere alla sua barba.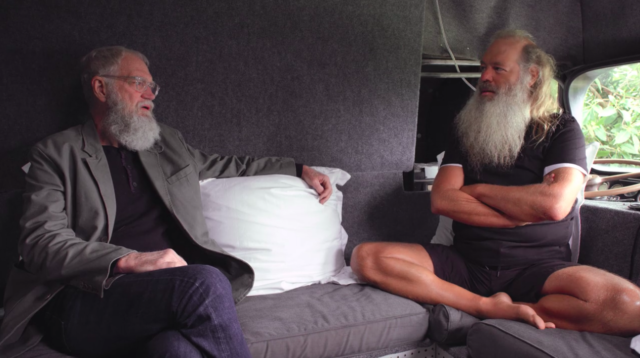 È Rick Rubin ad accogliere Letterman nel suo studio di registrazione super cool, lo Shangri La. Look come sempre eccentrico per lo storico produttore, artefice di numerosissimi successi dei Red Hot Chili Peppers, Eminem, Linkin Park, Sistem of a Down, Adele e anche del nostro Jovanotti. Tra i due barbuti si parla di Beatles e processo creativo, con un ampio spazio promozionale anche per le esibizioni canore della giovane Madison Ryann Ward, nuova protetta di Rubin.
La seconda e ultima parte dello show è anche quella emotivamente più toccante. Jay-Z parla della docu-serie che ha prodotto e presentato al Sundance, Time: The Kalief Browder Story, attualmente disponibile su Netflix. La Serie racconta la storia straziante di Kalief Browder, giovane finito nel carcere di Rikers Island per il furto di uno zaino. Dopo 600 giorni di isolamento, senza neanche un processo a suo carico, venne rilasciato, ma dopo qualche tempo morì suicida a soli 21 anni.
Ancora una volta il sociale torna prepotentemente protagonista in Non c'è bisogno di presentazioni.
Razzismo e relativi abusi della polizia americana sulla comunità afro vengono analizzati con sorprendente lucidità dall'artista di Brooklyn, che ha modo anche di dire la sua sull'amministrazione Trump con un intervento assolutamente non banale. Il momento forse più emozionante lo offre Letterman quando si apre, come mai prima d'ora nella sua nuova Serie, riguardo agli scandali sessuali di cui entrambi, in momenti e in circostanze diversi, si sono resi protagonisti. Visibilmente emozionati, i due si scambiano una stretta di mano dopo aver ammesso candidamente le proprie colpe e i faticosi tentativi di salvare le proprie famiglie attraverso la terapia.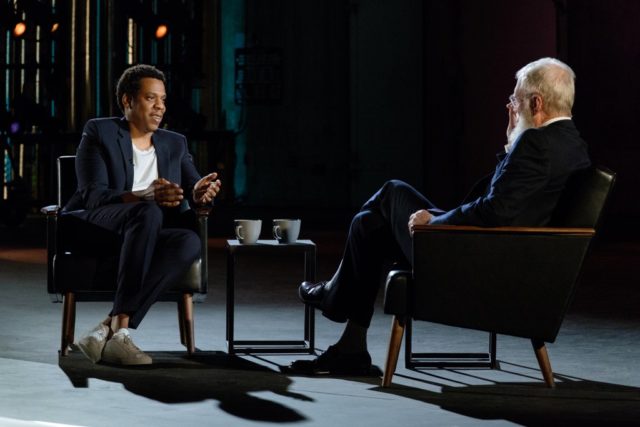 Il degno finale di un'ottima intervista, macchiata al solito da un montaggio troppo brusco e non all'altezza. E arrivederci a Maggio con la splendida Tina Fey.