The Walking Dead è stata rinnovata per la stagione numero 10 ma il suo futuro è ancora incerto. Dopo l'addio di Andrew Lincoln e Chandler Riggs, e l'arrivederci di Lauren Cohan, quanti protagonisti ancora potrebbe sopportare di perdere la serie?
Tra pochi mesi, probabilmente ad aprile, inizieranno le riprese delle nuova stagione ma c'è un volto in particolare che potremmo non trovare sul set.
Dopo i salatissimi rinnovi del contratto a Norman Reedus e Malissa McBride (si passa da 8 mila dollari a episodio a svariati milioni all'anno) non c'è ancora stata la conferma del ritorno di Danai Gurira, la nostra Michonne. Daryl e Carol sono veterani di The Walking Dead, gli unici superstiti della prima stagione, mentre Michonne è entrata come personaggio ricorrente dalla terza. La donna però ha subito conquistato il pubblico diventando una fan favorite.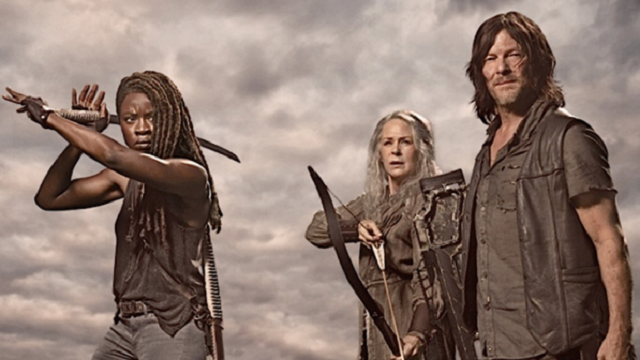 Le negoziazioni tra Gurira e l'AMC procedono lentamente perché complicate dagli impegni futuri dell'attrice, che vedremo nel 2020 in Godzilla vs. Kong. Come sempre, però, tutto sembra ridursi a una questione economica. Tornare sul set di The Walking Dead deve valerne la pena. L'AMC avrà abbastanza in banca per aumentare il cachet anche di Gurira? Ricordiamo che oltre agli aumenti di Reedus e McBride, l'AMC ha anche in ballo Fear The Walking Dead e i costosi film spin-off della serie, con protagonista il desaparecido Rick Grimes.
Non bisogna però perdere le speranze, a sentire David Madden dell'AMC:
[Danai] ha sempre detto di amare lo show. E noi amiamo lei e il suo personaggio. Ora ha molti impegni, opportunità importanti, e deve decidere cosa è meglio per lei. Da parte nostra vorremmo che fosse dei nostri. Vogliamo che rimanga.
Non manca, però, il commento acidello:
Ovviamente, l'abbandono di Andy [Andrew Lincoln] ha dimostrato che la serie può sopravvivere all'uscita di scena di qualsiasi personaggio, ma comunque non è il nostro obiettivo. Vogliamo che Danai continui a lavorare con noi alle sue condizioni, considerando le altre cose che ha in ballo.
The Walking Dead è stata rinnovata, sì, ma se fossi in Madden non sarei così tranquillo visti i cali di ascolto della serie e le continue critiche ricevute. Forse Gurira vuole abbandonare la nave prima che affondi? Chi vivrà vedrà.