Le riprese di The Handmaid's Tale 4, serie distopica targata Hulu che ha conquistato il mondo con la sua durezza e la sua bellezza, sono da più di due mesi interrotte. La causa è la pandemia globale, che ha causato disagi in tutto il mondo delle serie tv (ecco come cambieranno le regole sulle riprese dopo la pandemia).
L'attrice protagonista, Elisabeth Moss, si è espressa al riguardo in un'intervista per Extra, nella quale ha detto la sua riguardo la ripresa dei lavori per la quarta, attesissima stagione.
La terza finiva infatti con un'evasione di massa di bambini da Gilead, orchestrata come sempre da June, il personaggio interpretato dalla Moss, che però era rimasta nella repubblica teocratica per riprendersi sua figlia. Ancora una volta, il cuore di una madre e lo spirito di sacrificio sono stati più forti della voglia di libertà.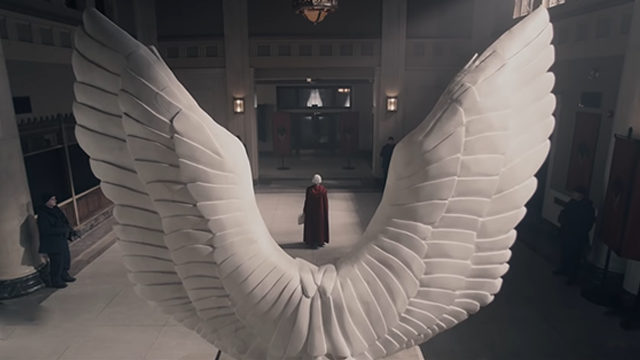 Non vediamo l'ora di sapere come andrà avanti la storia e che conseguenze ci saranno per June, l'ancella più ribelle di Gilead. Ma l'attrice non è stata troppo rassicurante sulla tempistica della ripresa della lavorazione.
Siamo al punto dove si trovano tutte le altre produzioni. Le riprese erano iniziate da appena due settimane e abbiamo ancora un'intera stagione da girare. Sicuramente ricominceremo appena sarà possibile, anche se credo che ci vorrà ancora un po'. Abbiamo tutti una gran voglia di tornare a lavorare. Tutte le famiglie hanno persone da mantenere e affitti da pagare ma la vita umana vale molto di più di una serie televisiva. Stiamo solamente cercando di capire come poter tornare a lavorare nella maniera più sicura possibile.
Di seguito trovate il video con l'intervista completa a Elisabeth Moss.
Purtroppo, viste anche le parole di Elisabeth, non torneremo a Gilead, anche solo (per fortuna) virtualmente, molto presto. Ma abbiamo la conferma che l'attrice e tutta la produzione hanno a cuore non solo la serie, ma la salute di chi ci lavora: accoglieremo con gioia la prossima stagione di The Handmaid's Tale!