Dopo aver raccontato sul piccolo schermo storie d'amore dolceamare e tragiche con protagonista la famiglia reale, la coppia "reale" di The Crown si separa nella realtà: Gillian Anderson e Peter Morgan, creatore dello show Netflix, non stanno più insieme. I due si erano messi insieme nel 2016, dopo che Gillian Anderson si era separata dal secondo compagno, Mark Griffiths, da cui ha avuto due figli, Oscar e Felix. Peter Morgan invece ha cinque figli dalla sua precedente compagna.
A furia di raccontare di matrimoni combinati, storie d'amore ostacolate e intrighi passionali, The Crown ha sconfinato nella realtà. Che sia l'effetto dello scontento provocato dalla serie alla vera famiglia reale (con l'unica eccezione della mitica Camilla)?
Gillian Anderson e Peter Morgan non si sono ancora espressi ufficialmente sulla loro separazione: ad avere lo scoop è stato Baz Bamigboye del Daily Mail. Forse la vicinanza sul set non ha fatto bene alla coppia: l'interpretazione di Gillian Anderson di Margaret Thatcher nella quarta stagione di The Crown ha portato i due a condividere il luogo di lavoro praticamente ogni giorno.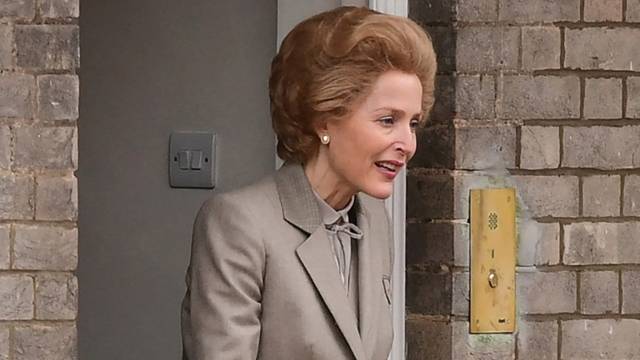 In merito proprio al suo coinvolgimento nel ruolo di Margaret Thatcher e al rapporto col suo orma ex compagno l'attrice si era espressa così:
Per la nostra salute mentale e per la salvaguardia della coppia, abbiamo dei confini ben precisi. Io non commento lo script e tu non commenti la mia interpretazione.
Sulla sua interpretazione del Primo ministro in The Crown 4, la Anderson aveva dichiarato:
Ho imparato a mettere in secondo piano le mie convinzioni politiche per assumere un punto di vista differente sulle cose. Più che altro, mi è interessato rappresentarla come essere umano, come politica e come madre. Ho avuto l'opportunità di interpretare una persona che, per molto tempo, è stata sotto ai riflettori di tutto il mondo. Non sono un politico, non mi interessa dare opinioni. Ciò che mi riguarda è interpretare e recitare.