Stranger Things è una delle serie tv di maggior successo di Netflix: la terza stagione ci ha portato nelle atmosfere estive degli anni '80.
In questi anni molti fan hanno immaginato i protagonisti in fan-art, fan-video e altre forme artistiche.
Tra queste, ci sono anche le versioni in stile anime, come quella di Humoring the Fates. Lo studio d'animazione ha rivisitato Stranger Things con i disegni che richiamano lo stile giapponese degli anime anni '80.
Il video è stato distribuito su YouTube da Octopie.
Il video – che dura circa due minuti – ripercorre alcune delle scene più iconiche della prima e della seconda stagione, mentre non vediamo nulla della terza (quindi tranquilli, non ci sono spoiler!).
Tra le scene riprodotte in versione anime vediamo Mike (Finn Wolfhard), Dustin (Gaten Matarazzo), Lucas (Caleb McLaughlin) e Will (Noah Schnapp) giocare a D&D, Eleven (Millie Bobby Brown) nel laboratorio – e poi lo scatenarsi dei suoi poteri -, la scena delle luci natalizie usate come mezzo di comunicazione in casa Byers, gli scontri con il Demogorgone e i democani.
Possiamo notare anche Barb (Shannon Purser), amica di Nancy (Natalia Dyer) e prima vittima del Sottosopra. In questa versione anime la ragazza continua a vivere: la vediamo in una scena di gruppo, con un aspetto simile a quello di uno zombie.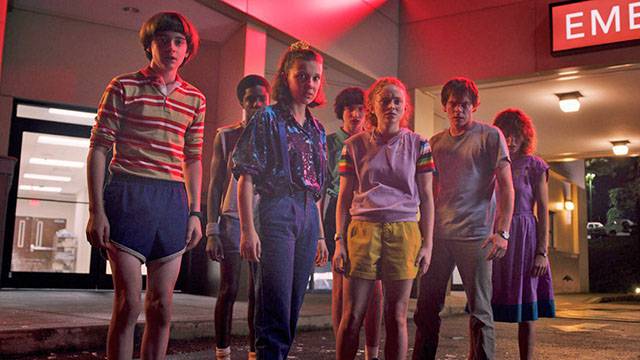 La terza stagione di Stranger Things è arrivata su Netflix il 4 luglio. Già si pensa alla quarta: l'attrice Cara Buono sembra essersi fatta scappare l'inizio delle riprese. E noi di Hall of Series riteniamo che ci siano tanti buoni motivi per pensare che vedremo la nuova stagione a novembre 2020.
Nell'attesa, se siete appassionati di Dungeons & Dragons come i protagonisti, la Hasbro ha creato il passatempo giusto per voi. Potete infatti acquistare uno Starter Set dedicato alla serie tv, completo di Demogorgone e dell'avventura creata da Mike nel pilot.