Un attore accusato di praticare cannibalismo, il giovane attore interprete di Rio de La Casa de Papel in lacrime su Instagram, l'ennesimo rinvio per il film prequel de I Soprano e la cancellazione della nuova serie di Nic Pizzolatto e Matthew McConaughey sono solo alcune delle pessime notizie di questa settimana.
ARMIE HAMMER ACCUSATO DI CANNIBALISMO, SCOPPIA IL CASO SUI SOCIAL
Armie Hammer è un cannibale? È stata forse questa la notizia più scioccante della settimana che ha investito in pieno l'attore di Call Me By Your Name.
Hammer è stato infatti accusato di avere conversato in privato con una tredicenne su Instagram e di aver ammesso di eccitarsi con il cannibalismo.
In molti non hanno però creduto nella notizia, definendola ridicola. Perché mai l'attore avrebbe dovuto esporsi così con una sconosciuta? Inoltre, l'account con cui è stato inviato il messaggio è quello ufficiale di Hammer ma è gestito dal suo staff, che non avrebbe mai inviato un messaggio del genere. Niente è ancora confermato ma sembra che l'account dell'attore sia stato hackerato e che tutto questa faccenda sia solo uno scherzo di pessimo gusto. Uno scherzo che si è pesantemente ritorto contro Hammer che ha deciso di lasciare il suo ruolo di co-protagonista al fianco di Jennifer Lopez nella commedia sentimentale Shotgun Wedding. L'attore ha dichiarato:
"Non risponderò a quelle st*****te ma, alla luce di questi attacchi online falsi e tendenziosi fatti contro di me, non me la sento, in buona coscienza, di lasciare i miei figli per quattro mesi per girare un film nella Repubblica Dominicana. Ho ricevuto il totale supporto della Lionsgate e sono estremamente grato alla compagnia."
THE WALKING DEAD – SAMANTHA MORTON VIENE RICOVERATA IN OSPEDALE E LANCIA UN APPELLO: «INDOSSATE LA MASCHERINA»
Samantha Morton, conosciuta per il ruolo di Alpha in The Walking Dead, è stata ricoverata questa settimana in ospedale a causa di uno shock anafilattico e, poiché mostrava difficoltà nel respirare e aveva la temperatura alta, è stata ricoverata in un reparto Covid per qualche ora. Fortunatamente è risultata negativa al test ma ha comunque voluto lanciare un messaggio ai propri fan, pregandoli d'indossare sempre la mascherina, per proteggere sé stessi e gli altri. L'attrice è infatti rimasta molto colpita da ciò che ha visto nel reparto e ha voluto ringraziare personalmente chi sta combattendo la pandemia in prima linea:
"Grazie a tutto lo staff dell'A ed E al Conquest che mi ha aiutato stasera. Sono così grata per il nostro NHS (sistema sanitario nazionale del Regno Unito), vedere in prima persona la zona rossa, gli infermieri e i medici essere così gentili e meravigliosi con noi tutti è stato umiliante. Stasera sto bene grazie a loro."
HBO HA PERSO UNA PERCENTUALE ALTISSIMA DI SPETTATORI DOPO LA FINE DI GAME OF THRONES
Il colosso della tv americana HBO sta avendo una vera e propria emorragia di pubblico da quando si è conclusa Game of Thrones.
In un report di Variety di questa settimana si può leggere infatti che il network ha avuto nel 2020 un calo del 38% di spettatori, collocandosi al 46esimo posto tra i canali più visti dell'anno.
Ma i dati peggiorano nella fascia demografica 18-49 dove HBO ha subito un calo del 52% rispetto ai numeri del 2019. Questo calo viene attribuito proprio all'assenza di Game of Thrones, che si è conclusa nel maggio del 2019, e alla mancanza di una serie che possa conquistare il pubblico tanto quanto le vicende del gioco del trono.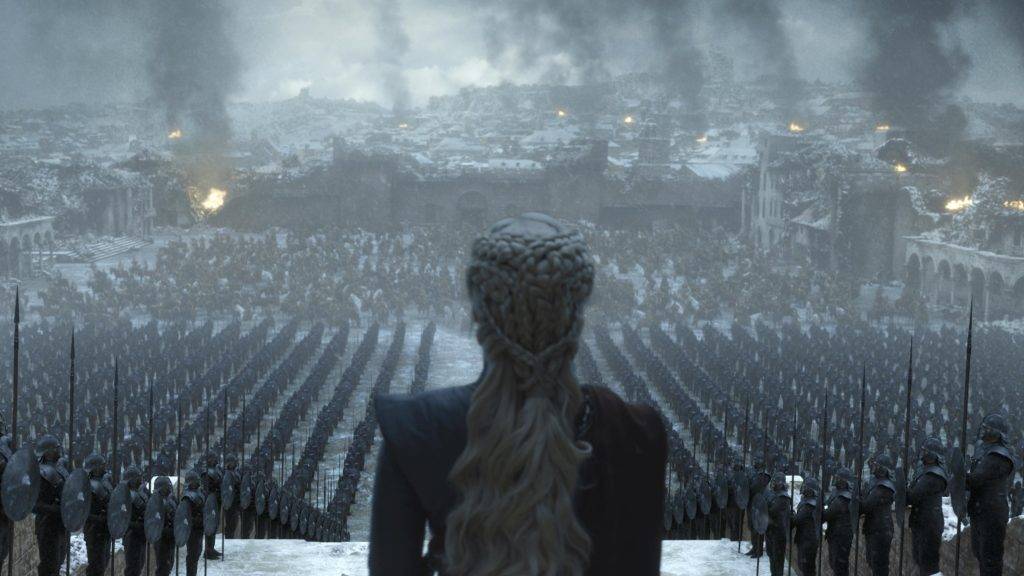 CHILLING ADVENTURES OF SABRINA – BUFERA PER DELLE FOTO PUBBLICATE DA NETFLIX CONSIDERATE OFFENSIVE
Alcune foto condiviso dall'account ufficiale di Chilling Adventures of Sabrina ha fatto esplodere una miriade di critiche, tanto che perfino Netflix si è trovata costretta a fare le sue scuse pubbliche.
Le foto ritraggono gli attori della serie nel backstage, tutti ricoperti di sangue. La polemica è sorta a causa della didascalia che accompagnava le foto, cioè "Sunday Bloody Sunday". Molti hanno infatti fatto notare l'allusione tutt'altro che di buon giusto agli attacchi avvenuti nel 1972 a Derry, in Irland del Nord, con 13 persone uccise e 15 ferite. Bloody Sunday è appunto il nome con cui viene ricordata quella terribile domenica.
Netflix, dopo aver cancellato il tweet, ha fornito la seguente frase di scuse: "Il nostro tweet era inaccettabile ed è stato rimosso. Siamo molto dispiaciuti per il dolore e l'angoscia che ha provocato".
REDEEMER – CANCELLATA LA PRODUZIONE CON NIC PIZZOLATTO E MATTHEW MCCONAUGHEY
FX ha cancellato lo sviluppo della serie Redeemer, progetto che avrebbe riunito Nic Pizzolatto e Matthew McConaughey dopo il successo della prima stagione di True Detective. Il progetto era stato annunciato nel gennaio del 2020 ma recentemente McConaughey ha deciso di lasciare la produzione. Ma solo adesso Pizzolatto ha anticipato la fine del suo accordo creativo con FX, iniziato alla fine del 2019 e che sarebbe dovuto durare almeno due anni pieni, portando così FX a cancellare del tutto il progetto.
La serie era ispirata al romanzo The Churchgoer di Patrick Coleman e vedeva McConaughey come un ex pastore, diventato una guardia di sicurezza. Questa è la trama che era stata diffusa: "L'uomo, che conduce una vita dissoluta, è alla ricerca di una donna scomparsa in Texas. La sua ricerca lo conduce a scoprire una cospirazione legata a un ambiente criminale e corrotto".
I SOPRANO – IL FILM PREQUEL THE MANY SAINTS È STATO NUOVAMENTE POSTICIPATO
A causa di alcuni problemi derivanti dalla pandemia The Many Saints of Newark, il prequel de I Soprano, è stato rimandato all'autunno 2021. La serie era già stata precedentemente rimandata ad aprile, ma pare che i tempi di produzione si siano ulteriormente allungati, rendendo impossibile il rilascio del film nei tempi previsti.
Non sarà infatti distribuito il 12 marzo, come era stato annunciato la primavera passata, ma uscirà in autunno, più precisamente il 24 settembre.
The Many Saints of Newark è scritto e ideato da dal creatore de I Soprano, David Chase, e sarà incentrato sulle tensioni razziali tra le comunità italoamericane e afroamericane nei riot di Newark del 1967.Questa produzione renderà omaggio anche a James Gandolfini, interprete del protagonista Tony Soprano, venuto a mancare nel 2013 a causa di un arresto cardiaco.
LA CASA DE PAPEL – MIGUEL HERRÁN IN LACRIME: «NON VOGLIO PARLARE NÉ MANGIARE»
Sono giorni difficili questi per Miguel Herrán, il ben noto Rio de La Casa de Papel, che si trova in isolamento dopo essere entrato in contatto con una persona positiva al Covid-19.
Herrán ha infatti condiviso su Instagram tre foto di se stesso, accompagnate dal seguente messaggio: "Sono bastati 6 giorni per distruggermi. Non voglio parlare. Né mangiare. Mi sono fermato nel mio momento più costruttivo e tutto è diventato distruttivo. Sono deluso da me stesso. Vorrei essere una persona migliore."
L'attore de La Casa de Papel appare tranquillo nella prima foto: "Primo giorno, appena ho ricevuto la notizia che dovevo stare in casa. Triste, ma contento. Dominando le mie emozioni".
Sono però il secondo e il terzo scatto, in cui appare sconvolto, ad aver preoccupato i fan de La Casa de Papel: "Giorno 6. Non sono capace di dominare assolutamente nulla".
In seguito Herrán ha voluto rassicurare tutti con un altro post:
"A volte penso che la vita sia una farsa e che le scene che giriamo siano la realtà. Questa epoca che ci tocca vivere è come un romanzo fantascientifico. Non ho caricato nulla in rete in questi giorni perché preferisco circondarmi di chi vive nella mia vita. Approfitto di questa situazione straordinaria per dirvi che spero che tutto possa migliorare. Per tutti!! Speriamo di poter costruire un'umanità più forte, attenta e solidale. Un' umanità più realista e meno egoista. Sto bene! È solo una riflessione che voglio condividere. Così almeno su Instagram vedete qualcosa che non è la neve".
Auguriamo a Herrán di riprendersi presto e di poter tornare a lavorare in tranquillità sul set de La Casa de Papel 5.