La spada di Gandalf fusa tra le decine di lame che formano il trono?
La sigla R+L=J incisa sulla parete di legno in una scena con protagonista Jon?
Degli easter eggs in Game of Thrones, da queste parti, abbiamo sempre parlato in una sola maniera (qui trovate un articolo con i 10 più sorprendenti).
Oggi, però, il marchio ha deciso di trascurare per un momento l'inverno e concentrarsi su una nostra incombenza: l'arrivo della Pasqua.
I prossimi easter egg con cui ci delizierà la serie saranno di cioccolato, tondi e a forma di uova di drago. L'idea nasce dal team di Deliveroo, un servizio di food-delivery che per l'occasione (l'arrivo della stagione finale prevista proprio per il periodo di Pasqua) si occuperà anche di consegnare uova di cioccolato bianco a tema Game of Thrones.
A tutti i fan è ben chiaro il riferimento al primo episodio "L'inverno sta arrivando", durante il quale una giovane Daenerys Targaryen riceve come regalo di nozze tre uova di drago.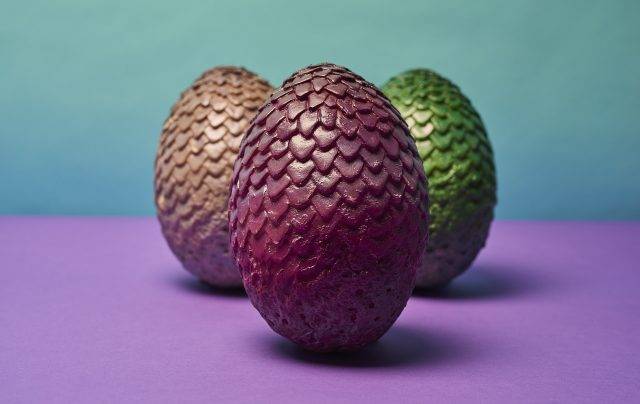 Joe Groves, membro dell'ormai nota piattaforma di food-delivery, ha spiegato l'origine dell'idea in un'intervista:
La Pasqua sta arrivando, così come la stagione finale del nostro passatempo preferito. Assistiamo a incredibili picchi di ordinazioni in concomitanza delle première e dei season finale, così abbiamo pensato: "Quale modo migliore per festeggiare i fan più accaniti, di queste creazioni con squame e scaglie?"
Le uova a tema Game of Thrones saranno in cioccolato bianco da un chilo, misureranno 20 centimetri e saranno dipinte a mano. Ma la cosa più dolce è sicuramente il prezzo, che sarà più che abbordabile: le uova costeranno soltanto 80 pence, che corrispondono a 90 centesimi circa.
Saranno disponibili dal 14 al 21 Aprile, in concomitanza con la settimana di Pasqua e la première di Game of Thrones.
Unico problema? Toccherà delegare amici e parenti dall'Inghilterra: le uniche sedi in grado di mettere a disposizione la special edition saranno Londra, Manchester e Leeds.