Dopo l'addio del cast al San Diego Comic-Con di qualche giorno fa (tra i fischi dei fan), si continua a parlare del futuro di Game of Thrones.
Non che ci fossero dubbi in merito al fatto che il franchise avrebbe continuato a far parlare per moltissimo tempo.
Alcuni fan – e in questo caso anche qualche membro del cast – hanno tuttavia azzardato con le speculazioni.
È stata proprio Maisie Williams, infatti, a doversi esporre in merito a un possibile spin-off sul suo personaggio.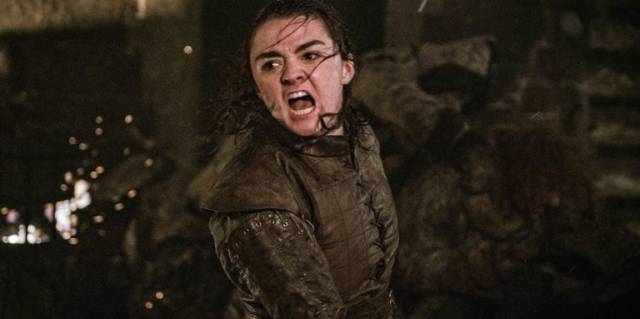 L'attrice è stata piuttosto chiara, esprimendo dispiacere per l'alta improbabilità di vedere il personaggio di Arya Stark protagonista di uno spin-off di Game of Thrones.
Nonostante l'affermazione finale lasci aperto qualche spiraglio:
Devo mettermi una mano sul cuore e dire che non penso vedremo uno spin-off su Arya Stark. Mi dispiace, è un personaggio che ho amato interpretare e mi manca molto. Ma in futuro chissà.
Maisie Williams ha voluto anche spezzare una lancia a favore degli showrunner David Benioff e Dan Weiss (ultimamente molto criticati a causa del discusso finale della serie), dicendosi perplessa nell'immaginare uno spin-off su Arya senza una loro collaborazione:
Sarebbe strano. Loro mi hanno portata nel mondo delle Cronache. Non riesco a immaginare qualcosa legato ad Arya senza di loro.
In chiusura, la Williams ha parlato delle prospettive future, chiarendo la sua volontà di non far parte di produzioni longeve per molto tempo ancora:
Voglio fare quello che amo, senza però impegnarmi in altre produzioni lunghe dieci anni. Ci sono progetti televisivi straordinari, ma che richiederebbero una costanza e un impegno folli. Per ora mi sto limitando a leggere tutto ciò che mi viene proposto e capire cosa possa davvero fare per me.
A oggi uno spin-off su Arya è, quindi, cosa improbabile. Ma non resteremo a bocca asciutta: BloodMoon, lo spin-off sugli Estranei, è sempre più vicino.