Game Of Thrones non è famosa solo per la sua intricata storyline ma anche per l'andirivieni dei personaggi. Proprio l'arrivo di uno di questi potrebbe cambiare molte cose.
Consiglio: non continuare a leggere se non sei in pari con la visione di Game Of Thrones, questo articolo contiene SPOILER!
L'introduzione di nuovi personaggi proprio nell'ottava e ultima stagione della Serie potrebbe complicare ulteriormente le cose, ma in Game Of Thrones se le cose non sono complicate non c'è gusto!
Secondo un fansite l'ultima stagione vedrà la presenza di un nuovo volto, quello dell'attrice Danielle Galligan che interpreterà un personaggio di nome Sarra. Spulciando tra i romanzi realizzati da Greorge R.R. Martin c'è solo una Sarra, che di cognome fa Frey.
Nei romanzi Sarra Frey è la nipote di Walder Frey, che tutti ben conoscono per essere stato protagonista di una delle puntante per me più sconvolgenti ,The rains of Castamere, conosciuta anche come le nozze rosse.
È stato proprio grazie alla strage di Strak che Frey ha compiuto che Arya Stark si è accanita su di lui e sulla sua famiglia durante l'ultima stagione.
Il nord non dimentica caro Walder Frey!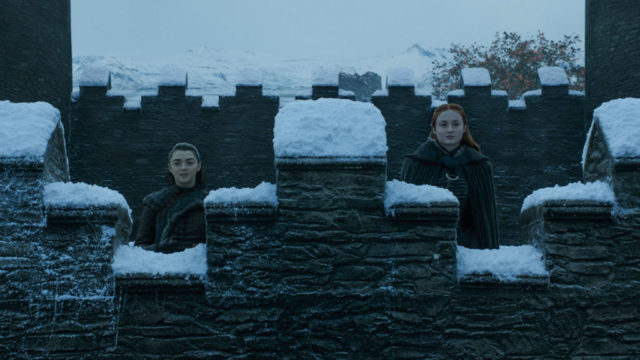 A questo punto ci chiediamo come possa essere reintegrato nella storia un nuovo volto dei Frey, quale sia la sua storia e se possa rappresentare un serio pericolo per Arya. La prima supposizione che ci balza alla mente, infatti, è che Sarra possa tentare di vendicare la propria casata.
Tutto dipenderà dal ruolo che Danielle Gallingan assumerà nel corso dell'ottava stagione. Per il momento sappiamo soltanto che comparirà in un episodio diretto da David Nutter: potrebbe essere l'unico o forse no?
Le indiscrezioni sono iniziate da quando, il 12 Novembre, l'attrice ha pubblicato una foto sul suo profilo Instagram in cui si trova in pub a Belfast, guarda caso stessa città in cui stanno attualmente andando avanti le riprese.
Per scoprire la verità è necessario aspettare il 2019, poco più di un anno, che per il momento sembra non passare mai.
La notizia non è stata confermata ufficialmente, ma se fosse vera, come reagirà Arya Stark scoprendo che c'è ancora un Frey in circolazione?