# #
Le prime due puntate della nuova stagione di Game of Thrones, Dragonstone e Stormborn, hanno ripreso tutte le storylines lasciate aperte alla fine della sesta stagione, concedendo ovviamente maggiore attenzione ai protagonisti che ambiscono (o, nel caso di Cersei, che siedono) al trono di spade. Tuttavia, Arya Stark si è ritagliata uno spazio importante, che le ha permesso di essere protagonista (amata, tuttalpiù, dagli spettatori) nonostante al momento una posizione di secondo piano. Attenzione agli spoiler!
# #
La scelta dei creatori di Game of Thrones di fare iniziare la prima puntata, persino prima della iconica sigla, con una scena che vede Arya protagonista non è affatto casuale: è forte e chiaro il messaggio che la ragazza di Grande Inverno ha ufficialmente iniziato la sua rivincita, seguendo i nomi nella lista che ha scritto fin da quando era bambina.
# #
Quella che inizialmente era rabbia e odio esasperato, si è adesso evoluto in un cinico modus operandi che la rende praticamente invincibile. Vediamo come sapientemente i creatori sono riusciti a trasformare una ragazzina in una vera e propria macchina da guerra.
La risposta sta sostanzialmente nell'immaginazione. Se infatti riflettiamo per un momento, noteremo che a cavallo tra la sesta e la settima stagione alcune azioni di Arya, che le permetteranno di uccidere i suoi nemici, vengono lasciate all'immaginazione dello spettatore. Non vediamo, ad esempio, come riesce a sopraffare i due figli di Walder Frey e a frollarli per metterli nel pasticcio; non sappiamo come produca il veleno che uccide tutti gli uomini dei Frey.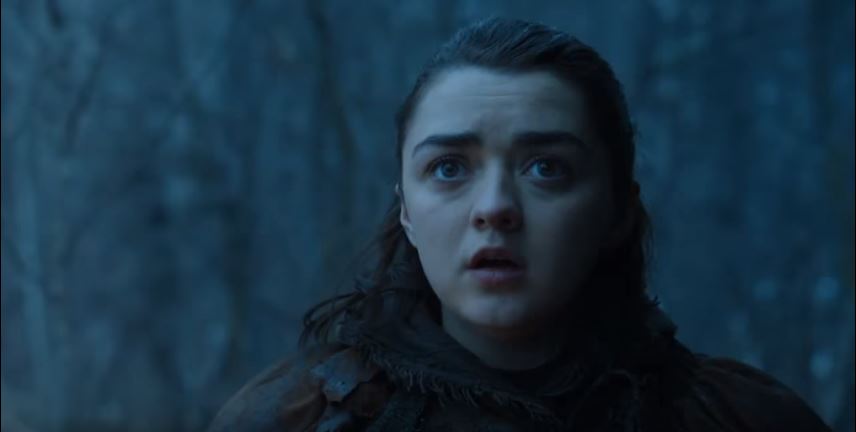 La scelta è a questo proposito molto saggia. Lasciare che sia lo spettatore a immaginare come queste azioni siano avvenute (tecnica tipica degli horror e dei thriller psicologici) alimenta l'aria di mistero e di orrore, al punto da rendere l'idea che si ha di Arya totalmente condizionata da tali eventi. Non saremmo stati sorpresi, infatti, se la ragazza avesse ucciso tutti quei soldati Lannister nella foresta. Abbiamo ormai accettato, attraverso queste scelte narrative di Benioff e Weiss, che Arya sia in grado di fare tutte queste cose.
Come ce lo spieghiamo? Torna utile al proposito l'esperienza che la ragazza (anzi, una ragazza) ha avuto presso gli Uomini Senza Volto. È evidente che se da un lato non è riuscita a diventare Nessuno, dall'altro ha imparato tecniche di travestimento, di combattimento e in generale di uccisione che la rendono diversa e migliore di qualsiasi soldato anche ben addestrato.
Bisogna tuttavia capire quale possa essere, a questo punto il suo destino, e come la vendetta possa proseguire il suo corso.
Game of Thrones ci ha sempre abituato all'indebolimento istantaneo di coloro che sembrano troppo forti e in generale fortunati nella trama. Non possiamo infatti dimenticare che Arya è soltanto una ragazzina: ce lo ricordiamo bene quando in Stormborn viene a sapere che Grande Inverno è nuovamente in mano agli Stark, evento che le fa cambiare i programmi che la vedevano diretta ad Approdo del Re. Come detto, intorno ad Arya aleggia questa sensazione di invincibilità che senza dubbio verrà, in qualche modo, ridimensionata. Sarà interessante però capire come, sperando che l'esito non sia tragico.
A ogni modo, non possiamo non essere entusiasti di come questo personaggio abbia vissuto una evoluzione tale da rappresentare, nella sua crudeltà e cinismo, costantemente una figura positiva nella tanta malvagità di Game of Thrones.
Arya Stark ha iniziato la sua vendetta, recuperando la sua identità è diventata più forte e sicura dei propri mezzi: finché rimane anche un solo Lupo in vita, le pecore non saranno mai al sicuro.