Ci troviamo in un periodo che è un po' un limbo, tra la fine della serie tv Game of Thrones e l'attesa dei romanzi di George R. R. Martin. Ad alcuni proprio non è andato giù il finale della serie, ma nonostante questo rimane un certo legame e un po' di nostalgia delle stagioni passate. Per colmare questa sensazione tra delusione e attesa, arriva una raccolta formata da 4 libri. In questi 4 volumi troveremo concept art, schizzi, scenografie e curiosi segreti che finalmente verranno rivelati. I titoli dei quattro volumi sono: The Storyboards, The Photography of Game of Thrones, Game of Thrones: The Costumes e The Art of Game of Thrones. Quest'ultimo – che in realtà è il primo – uscirà il prossimo 10 marzo.
Il libro farà parte di Oscar Mondadori Vault, e l'edizione italiana (L'arte del Trono di Spade) è stata tradotta da Stefano Giorgianni e curata da Deborah Riley. All'interno troveremo un'introduzione degli showrunner David Benioff e D. B. Weiss e una prefazione della scenografa Gemma Jackson. Sarà disponibile nelle librerie al prezzo di 50 euro.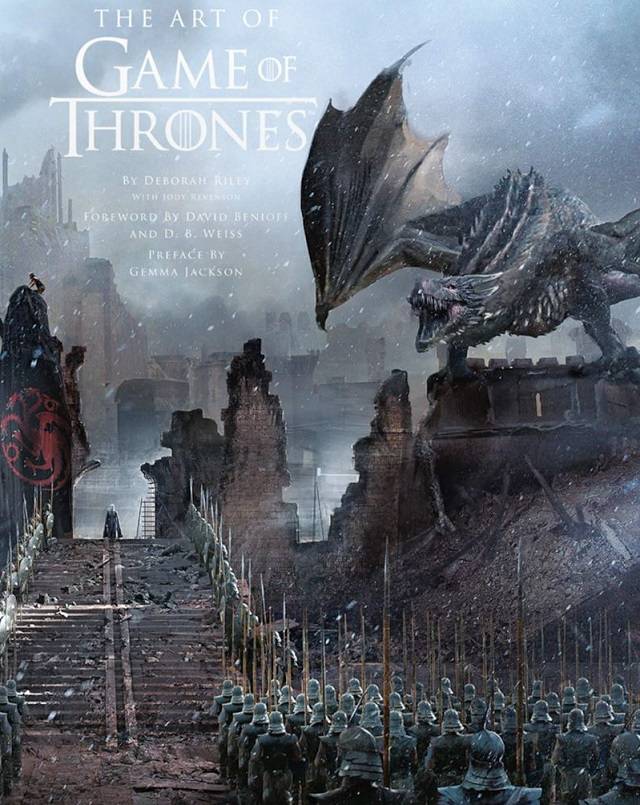 All'interno del libro troverete rivelazioni sui momenti più controversi dell'ottava stagione, oltre a una serie di scene inedite, tagliate dal montaggio ma presenti nello storyboard. Alcune di queste scene approfondiscono le decisioni più criticate dell'ultima stagione, come il cambiamento di Daenerys che l'ha portata alla pazzia, e la decisione di Jon Snow di uccidere la sua regina. Troverete inoltre la prima versione del Night King, piuttosto diversa da quella che conosciamo.
Nonostante le critiche all'ultima stagione – alcune ahimè indifendibili, come errori di distrazione come il famoso bicchiere di Starbucks o la bottiglietta d'acqua semi nascosta dietro la sedia – la serie è rimasta nel cuore di tutti e non ci siamo ancora stancati di parlarne, di leggerne e di sapere curiosità.