Le vicende di Game of Thrones si sono concluse nel 2019 ma l'esperienza è rimasta nel cuore degli attori protagonisti, tra cui il nostro Kit Harington.
Ai Golden Globes del 2020, Kit Harington ha infatti parlato sul red carpet con Ryan Seacrest e ha rivelato che il ruolo di Jon Snow è ancora nei suoi pensieri.
"Penso a lui continuamente.

Si trattava sempre, nel primo giorno in cui tornavo sul set, di rientrare in quel costume, sul set, tornare a essere lui. Era una cosa che amavo. È col senno di poi che inizi ad amarla. Sono trascorsi dieci anni."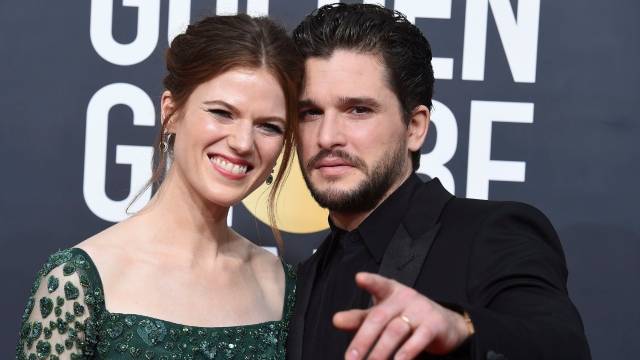 Harington ha partecipato ai Golden Globes 2020 insieme alla moglie Rose Leslie (interprete di Ygritte). L'attore britannico è stato nominato nella categoria 'Miglior Attore in una serie drammatica', vinta da Brian Cox di Succession.
Harington ha rivelato anche di sentirsi geloso del cast di Succession, perché hanno presenziato all'evento tutti insieme. E già all'annuncio delle nomination per i premi Harington aveva affermato che si sarebbe sentito come il 'loner throner'.
"Non c'è qui la mia squadra; è strano. Non sono mai stato a questi eventi senza tutti gli altri. Quindi sono un po' geloso dei ragazzi di Succession".
Ecco qui il video dell'intervista sul red carpet:
Nonostante sia stata l'unica star di Game of Thrones per rappresentarla, ai Golden Globes 2020 sono stati presenti anche altri attori che hanno preso parte alla serie della HBO.
Jason Momoa (interprete di Khal Drogo) ha partecipato all'evento insieme alla moglie Lisa Bonet. Tobias Menzies (Edmure Tully) è stato nominato nella stessa categoria di Harington, per l'interpretazione del Principe Filippo nella terza stagione di The Crown.
Ecco la lista di tutti i vincitori dei Golden Globes 2020: Fleabag e The Crown hanno trionfato.