Game of Thrones si è conclusa, ma se ne continuerà a parlare a lungo. Così fa George R. R. Martin, l'autore dei libri da cui è tratta la serie HBO, che nel podcast Maltin on Movies ha parlato del successo della serie tv, e non solo.
Ora che la serie è finita, nuovi progetti riempiono la vita di Martin. Ci sono gli spin-off ambientati nel mondo di Westeros (e il primo, Bloodmoon, potrebbe essere girato in Italia), il videogame Elden Ring, una nuova serie basata sulla saga Wild Cards. Presumibilmente lo scrittore sta lavorando al seguito di Fuoco e Sangue e ai due libri conclusivi delle Cronache del Ghiaccio e del Fuoco, che i fan della saga stanno pazientemente aspettando.
Nonostante i nuovi progetti in corso, George R. R. Martin è convinto che non replicherà mai il successo di Game of Thrones. Nel podcast ha rivelato:
"Il livello di successo raggiunto da Game of Thrones – che è arrivato in tutto il mondo, entrando anche nella cultura popolare – nessuno poteva anticiparlo, ed è qualcosa che non penso di poter vivere nuovamente".
Il grande successo presso il pubblico è testimoniato anche dal fatto che molti genitori chiamano i loro figli con nomi dei personaggi, come Daenerys Targaryen (Emilia Clarke).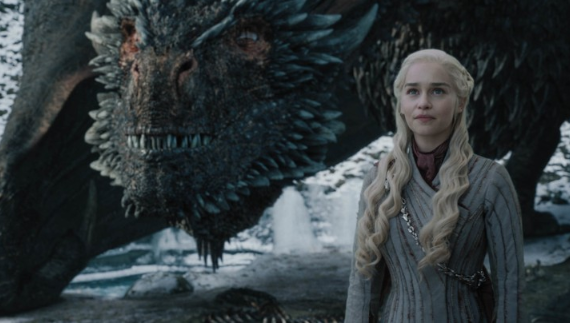 Se la serie tv ha raggiunto la sua fama anche grazie al web, Martin non ha un'idea positiva dei fandom su Internet. Nel podcast Martin ha fatto il confronto tra il mondo delle fanzine, da cui proviene, e Internet: quest'ultimo ha cambiato completamente il modo in cui i fan si esprimono – e in negativo.
"Internet è tossico, a differenza della vecchia cultura delle fanzine e dei fandom – fan dei fumetti, fan della fantascienza – che invece non lo erano. Sì, c'erano scontri, ma niente di simile alla pazzia che vedi oggi tra i fan su Internet".
Game of Thrones stesso è stato vittima di questa "pazzia", in particolar modo l'ultima stagione, aspramente criticata da molti fan. Tant'è che è stata creata una petizione per rifare da capo l'ottava stagione, che a oggi (luglio 2019) conta più di 1 milione e 600 mila firme.
Nonostante le critiche, su una cosa Martin ha ragione: sarà difficile – se non impossibile – raggiungere ancora il successo di Game of Thrones.