# #
E se Game of Thrones non fosse la storia che conosciamo? La serie della HBO nasce dai romanzi dello scrittore George R. R. Martin, ma spesso le prime idee non sono quelle definitive.
# #
Le prime idee che Martin ha avuto per la saga Le Cronache del Ghiacco e del Fuoco, da cui è nata Game of Thrones, sono diverse dalla storia che oggi possiamo leggere e vedere.
Questa idee sono comparse (e poi cancellate) nel 2015 su Twitter, sull'account dell'editore di Martin, Harper Collins UK. Nel tweet c'erano le pagine inviate da Martin al suo editore nel 1993, con le quali presentava la trama della saga.
Com'era strutturata, dunque? Martin pianificava di realizzare tre volumi, con tre linee narrative: la lotta tra le casate di Westeros, il tentativo di Daenerys di riconquistare il trono e la lotta contro gli Estranei, che – come dice Martin – sono la minaccia più grande della saga.
# #
Sono gli archi narrativi che conosciamo, ma i fatti sono diversi:
Ned Stark muore esattamente allo stesso modo, con annessa accusa di tradimento per la morte di Robert Baratheon. Prima della sua dipartita, però, riesce a far fuggire Arya e Catelyn, anche loro ad Approdo del Re, verso Grande Inverno.
Sansa Stark sposa Joffrey Baratheon diventando madre del suo erede. Quando la guerra inizia, la ragazza sceglie di stare dalla parte del marito, per poi pentirsene in seguito.
Joffrey e Robb Stark si scontrano in battaglia nella guerra che oppone gli Stark alla Corona. Robb sconfigge Joffrey mutilandolo ed è poi ucciso in battaglia da Jaime e Tyrion Lannister. Quest'ultimo, con il Giovane Lupo morto, riesce ad assediare e bruciare Grande Inverno, di fatto rendendo i Lannister vincitori della guerra. In queste pagine Martin non menziona né Cersei né Stannis né Renly Baratheon.
Jon Snow entra nei Guardiani della Notte. Dopo essere scappati da Grande Inverno bruciata da Tyrion, Catelyn, Arya e Bran (che anche in questa versione ha perso l'uso delle gambe) chiederanno aiuto a Jon, che non potrà ospitarli, perché i Guardiani della Notte abbandonano i legami con le famiglie quando si uniscono all'ordine. A complicare le cose tra Jon e Arya nasce un sentimento d'amore.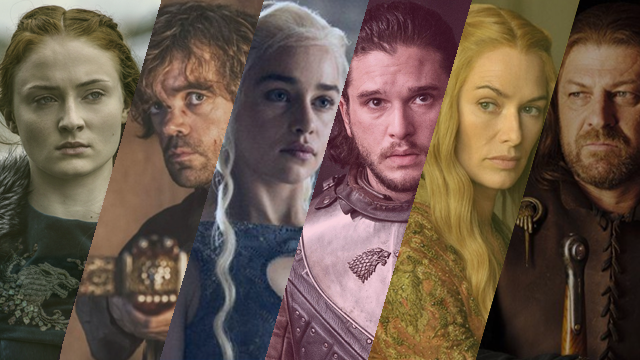 Non ospitati da Jon, Arya, Catelyn e Bran fuggono ancora più a nord, dove vengono catturati da Mance Ryder e incontrano gli Estranei. Catelyn muore.
Complottando e giocando al gioco dei troni, Tyrion riesce a detronizzare Joffrey. Sul trono non salirà Tommen, ma Jaime Lannister. Come? Uccidendo tutti coloro che si trovano prima di lui nella linea di successione e incolpando Tyrion delle morti. Quest'ultimo, esiliato, cambia schieramento e si unisce agli Stark nella lotta contro suo fratello. S'innamora, non ricambiato, di Arya e da qui nasce un rapporto di rivalità con Jon Snow.
Daenerys Targaryen si sposa con Khal Drogo, che è poco interessato a invadere i Setti Regni, nonostante la promessa fatta a Viserys. Khal Drogo uccide Viserys; Daenerys decide di prendersi il suo tempo, per poi uccidere il marito per vendicare il fratello. Scappando dai Dothraki trova uova di drago, che le permettono di sottomettere i Dothraki e iniziare la sua invasione di Westeros.
Alla fine dei tre libri sono cinque i personaggi che sopravvivono: Daenerys, Arya, Bran, Jon e Tyrion. Sarà così anche nella saga effettiva?
Cosa ne pensate?
Fonti: Variety – Watchers on the Wall