È sempre bello poter guardare le serie tv scoprendo di episodio in episodio cosa succederà. Oggi però gli spoiler sono onnipresenti e molte serie sono state soggette a leak, ovvero anticipazioni non volute di scene o di interi episodi. È il caso di Game of Thrones, più volte 'leakata' e 'spoilerata'.
Per la HBO la segretezza è fondamentale, tanto che il network ha adottato una nuova tecnologia, i drone killer, contro gli spoiler. Gli attori stessi, poi, sono caldamente invitati a non lasciarsi sfuggire niente.
Aidan Gillen, interprete di Petyr "Ditocorto" Baelish, ha raccontato in un'intervista alla Press Association di avere un metodo particolare per prevenire spoiler e leak.
Gillen aveva l'abitudine di triturare i copioni di Game of Thrones (e non solo). Quest'abitudine infatti risale a quando l'attore faceva parte di The Wire, altra produzione HBO.
"Sono sempre stato molto diligente: trituravo i copioni quando questi non servivano più. Sin dai tempi in cui lavoravo a The Wire. C'era una macchina tritadocumenti nell'ufficio;  era prima dei social media quindi non era un grande problema.

La produzione era avanti con i tempi. Dicevano: 'quando avete finito con questi copioni, venite in ufficio e distruggeteli perché non vogliamo che le persone sappiano cosa succederà'.

Perciò triturare i copioni è sempre stato parte del mio metodo lavorativo. Quando finisco, li distruggo. Non dico nemmeno ai miei familiari cosa succede o se sarò parte di un importante plot twist; non lo dico a nessuno".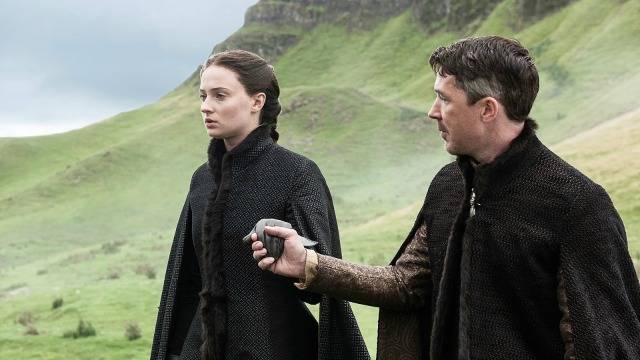 Gillen è stato una presenza importante in Game of Thrones. Non lo ritroveremo, però, nell'ultima stagione (a meno che non torni a sorpresa). L'attore ha affermato di non sapere nulla in merito alla stagione finale.
"Non so proprio come finirà, ma sono impaziente di vederlo, come tutti. Onestamente non ho proprio idea e, nonostante abbia amici che sono ancora coinvolti nella realizzazione di Game of Thrones, non ho chiesto loro nulla. In ogni caso non me lo direbbero.

D'altronde preferisco non sapere. Non vedo l'ora di vedere l'ultima stagione".
L'ottava e ultima stagione di Game of Thrones arriva il 14 aprile 2019 su HBO.