Game of Thrones non finisce mai di stupirci, e l'ha confermato ancora una volta dandoci un episodio in grado di stupirci ogni minuto. Anche in quei momenti dove è in atto una semplice conversazione, in realtà c'è sempre di più. Come dei riferimenti al passato, e la scena tra Arya e Nymeria dell'episodio precedente ne è un esempio (leggi qui). Un altro esempio è la scena che vede protagonisti Bran (o come lui insiste a dire, il nuovo Corvo con Tre Occhi) e Ditocorto (Lord Petyr Baelish, ma con un soprannome così bello perché usare il vero nome?) nel quarto episodio della settima stagione di Game of Thrones.
Durante la conversazione – o sarebbe meglio dire il monologo, considerando la poca loquacità di Bran – tra i due, Ditocorto cerca di conquistare in qualche modo la fiducia del ragazzo parlando dell'affetto che provava per sua madre, di come ha salvato sua sorella e di tutte le gesta eroiche che – secondo lui – ha compiuto. Il suo intento è ovviamente fare in modo che quel povero ragazzino apparentemente ingenuo si fidi di lui. Non immagina che Bran sa molto di più di quanto sembri. E non ci vuole molto prima che lo scopra.
Come molti avranno notato, c'è una frase detta da Bran che ha in qualche modo turbato Ditocorto. È bastata quella semplice frase per lasciare Lord Baelish senza parole.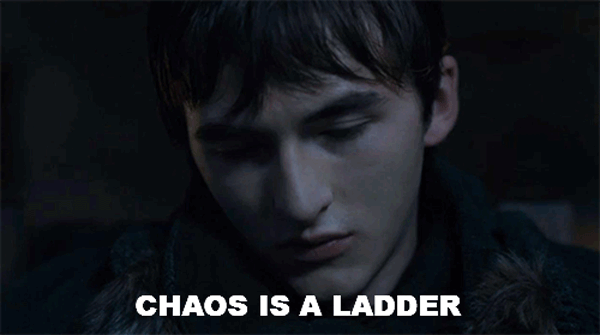 La frase in questione è proprio questa:
Il caos è una scala
Perché una semplice frase ha suscitato sgomento in Ditocorto?
Approfittando della parola (caos) citata da Ditocorto, Bran si ricollega ad un discorso detto da Baelish stesso durante una conversazione con Varys. Questo succedeva nella terza stagione, nell'episodio 6.
«Il caos non è un pozzo. Il caos è una scala» dice Ditocorto a Varys nella loro indimenticabile conversazione avvenuta a pochi passi dal tanto ambìto Trono di Spade.
Bran ha ripetuto la stessa frase che aveva detto in passato Baelish, non tanto per il significato in sé, quanto per fargli capire che lui sa. Il Corvo con Tre Occhi sa tutto, non solo di quella conversazione. Sa dei suoi tradimenti, delle menzogne, del vero motivo per cui Ditocorto è lì. E attraverso questa frase, Lord Baelish lo ha capito – o almeno, lo sospetta. E la sua espressione lo dice chiaramente.
Non è chiaro il motivo per cui il Corvo con Tre Occhi abbia deciso di rivelare – anche se indirettamente – il suo segreto a Ditocorto. Probabilmente per mostrare il suo potere, per impaurirlo, per mostrargli che la sua corazza è ora danneggiata. Di certo ha un fine ben preciso, ma non è quello di vendicare la sua famiglia. Ormai quel ragazzino non è più Bran Stark ma il Corvo con Tre Occhi, e di conseguenza non sembra nemmeno essere interessato ad una vendetta per la morte dei suoi cari, a differenza di Arya, che freme dalla voglia di puntare quel pugnale sulla gola del temibile Ditocorto.
Cosa farà Lord Baelish ora che è consapevole di non essere più l'unico a conoscere i suoi profondi segreti?