In questi otto anni Game of Thrones ci ha regalato personaggi dalla psicologia profonda e dalle mille sfaccettature. Tra questi, uno dei più iconici è senza dubbio Daenerys Targaryen. Interpretata da Emilia Clarke, Daenerys ha un look che è noto a tutti, soprattutto i suoi lunghi capelli biondi sempre acconciati con qualche treccia. La Clarke utilizzava diverse parrucche per vestire i panni di Daenerys in Game of Thrones. In una recente intervista con Access, l'attrice ha rivelato che avrebbe voluto portare via una di quelle parrucche per avere un ricordo significativo legato al suo personaggio. La HBO (casa di Game of Thrones), però, non ha ancora dato una risposta certa alla Clarke. L'attrice afferma infatti che:
"Ero tipo 'Vi prego, per favore, posso avere una parrucca?' Perché è una cosa personale, sono i miei capelli. E loro hanno risposto 'Sì, forse'. Abbiamo finito le riprese circa un anno e mezzo fa! Sto aspettando la mia parrucca."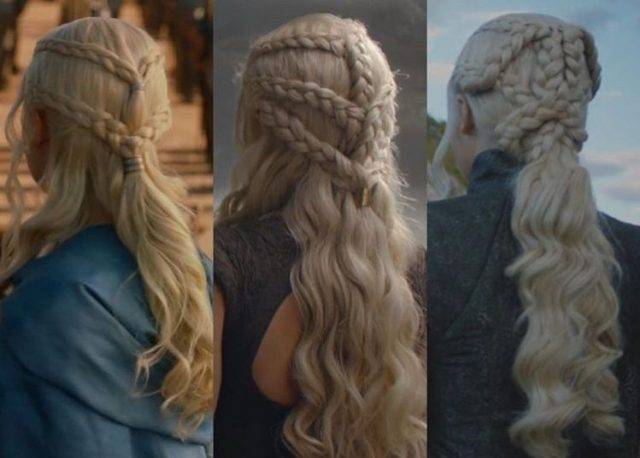 Nell'ottava stagione di Game of Thrones c'è stata un'evoluzione della Madre dei Draghi. Dopo aver perso i suoi punti di riferimento – tra cui Jorah, Rhaegal e Missandei – la rabbia era così grande che una sorta di furia devastatrice si è impossessata di lei e ha colpito senza pietà Approdo del Re. Una svolta malvagia – che poi l'ha condotta alla morte – che ha sorpreso Clarke ma ormai anche lei ha accettato che la sua Daenerys sia diventata una villain in Game of Thrones. In un'intervista dello scorso maggio ha rivelato:
"Inizia sinceramente, con le migliori intenzioni, e spera davvero che non ci sia qualcosa che distrugga i suoi ambiziosi piani. Il problema è che [gli Stark] non le piacciono e lei lo sa. Dà loro una possibilità e non funziona e lei è andata troppo lontano per tornare indietro. Non credo che se ne accorga, l'effetto delle loro reazioni su di lei è: "Non me ne frega niente." Questa è la sua intera esistenza. Dalla nascita! È stata letteralmente messa al mondo dicendo: "Corri!" Questi idioti hanno rovinato tutto e ora le dicono "Sei la nostra unica speranza". Ci sono così tante cose che ha dovuto correggere nella sua vita, così tanto che ha visto, vissuto, perso, sofferto e inferto".
L'attrice ha poi proseguito con queste parole:
"All'improvviso queste persone le si rivoltano contro e dicono: Non ti accettiamo", ma è già andata troppo lontano. Ha già ucciso tante persone. Non riesce a invertire la rotta di questa nave. È troppo. Uno ad uno vede tagliare tutti i legami. E c'è solo l'ultimo filo a cui si sta aggrappando: c'è questo ragazzo. E lei pensa: "Mi ama, e penso che sia abbastanza." Ma è abbastanza? Lo è? Ed è solo quella speranza e il desiderio che finalmente ci sia qualcuno che la accetta per tutto ciò che è e… no, lui non lo fa."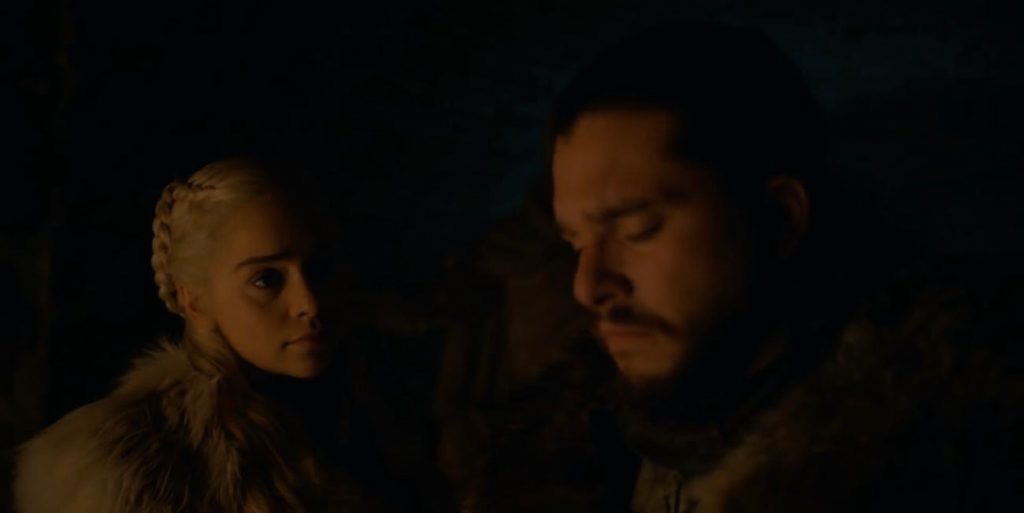 La Clarke ha poi finito parlando della morte di Daenerys:
"Pensavo che sarebbe morta. Mi sono sentita molto protetta come personaggio in questo senso. È un finale molto bello e toccante. Spero che quello che vedrete in quell'ultimo momento mentre sta morendo sia: c'è la vulnerabilità – c'è la bambina che hai incontrato nella prima stagione. Vedete? Lei è proprio lì. E ora non c'è più…"