La 8×03 di Game of Thrones, La Lunga Notte, è a tutt'oggi oggetto di molte controversie. Episodio grandioso comunque la si veda, per l'enorme quantità di dettagli e avvenimenti, che hanno richiesto un lavoro immane. Ci sono tanti motivi per cui è criticato come tanti per cui è elogiato. C'è però un punto che forse mette d'accordo tutti, perché in realtà non ci ha capito niente nessuno: che diamine stava combinando Bran???
Durante la Battaglia di Grande Inverno Bran è stato usato come esca per attirare il Re della Notte, così da poterlo cogliere di sorpresa e ucciderlo. Mentre Jon e Daenerys combattono in attesa dell'arrivo del capo dell'esercito di morti, a difendere il Corvo con Tre Occhi ci sono alcuni guerrieri capitanati da Theon Greyjoy. Poi, di punto in bianco, Bran dice: Devo andarmene adesso. E senza dare spiegazioni lascia il proprio corpo, utilizzando i suoi poteri, per entrare in quelli di uno stormo di corvi.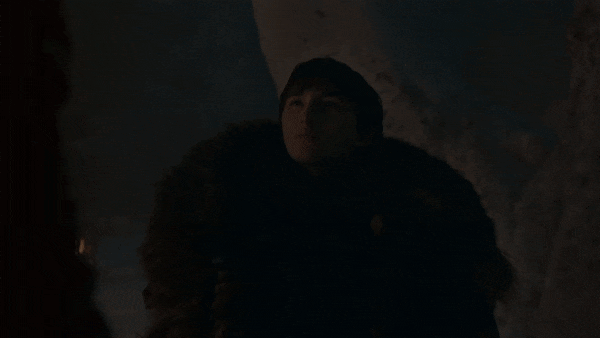 Apparentemente, come dà a intendere la scena immediatamente seguente, lo fa per vedere dall'alto il nemico che si avvicina. Il problema è che poi durante tutto l'arco dell'episodio (o se per questo, durante tutto il resto della stagione finale di Game of Thrones) non si è più fatto cenno a cosa Bran stesse facendo. Allora perché se n'è andato? Cosa stava combinando?
Finalmente possiamo dire di saperlo con certezza senza tirare a indovinare, e la conferma è ufficiale. Sono stati resi pubblici gli script dell'ottava stagione di Game of Thrones (che sono ora disponibili alla Writers Guild Foundation Shavelson-Webb Library di Los Angeles), e quello della 8×03 aggiunge qualche dettaglio in più alla criptica uscita di Bran.
Secondo quanto scritto sul copione, inizialmente doveva esserci "un'enorme stormo di corvi, più grande di quello della volta scorsa [7×05], che converge su Grande Inverno da tutti i lati, tutti guidati da Bran". Tramite questi corvi Bran doveva essere in grado di sorvegliare la battaglia dall'alto e vedere Jon e Daenerys che combattevano sui draghi. Lo scopo sarebbe stato quello di aiutare nel corso della battaglia, osservando le mosse dell'esercito dei morti a distanza e contribuendo nel dare comandi alle truppe (e magari ridurre le vittime).
Alla fine si è deciso di non inserire questa parte in Game of Thrones, ma non possiamo non chiederci perché. Quella scena avrebbe avuto molto più senso, dando anche la giusta importanza ai poteri del Corvo con Tre Occhi, che è invece rimasto semplicemente in attesa del nemico e di un futuro che già conosceva.