Da quando Game of Thrones è sbarcato sul piccolo schermo con i suoi episodi pieni di colpi di scena, ha fatto raccolta di premi agli annuali Emmy Awards. Ben 38 premi conquistati fino adesso, i quali lo portano ad essere lo Show più premiato nella storia della Televisione. 
Un numero che potrebbe ad ogni modo crescere, considerando che ha ancora due stagioni nominabili. Ebbene sì, ben due stagioni, poiché la numero sette – essendo andata in onda troppo tardi – non era nominabile per gli ultimi Emmy Awards.
L'emittente Televisiva HBO avrebbe, ad ogni modo, già mandato le candidature per la cerimonia del 2018:
Attrice protagonista: Emilia Clarke
Attore protagonista: Kit Harington
Attrice non protagonista: Lena Headey, Sophie Turner, Maisie Williams
Attore non protagonista: Nikolaj Coster-Waldau, Peter Dinklage
Miglior attrice guest star: Diana Rigg
La notizia che lascia tutti spiazzati è la decisione da parte dell'emittente di nominare Clarke ed Harington, nella categoria di attori protagonisti.
Fino ad oggi, Game of Thrones, ha sempre presentato il proprio cast nella categoria di attori non protagonisti. Una decisione più che normale, essendo così numerosi e con diverse trame in corso, che nessuno si poteva veramente considerare il leader indiscusso della Serie Televisiva. Ma ora, che le storie sono decisamente diminuite ed anche i personaggi, sembra che questa sia la scelta più ovvia.
Una situazione che ha fatto storcere il naso però a qualche fan dello Show: come abbiamo detto nessuno è, appunto, il protagonista di Game of Thrones.
Perché, dunque, cambiare le carte in tavola? Perché non proporre per la categoria di attrice protagonista Lena Headey?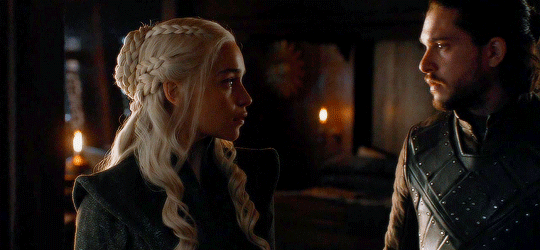 Notizia che invece ha fatto gioire i fan della Serie Televisiva la possibile nomination di Diana Rigg come miglior attrice guest star. L'attrice ha perso in questa categoria ben tre volte, sempre in Game of Thrones. Che la scena nell'episodio The Queen's Justice possa finalmente farle portare l'Emmy Awards a casa?
Staremo a vedere.
Voi cosa ne pensate di queste decisioni? Siete d'accordo con l'emittente Televisiva?