Game Of Thrones, nelle passate stagioni, ci ha abituato a duelli e battaglie ben orchestrate.
Basti pensare alla penultima puntata della sesta stagione, Battle of the Bastards, che ha visto protagonisti da un lato Jon Snow e dall'altro Ramsey Bolton. Uno degli episodi migliori – se non il migliore – di tutta la Serie Televisiva.
A tal proposito, le anticipazioni sull'ottava stagione di Game Of Thrones continuano ad invadere il mondo di noi series addicted. Come sappiamo, la prossima stagione sarà quella conclusiva e, l'emittente Televisiva HBO, ha tutta l'intenzione di chiudere con il botto. L'intenzione, da parte loro, è quella di spettacolarizzare ancora di più i futuri episodi.
Se non volete sapere di cosa si tratta noi vi avvisiamo sin da subito. D'altronde:
Series addicted avvisato, dallo spoiler è salvato.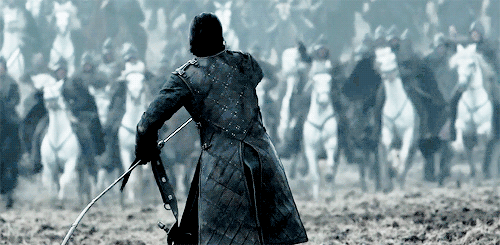 L'assistente alla regia, Jonathan Quinlan, il quale ha lavorato su venti episodi di tutta la Serie Televisva ha condiviso sul suo account Instagram una foto un po' particolare. Protagonista un biglietto con dei ringraziamenti all'intero team di produzione ed al cast di quest'ottava stagione. Il gruppo, da quanto si è potuto intuire dalle parole di Quinlan, avrebbe girato per cinquantacinque notti ad un'epica battaglia – probabilmente nella location di Grande Inverno. Il post, successivamente, è stato rimosso – ma non abbastanza velocemente.
Ecco le parole scritte dall'assistente:
Questa è per i Draghi Notturni. Per aver resistito a 55 notti consecutive. Per aver sopportato il freddo, la neve, la pioggia, il fango, la m**da di pecora di Toome e i venti di Magheramorne. Quando decine di milioni di persone di tutto il mondo guarderanno questo episodio fra un anno, non sapranno quando voi abbiate lavorato duramente. A loro non importerà quanto stanchi eravate o quanto sia stato difficile fare il vostro lavoro a temperature sotto lo zero. Capiranno solo che staranno guardando qualcosa che non è mai stato fatto prima. E questo è a causa vostra.
Secondo gli utenti del sito Watchers on the Wall – i quali sono sempre pronti con nuove teorie riguardo Game Of Thrones – , queste riprese sono durate il doppio di quelle dedicate alla battaglia vista in Battle of the Bastards; ragion per cui, potrebbe essere l'unica grande sequenza di questo genere nell'ottava stagione, a meno che lo scontro previsto ad Approdo del Re non lo superi.
Con le poche informazioni è impossibile riuscire a confermare o meno questa teoria. Non ci rimane che aspettare nuove anticipazioni o direttamente il debutto dell'ultima stagione.