La seconda stagione di The Handmaid's Tale si è appena conclusa, e la Serie Tv è stata appena rinnovata per una terza. L'ultima puntata ha lasciato con la bocca aperta tutti i fan: ma come, June ha di nuovo l'opportunità di scappare da Gilead, e sceglie di restare? Cosa ne sarà di lei adesso? Quanto durerà, da fuggitiva, in un Paese sotto dittatura e con guardiani ad ogni angolo?
Forse le parole del creatore della Serie Bruce Miller possono chiarire alcuni legittimi dubbi dei fan, e farci capire cosa ne sarà di June nella terza stagione di The Handmaid's Tale. June è pronta alla lotta, e Miller lo sottolinea con forza:
Credo che vedendo il volto di June a conclusione del finale si capisca che è pronta per una battaglia. Perciò credo che sia quello ciò verso cui si dirigerà. June non verrà catturata o trascinata di nuovo a Gilead. Ha deciso di tornare indietro con una missione: di trovare forse un modo per riprendersi la figlia Hannah, oltre che di mandare nei casini Gilead.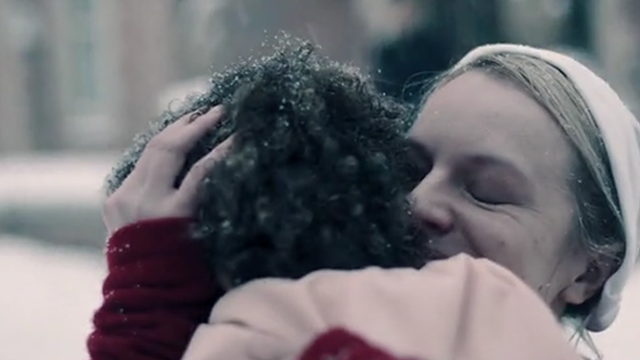 Miller semba fiducioso sulla possibilità di una terza stagione improntata all'azione:
Stiamo appena iniziando le nostre discussioni sulla terza stagione. Vogliamo mettere Junenella terza stagione di The Handmaid's Talein una posizione in cui ha più controllo, una posizione in cui è meno brutalizzata e ha più libertà di trovare forse sua figlia, o di battere Gilead. Il nostro scopo della terza stagione è quello di portare la resistenza alla rivolta. June sta trovando nuove aree di debolezza all'interno di Gilead. Che lei stia aiutando sua figlia o che stia provando a distruggere Gilead, proviene davvero da due cose. Una è sua madre, le ha sempre detto che era più forte di quanto pensava, è qualcosa che ha capito di se stessa durante la seconda stagione. L'altra sono le parole di sua figlia quando le ha chiesto il perchè non ha provato di più per tentare di salvarla, quindi lei farà di più.
Insomma, un anno è lungo ma di sicuro l'hype non passerà.
Intanto, togliamoci un pensiero: Zia Lydia non è morta. Lo scopriamo sempre grazie alle parole di Bruce Miller:
No, non è morta, non è fuori dalla serie. Quando le inviai la sceneggiatura con un'e-mail, precisando nell'oggetto che Zia Lydia non era morta. Non credo che nel mondo ci siano forze abbastanza forti da ucciderla, non muore, ma è colpita da questo evento. Il fatto che una delle sue ragazze l'abbia letteralmente pugnalata alla schiena, può alterare le sensazioni del tuo posto di lavoro. Nel suo caso, sente di non essere abbastanza forte nella sua disciplina, quindi  penso che deciderà di indurirsi di più.
Per quanto riguarda il cast, sono stati confermati tutti i membri attualli, compresi i guest: rimane però il dubbio sulla presenza costante di Yvonne Strahovski. L'attrice, interprete della sublime Serena Joy, è rimasta incinta durante le riprese della seconda stagione; praise be.