Quando si parla di New Girl è impossibile rimanere imparziali. C'è chi la odia, chi la ama dal profondo e chi invece apprezza la visione in modo occasionale, denigrata solamente all'orario di pranzo, per vedere "qualcosa di leggero". Qualsiasi sia il vostro sentimento nei confronti di questa Serie, è innegabile che il programma con protagonista la magnetica Zooey Deschanel abbia sicuramente fatto la storia, portando sullo schermo un repertorio di personaggi davvero unico nel suo genere.
Ormai a qualche mese dalla fine di New Girl è tempo di tirare le somme.
Andata in onda la prima volta sul canale Fox il 22 settembre del 2011, New Girl conta ben sei stagioni, 146 puntate ed una storyline che ci ha fatto sognare. Per ottenere questo meraviglioso risultato ci sono voluti ben sei anni, dove gli attori hanno lavorato costantemente per soddisfare il pubblico da casa. E come sul set possono nascere splendide storie d'amore – come vuole ovviamente la natura sociale dell'uomo – possono benissimo nascere anche delle reali amicizie, è abbastanza inevitabile.
Quali sono gli attori di New Girl davvero amici nella vita reale?
1) Jake Johnson e Max Greenfield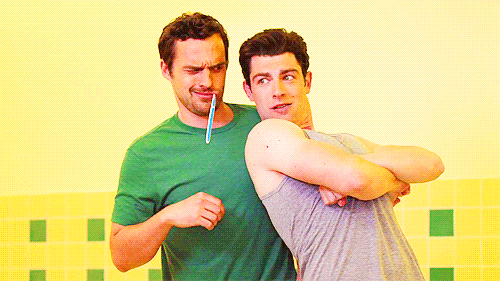 Oltre ad essere miglior amici sullo schermo, Jake e Max lo sono anche anche fuori dal Set. Il magico duo si è conosciuto durante i provini per New Girl: entrambi partecipavano lo stesso giorno nello stesso posto. Jake per la parte di Nick Miller e Max per quella di Schimdt. Un incontro casuale che ha dato il via ad una bellissima amicizia, caratterizzata da una grande "chemistry" sia sullo schermo, sia nella vita reale.
We didn't quite know each other yet so we did the audition and then we were like being cool bros around each other. We didn't realize what idiots we are.

-Jake Johnson
Non ci conoscevamo ancora e quando abbiamo fatto l'audizione ci comportavamo in modo molto tranquillo tra di noi. Non ci eravamo resi conto di quali idioti siamo.
Quindi possiamo proprio dire che il rapporto fra Nick e Schmidt rispecchia in buona parte quello dei due attori nella vita reale. Rapporto che è ben visibile anche dalle numerose interviste lasciate in coppia.  Anche se New Girl è finita, i due continuano a sentirsi e sostenersi reciprocamente nei recenti progetti: Max Greenfield è subito andato al cinema per vedere Jake nel ruolo di Randy nella commedia Tag. E Johnson ha fatto l'in bocca al lupo per la nuova Serie di Greenfield: Neighboorhood.