Non sembrerebbe, eppure a ottobre Naruto compie vent'anni. Non molto tempo fa avevamo parlato di come in occasione del Wonder Festival fosse stata creata un'action figure a grandezza naturale del giovane ninja. Per festeggiare questo speciale anniversario, la Shueisha ha deciso di fare qualcosa di ancora più grande.
Il 5 e il 6 ottobre 2019 si terrà in Giappone un evento che farà impazzire totalmente i fan: Naruto to Boruto The Live 2019. Le due giornate saranno ricche di attrazioni, e sulla pagina Twitter dell'evento sono già uscite alcune informazioni su cosa sarà possibile trovare.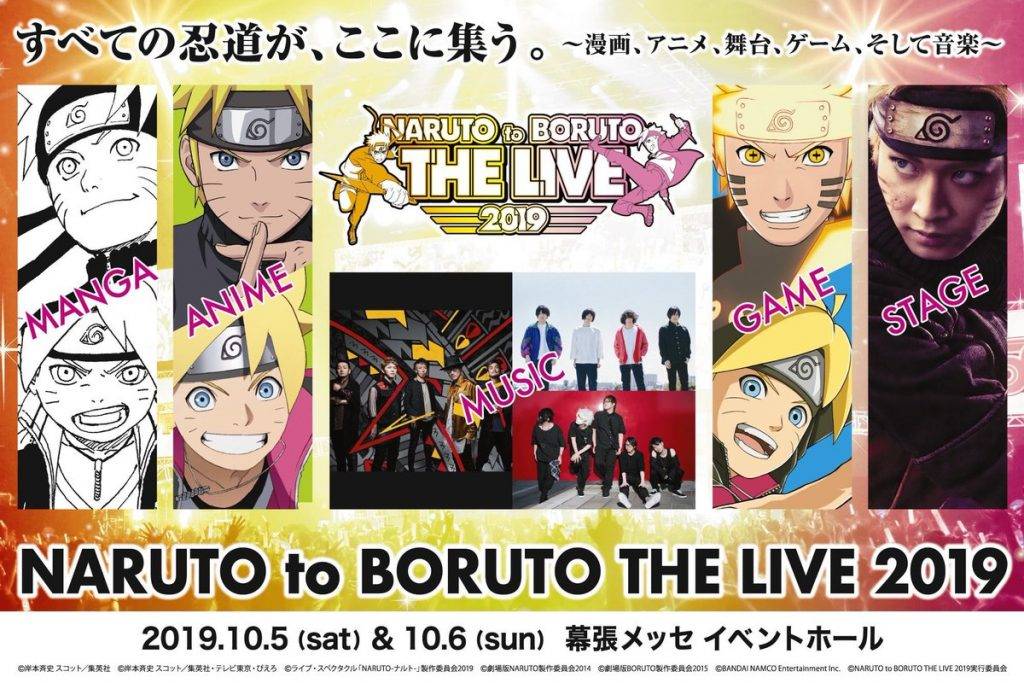 Innanzitutto, verranno proiettati i panel del manga e degli episodi degli anime (sia Naruto che Boruto). Sarà poi possibile incontrare in carne e ossa i protagonisti di queste storie tanto amate. Saranno presenti infatti i doppiatori di Naruto, Sasuke, Sakura, Boruto, Sarada, Mitsuki, e altri dei personaggi dei due anime. Oltre a loro, ci saranno anche gli attori che hanno interpretato i loro ruoli nelle rappresentazioni teatrali della serie.
Ma l'esperienza non finisce qui. Infatti i fan avranno la possibilità di acquistare articoli da collezione del merchandising ufficiale e di giocare tutti insieme ai videogame del franchise – principalmente a quelli appartenenti alla serie Ninja Storm.
Infine, almeno per quanto riguarda le attrazioni già confermate, abbiamo l'intrattenimento musicale.
I fan più sfegatati degli anime sanno che le varie sigle che si alternano tra una saga e l'altra sono parte integrante dell'esperienza. A questo eccezionale evento saranno presenti alcune delle band che hanno interpretato le canzoni di opening e ending credits delle varie saghe.
Parteciperanno tra gli altri i Flow, Kana-Boon, Dish e Little Glee Monster, che hanno rispettivamente interpretato una opening di Naruto, una opening e una ending di Naruto Shippuden e una opening di Boruto: Naruto Next Generation.