Modern Love è una delle ultime novità di Amazon Prime ad aver conquistato il cuore degli abbonati. Leggera, spensierata, ma allo stesso tempo intensa e appassionata, la serie di John Carney che dà vita alle storie pubblicate sulla rubrica settimanale del New York Times, seduce e appassiona.
Si tratta di otto storie, una per episodio, che hanno al centro l'amore nella sua accezione più estesa. Amori non corrisposti, amori platonici, amori barcollanti, amori ritrovati: Modern Love è un calderone fumante in cui si agitano sensazioni e impulsi che non credevamo di poter provare. Ogni episodio è una storia a sé, raccontata con delicatezza e garbo. Un brandello di vita su cui si punta lo sguardo mentre fuori la fumante realtà newyorkese scorre ai soliti ritmi vertiginosi.
Modern Love parla dell'amore senza essere mai banale. Tratta la normalità senza sfociare nella monotonia e dà alla quotidianità una luminosità tutt'altro che scontata.
Stilare una classifica degli episodi di questa prima stagione non è così semplice. Se non altro perché la serie si sviluppa tutta su uno standard piuttosto alto che rende difficoltoso un lavoro di classificazione. Non c'è un episodio brutto in Modern Love – e, di questi tempi, è una vera rarità – come non ci sono grosse differenze a livello qualitativo tra una puntata e l'altra. Ma se proprio dovessimo tirar giù una classifica, questa potrebbe essere la più veritiera.
8) Rallying to Keep the Game Alive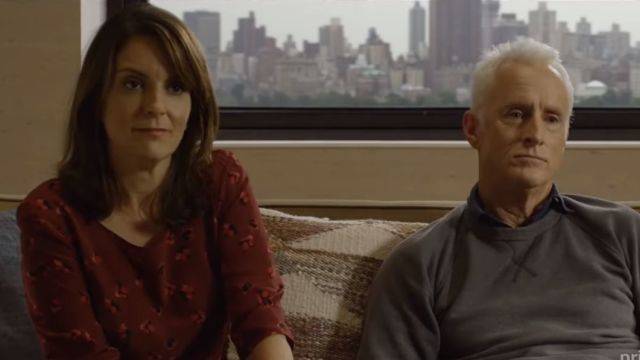 Il quarto non è un brutto episodio, tutt'altro. Prende in esame uno stadio dell'amore non più così eccitante ed esaltante, ma non ci fa mancare la giusta dose di poesia.
Tina Fey e John Slattery sono una coppia di mezza età che decide, come migliaia di altre coppie, di andare in analisi per salvare il proprio matrimonio. Sono due persone stanche, risucchiate dalle loro vite piene e asfissianti, che mandano avanti la famiglia per inerzia e abitudine. Si danno per scontati, come danno per scontato il matrimonio, un legame che perde di significato se non c'è più una fiamma a tenerlo vivo. Sarah e Dennis si trattano con superficialità e rancore, tra di loro si è insinuato uno spesso strato di ruggine che deve essere grattato via. Ci provano col tennis, all'inizio con scarsi risultati. Ma quando hanno il coraggio di guardarsi negli occhi e aprirsi completamente, qualcosa succede e gli ingranaggi malandati, seppur con incertezza e difficoltà, riprendono a funzionare.
È un episodio molto schietto e senza fronzoli, forse già visto centinaia di altre volte, ma comunque godibile e intenso.