Poco nota, dimenticata e spesso trascurata è Lie to me, serie che è andata in onda su Fox dal 2009 al 2011, è un vero e proprio gioiellino, purtroppo cancellato troppo presto. Perché è un gioiellino? Basti pensare che l'attore protagonista è Tim Roth, il leggendario pianista sull'oceano, il pupillo di Quentin Tarantino, uno degli attori più bravi – e sexy – che ci siano in circolazione.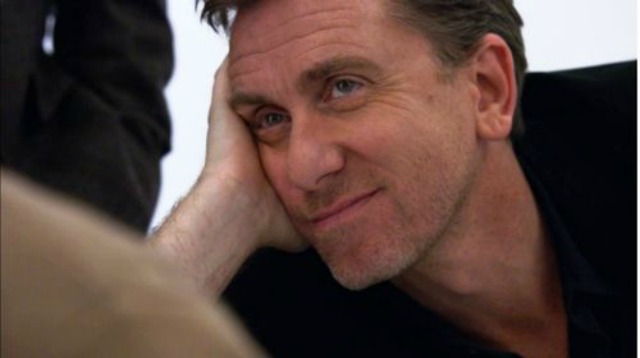 Crime drama per molti tratti classico, si ritaglia un posto speciale in questo genere per l'uso di una scienza, quella delle microespressioni, poco conosciuta e senza dubbio interessante, che permette di 'leggere' le persone. Come? Vi ricorda qualcosa? È giusto che sia così perché Moffat e Gatiss si sono ispirati in parte a questa serie quando hanno creato Sherlock, sia per alcuni atteggiamenti del giovane Holmes, sia per il rapporto che c'è tra John e Sherlock che un po' ricorda quello tra Cal Lightman e la sua socia, la dottoressa Gillian Foster.
E Lightman e la Foster sono una di quelle OTP immediate che non sai nemmeno perché shippi, ma lo fai. Il modo in cui è costruita la loro relazione fa subito intuire che i due sono molto di più che BFF, anche se non lo ammettono.
La storia infatti parte con l'ingresso nel Gruppo Lightman di una nuova adepta, Lia Torres, un 'talento naturale', ovvero una che riesce a notare le microespressioni senza averle studiate. La ragazza si accorge subito che tra la Foster e suo marito sta succedendo qualcosa di strano perché lui le mente. Subito Cal le dice di non intromettersi, dimostrando di avere un certo rispetto per la socia, proprio lui che mette a nudo tutti, rinfacciando loro quello che vede. Ed è proprio quest'abitudine ad aver rovinato il rapporto con Zoe, la sua ex moglie e madre di sua figlia, Emily.
E sono proprio Emily e Gillian le due persone che ci permettono di vedere oltre lo scienziato freddo, altezzoso e indisponente, mettendoci di fronte alla sua umanità.
Perché sì, Cal Lightman è umano e fallibile, come dimostra in più di un'occasione. Ed è fallibile soprattutto quando si tratta di Gillian. Non fa nulla all'inizio anche se sa che il marito le mente e quando finalmente interviene crede che l'uomo la stia semplicemente tradendo. In realtà, Alex ha un problema di droga e la donna è il suo sponsor.
Questo non salva il matrimonio, però. Quando Gillian alla fine della prima stagione lascia il marito, tiriamo tutti un sospiro di sollievo: anche Cal è single, nonostante dorma occasionalmente con l'ex moglie o altre donne, e le nostre speranze diventano reali.
Ma niente. Nella seconda stagione ecco che arrivano Clara e Dave, rispettivamente un'aitante vedova prima cliente e poi nuova socia del Gruppo Lightman e un agente dell'antidroga sotto copertura che lavora in un carcere minorile. Fortunatamente queste relazioni durano poco: Clara è troppo 'oppressiva' con Cal, che non sopporta che ci sia qualcuno che prova a comandarlo a bacchetta e la copertura di Dave salta dopo una commuovente puntata in cui rischia la morte e Cal è l'unico che possa aiutarlo. Proprio Cal, proprio nella puntata in cui Gillian e Dave rendono pubblica la loro relazione e Cal è visibilmente geloso. Tanto da seguirli quando fanno colazione, facendosi trovare nello stesso bar. È qui che per la prima volta Cal ammette di provare qualcosa per Gillian, pur nella finzione: ai rapitori di Dave dice che possono ucciderlo quando avrà finito con lui perché vuole Gillian.
Ed è nella puntata successiva, Tenebre e luce che succede. Nella prima scena si vedono Gillian e Cal in uno studio che dicono di essere sposati e si baciano. Ci mettiamo qualche secondo a capire che sono sotto copertura e che no, non si sono messi insieme. Ma è un bacio quello che abbiamo avuto ed è già qualcosa!! In fondo è solo la seconda stagione e Lie to me prometteva bene. Probabilmente gli sceneggiatori avranno ritenuto prematuro farli mettere insieme così presto, convinti che avrebbero avuto ancora molte stagioni di fronte a sé per far evolvere questa 'amicizia'.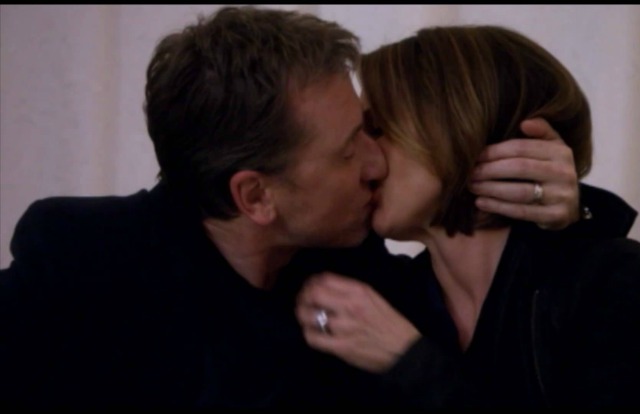 E arriviamo alla terza stagione. Qui lo spazio personale tra i due è totalmente annullato. Cal le parla a pochi centimetri dal viso, la tocca in continuazione, quasi casualmente: la spalla, un braccio, un fianco… E poi i loro dialoghi, pieni come al solito di sottotesti, con Cal che le dice che lei è l'unica che 'non riesce a leggere', con Gillian che lo copre sempre, anche quando non è d'accordo con i suoi metodi… Insomma, si occupano l'uno dell'altra, ma non sono solo amici. Perché lo dico? Perché nella 3×13, il finale di serie, Emily chiede a suo padre:
"Gillian, la ami?"
"Certo, cara. Certo che la amo."
"No, intendo la ami davvero?"
"Sì."
La nostra gioia è stata grande, enorme e quasi stavamo già sognando per loro i fiori d'arancio, quando la Fox ha cancellato la serie. Perché sì, per noi shipper il #maiunagoia alla fine vince sempre!