Il 2004 è stato l'anno di spicco dei talent show, della conferma di American Idol, del lancio di XFactor. Per esclamare insieme "oddio è passato già tutto questo tempo!" vi comunico che sono passati ben 12 anni. Esatto, 12 anni.
Perché ho esordito parlando di talent show? Voglio dedicare questo articolo al ricordo della serie tv che ha incollato alla televisione tanti italiani nei primi pomeriggi di Italia Uno: Instant star.


Lo show televisivo canadese ha chiuso i battenti dopo quattro stagioni composte da 13 episodi l'una; la protagonista è Jude Harrison, la vincitrice di un talent show chiamato Instant star, appunto.
Se non avete seguito la serie televisiva al tempo, sarà difficile recuperarla adesso, un po' perché non si trovano i link per lo streaming e un po' perché andava guardata al tempo, ora perderebbe d'effetto. Per chi l'ha seguita, invece, saprà di che cosa sto parlando.
Probabilmente è stata la mia prima droga in ambito "maniaci seriali" e sono sicura che lo sia stato per molti di voi. Sono svariate le cose che mi mancano di Instant Star, motivi per cui la ricomincerei seduta stante.
L'INGLESE IMPARATO GRAZIE ALLE CANZONI
Ricordate il blog di MySpace? Se avete guardato Instant star e quindi avete su per giù la mia età, sapete di che cosa sto parlando. Ne scrivevamo di cose stupide, ne mettevamo di cose che non interessavano a nessuno. L'apice l'ho raggiunto quando ho iniziato a cimentarmi nello scrivere canzoni… in inglese. La colpa di chi è? Alexz Johnson, l'attrice/cantante che interpretava Jude Harrison in Instant Star. Ogni puntata era caratterizzata da almeno una canzone. Le sapevo (anzi, ancora adesso) a memoria e quando in sala scriveva, cantava ed incideva le canzoni, mi ispirava. Grazie alle canzoni dei Blue e dei Backstreet Boys, a Mtv e alle canzoni di Instant Star ho imparato l'inglese!
SOGNARE DI DIVENTARE UNA CANTANTE
E quanto mi manca anche il solo sognare ad occhi aperti di poter diventare un giorno una cantante! Sono passati 12 anni, non sono una cantante, non ho vinto un talent show, ma mi piace pensare al fatto che in un periodo della mia vita io c'abbia sperato grazie a questa serie televisiva. Purtroppo non ho mai avuto la voce di Alexz Johnson ma in quel periodo ero comunque armata di mazza della scopa, sorella che assisteva ai miei finti concerti e di basi musicali per poter deliziare i miei vicini!
TOMMY Q
Ci lamentiamo spesso della nuova generazione, precoce e quant'altro. Al tempo, in effetti, vivevo di amori platonici e facevo coppia fissa con i poster di Duncan James dei Blue affissi nell'armadio. Ora ditemi come un Tommy Q non poteva farmi innamorare. Un ex componente di una boy band, misterioso, sempre col fiato sul collo a Jude. Insomma ammetto che Tommy Q è sempre stato un mio sogno proibito. Guida una decappottabile blu, aiuta Jude a scrivere canzoni d'amore, è introverso e misterioso… lo so, vi state innamorando anche voi!
I BACI DI TOMMY Q
A questo punto abbiamo fatto 30, facciamo 31 e anche 32 e 33. I baci da film, quelli che raramente accadono nella realtà, sono in top 3 per le più grandi illusioni (non primi, solo perché sono a pari merito con i principi Disney). Ora prendete Tommy Q e mettetelo ad improvvisare baci da film, i più belli mai visti. Starò esagerando, ma vedere l'uomo introverso e turbato (quale Tommy) agire impulsivamente per rubare un bacio a Jude ci faceva sognare come poche cose al mondo. Tanto per ricordarne uno: il primo ufficiale bacio della coppia? Sì, esatto, quello sotto la pioggia. Ricordiamolo a passaggi:
1) Cede la sua giacca a Jude
2) Jude si sfoga
3) Jude gli dice: "Tutti dicono <<sei la cosa più bella, sei così carina ma poi nessuno vuole stare con me! Puoi dirmi cosa faccio di male?>>"
4) Lui risponde: "lo stai chiedendo alla persona sbagliata" e la bacia.
Ragazzi, sto di nuovo sognando.
LA FRIENDZONE
Credo che il mio approccio ad una friendzonata televisiva sia stato proprio con Instant Star. Sì, mi manca anche il friendzonare di Jude assiduo nei confronti del migliore amico Jamie. Lui è sempre stato segretamente innamorato della ragazza. Sebbene riesca a conquistarla, Jude nella sua mente e nel suo cuore ha un unico nome, ormai sapete a chi mi riferisco, ne abbiamo già largamente parlato. All'inizio, per esempio, Jude ha scambiato la gelosia da amicizia per qualcosa di più. La zona in cui naviga Jamie può essere definita tra le più pericolose viste in televisione.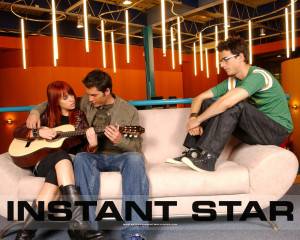 BOYZ ATTACK
Ricordate Top of the pops, CD:Live? L'articolo entra nel vivo e la nostalgia aumenta, me ne rendo conto. Quanto sentite la mancanza anche di queste trasmissioni del sabato pomeriggio? Andavano tra l'altro di moda le boy band e quelle che si scioglievano. La furbizia di inserire in Instant star tutti gli elementi chiave di quella generazione è stata ineccepibile. Nei Boyz Attack, boy band che si è sciolta, cantava Tommy Q. Li abbiamo visti di solito in programmi musicali fittizi simili a quelli nominati precedentemente: reunion improvvisate per sole 24 ore, duetti con la stessa Jude. Mi sembrava di vedere il mondo televisivo in cui ero completamente immersa (altro scheletro nell'armadio) in un unico show televisivo.
LE CANZONI SCRITTE SU DUE PIEDI
Esatto! ESATTO! Come facevano? Guardavano un pappagallo posarsi su di un ramo e scrivevano testi manco fossero Dante Alighieri. Pranzavano nella decappottabile e ti cacciavano fuori I Promessi Sposi. Mi manca vederli all'opera. A volte in team, altre volte isolati dal mondo, e uscivano testi come i conigli dal cappello di un mago. Tra le prime canzoni ricordo "It could be you": Jude e Tommy si erano rintanati in una specie di casale per staccare la spina da tutto il resto e scrivere una canzone. Lui prende la chitarra, lei lo guarda intensamente e così puff! Iniziano a cantare una canzone a caso, nuova, mai scritta o sentita prima nemmeno da loro. GENIALE!
https://www.youtube.com/watch?v=xn-ZkyyVm_8&list=PL1BF5E7CF4EB87836&index=9
LE CANZONI STRAPPALACRIME
Eccallà, potevano mancare? Scene sotto la pioggia, il belloccio di turno, friendzone, amore impossibile: no, non potevano mancare. Altro che Adele! Sono sicura che ricorderete senz'altro Under my skin, Don't you dare, White Lines. In una puntata Jude ammette di aver scritto quest'ultima per Tommy.
Alla fine la serie televisiva forse doveva vertere sull'ascesa al successo di una cantante che ha vinto un talent show. Sì, però, non prendiamoci in giro: lo seguivamo tutti per capire come sarebbe andata a finire tra i due ragazzi. E a furia di ascoltare queste canzoni strappalacrime quelli a rimetterci eravamo noi!
https://www.youtube.com/watch?v=65FQSarX_og
LE CANZONI MOVIMENTATE
Oh, almeno compensavano le canzoni pop/rock. Quelle dei Boyz Attack come Pick up the pieces, quelle di Jude come 24 Hours, Temporary Insanity. Non vi azzardate a leggere o capire il testo, perché da quello non si scampa: si sa che l'ammmmore ha sempre fatto l'effetto migliore nelle canzoni.
JUDE E I SUOI LOOK
Quanto è stato traumatico quando Jude da rossa liscia è diventata bionda mossa? Per carità, io trovo che stesse molto meglio bionda, ma così improvvisamente un cambio di questo tipo, wow! Esteticamente è passata da una Avril Lavigne del tempo a una Jude Harrison a tutto tondo, matura e pronta a fare sul serio con la sua musica. In fatto di look credo sia stata un'evoluzione tutta in ascesa. E poi quanto amavamo quelle giacche a mò dei Beatles?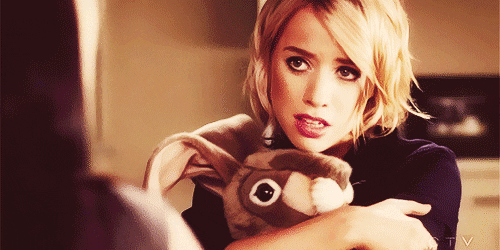 WASTE MY TIME
Credo che questa canzone debba avere il posto d'onore per "discorso a parte" perché è quella che più ricordiamo di Instant Star, cantata da Jude e dal suo ex Shay, rapper. La parte rappata ricordo solo che blateravo cose a caso, ma era sempre adrenalinico stare lì a provare a stare al passo di Shay. La loro relazione e il matrimonio perfetto tra le loro voci hanno fatto sì che il duetto riuscisse bene non solo ai fini della puntata.
JUDE HARRISON E TOMMY Q
Semplicemente ci mancano i due protagonisti. Si conoscono con una figura epica di Jude: è una delle poche donne che odiano i Boyz Attack, particolarmente Tommy. Ne parla ad alta voce, ignara del fatto che il ragazzo sia alle spalle e stia ascoltando tutto.
A mio avviso Instant Star presenta una delle più belle coppie telefilmiche. Se fosse esistito al tempo il termine "shippare", mi sarei presa la responsabilità di affermare che sarebbe stata la più shippata delle coppie, se solo Instant Star fosse stata un po' più seguita. Consiglio comunque a chi non l'ha guardata di provare a trovare le puntate per iniziare ad amare una serie televisiva non molto impegnativa, un piacevolissimo passatempo.