Marvel's Inhumans: cosa aspettarci da questa Serie Tv?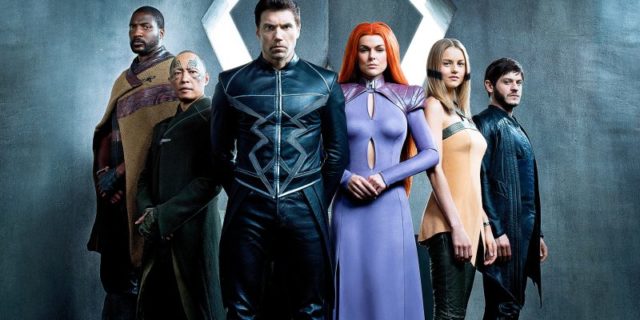 Dalla serata di ieri è possibile assistere alla visione dei primi due episodi di Marvel's Inhumans nei cinema IMAX. Noi di Hall of Series abbiamo avuto l'opportunità di partecipare alla Première milanese del 13 Settembre organizzata da FOX (qui vi raccontiamo la nostra esperienza), dove è stato svelato in anteprima un condensato da 75 minuti dell'inizio della nuova, quanto attesa, Serie Tv Marvel.
Scartata l'idea di una pellicola cinematografica — con buona pace del presidente dei Marvel Studios Kevin Feige — a fronte della grande versatilità dei personaggi ritenuti particolarmente adatti al piccolo schermo, il progetto Inhumans è culminato in un investimento di dimensioni colossali, accompagnato da una campagna promozionale clamorosa, che ci prometteva una saga epica.
Dalle parole dello showrunner e produttore esecutivo Scott Buck era chiara l'intenzione d'introdurre un prodotto innovativo, ispirato (ma diverso) all'idea creata dal genio di Stan Lee e dalla mano di Jack Kirby.
Un nuovo, autentico e importante tassello nell'universo MCU.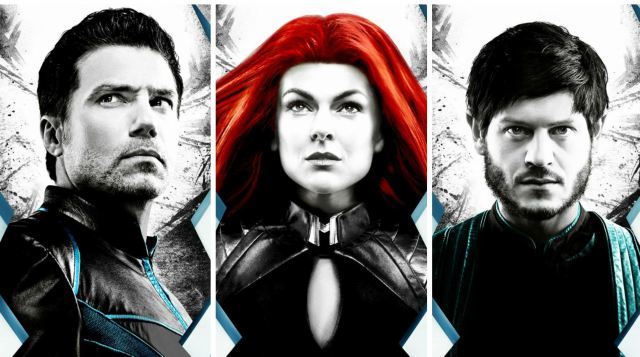 La performance dell'IMAX — perentoria in quelle riprese inghiottite nella natura, ma spesso soffocata da una scenografia e un'architettura interna pressoché basica — insieme a una musica più cinematografica che seriale ci conducono alla scoperta di Attilan: una città celata sul suolo lunare, dove gli inumani si sono ritirati e da cui osservano il susseguirsi degli eventi sulla Terra.
Il cuore pulsante di Inhumans risiede nella società inumana stessa.
Uno schema sociale a struttura gerarchica, dove a venire emarginati sono coloro che non presentano alcuna unicità. Una visione che si palesa quale contraltare di quanto mostrato in Agents of S.H.I.E.L.D. e alla usuale speculazione marveliana sul tema della diversità, elemento cardine delle saghe con protagonisti gli X-Men, ma non solo.
Se da sempre possedere superpoteri conduce all'isolamento e a grandi responsabilità, in Inhumans va registrato il problema opposto. Un saggio interessante, non convenzionale, che merita un momento di analisi.
L'inumanità assume i tratti di un retaggio sociale e familiare. Un culto il cui custode è il consiglio genetico e che individua nella Terrigenesi, in ogni sua sfumatura, un rito di passaggio obbligatorio e decisivo nella vita di ogni singolo membro della comunità.
Inhumans dunque non vuole focalizzarsi sull'individuo, bensì sui legami che connettono il gruppo e, in particolare, un nucleo familiare in crisi.
In questo humus spicca la famiglia reale, protagonista dello show. Qui l'accento cade sulla contrapposizione prima, dualismo poi, tra i fratelli Black Bolt e Maximus.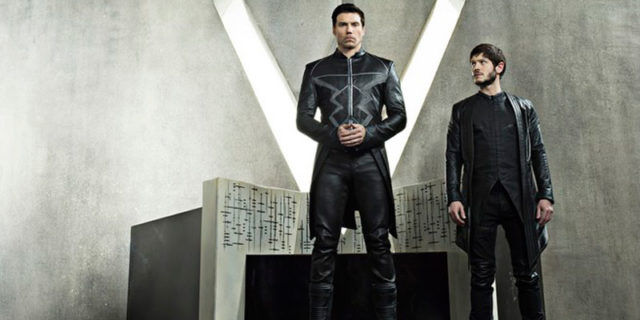 Il primo è forse la sorpresa più gradita. Una figura coraggiosa, che risponde a una scelta altrettanto ardita: porre al centro un personaggio impossibilitato nel parlare a causa del suo stesso potere. Tutto ciò costringe l'interprete Anson Mount a una prestazione degna di nota, costruita ad hoc sulla gestualità, ma soprattutto sull'espressività.
L'altro, il Maximus di Iwan Rheon, è una figura solida e consapevole. Guidato da uno spirito rivoluzionario espressione del disagio vissuto dalla casata inferiore.
Maximus è la voce del popolo. La bilancia su cui pesare la solidità della casata reale. L'elemento scatenante.
A onor del vero questo personaggio, descritto come neutrale e tridimensionale da parte della produzione, pare talvolta vittima dell'insofferenza, tradendo un interventismo che almeno in teoria non dovrebbe essere contaminato dagli interessi personali. L'applicazione nel volersi liberare del fratello, le preoccupazioni sul futuro e soprattutto il suo rapporto con Medusa, fanno trasparire difficoltà personali a cui non eravamo preparati. Va comunque applaudita un'interpretazione ottima, che ci consegna un personaggio assolutamente all'altezza.
Inhumans vuole parlare di famiglia, valori, lotta di classe.
Maximus e le sue azioni sono il naturale risultato alle frizioni interne ad Attilan e a quello che sta accadendo sulla Terra post-Terrigenesi.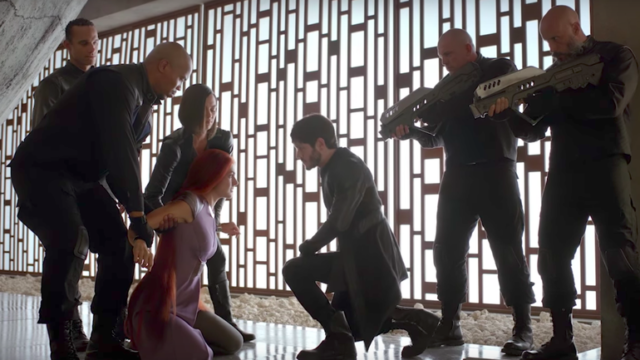 Dopo aver visto i primi due episodi è ancora presto per dei giudizi definitivi. Benché le nostre conclusioni si limitino a un'analisi sommaria, vale la pena sottolineare come Inhumans presenti criticità inaspettate quanto evidenti.
Uno show che sembra rincorrere la grandezza attraverso l'ostentazione della forma, della teatralità, perdendosi talvolta nelle trame di una tragedia shakespeariana che vive sull'alternanza tra momenti d'ilarità, a tratti scontata, e sprazzi di ostentato e sostenuto autocompiacimento.
La ricerca a tutti i costi del climax attraverso slow-mo e flashback, è forzata, fine a se stessa. Notiamo un degno taglio cinematografico, che però nello spiegare la scrittura perde di ritmo, appiattendosi. Inoltre dispiace affermare come non si sia riusciti nel conferire una dignità singolare — Medusa a parte — ai personaggi che gravitano intorno a Black Bolt e Maximus.
Un titolo che rischia di prendersi troppo sul serio. Una Serie Tv, per ora, nella media se posta a confronto con gli altri prodotti Marvel.
D'altro canto la produzione era stata chiara:
pensare in modo più grande rispetto a quello che si farebbe in una normale serie televisiva.
E l'intenzione era proprio quella di concepire qualcosa di altisonante, con personaggi dalle personalità mature, più vicino al risultato raggiunto attraverso la collaborazione con Netflix. Tuttavia Inhumans non è uno stand alone, ma un prodotto che ricerca l'equilibrio su più punti. L'avere a che fare con un team di personaggi porta dunque a una dimensione diversa, più simile al classico taglio proprio degli show Marvel-ABC.
Quello che però va assolutamente apprezzato è come Inhumans sia un prodotto che si colloca a pieno diritto nel Marvel Cinematic Universe.
Difatti lo show strizza l'occhio, presenta parallelismi e connessioni al mondo Marvel. Così è inevitabile attendersi un crossover con Agents of S.H.I.E.L.D.. È semplice rivedere nell'impianto base una struttura già conosciuta in Thor, con una famiglia reale chiamata ad affrontare delle avversità e il dualismo tra fratelli. Inoltre finalmente assistiamo a un'altra — almeno in parte — saga ambientata nel piano cosmico Marvel, dopo Guardians of the Galaxy.
Il tempo dei giudizi non è ancora arrivato. Marvel deve presentarci la totalità del suo lavoro, che sia effettivamente work in progress o meno. Diamo tempo al tempo, con la fiducia che va necessariamente concessa a chi finora ha saputo sbagliare poco, per non dire nulla.