Il 28 settembre è arrivato e ha portato con sé la tanto attesa e dibattuta première della Serie TV "Marvel's Inhumans", nuovo progetto nato dalla collaborazione tra la Casa di Topolino e quella delle Idee che si inserisce a pieno titolo nel MCU. Un progetto molto ambizioso che si avvale per la prima volta sul piccolo schermo del formato IMAX e che ha il compito di sostituire un film omonimo previsto inizialmente per il 2018 e poi abbandonato. Ma Inhumans è, soprattutto, un progetto ambizioso per la portata della storia che racconta e dei personaggi protagonisti, una razza diversa che deve saper conquistare lo spettatore senza risultare una copia dei più famosi Mutanti (un errore molto spesso incontrato anche nei fumetti) e una famiglia reale variegata e complessa.
Il compito che Inhumans deve svolgere non è certo semplice ed essendo le aspettative altissime era giusto aspettarsi le critiche di rito. La stroncatura, però, è stata più glaciale del previsto e mi ha spinta a guardare l'episodio in modo ancora più analitico e critico per capire dove Inhumans abbia sbagliato. In questa prima recensione ufficiale (Hall of Series ha potuto vedere la Serie Tv in anteprima a Milano) vi parlo delle mie impressioni, delusioni e di quelle aspettative che ho per il futuro. Lo faccio da fan della Marvel e da appassionata di Serie Tv.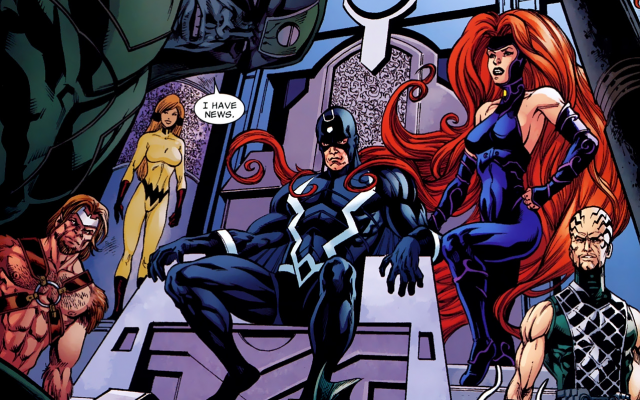 BEHOLD THE INHUMANS!
Innanzitutto un po' di storia. Gli Inumani appiano per la prima volta nel 1965, nella testata dei Fantastic Four e da lì in poi faranno la loro sporadica comparsa in diverse altre storie come in Thor o Daredevil. Gli Inumani sono individui geneticamente modificati tramite esperimenti compiuti dalla razza extraterrestre Kree milioni di anni fa. Quando i Kree decidono di abbandonare gli esperimenti, questi ultimi si danno nome "Inumani" e fondano una città nascosta, Attilan, tecnologicamente avanzata e basata su un rigido sistema di caste.
All'interno di una gerarchia immobile, le Nebbie Terrigene decretano il destino delle nuove generazioni attraverso un rito sacro e immutabile. La Terrigenesi si dimostra una promessa o una condanna all'interno di un sistema conformista che, pur permettendo l'individualità, esige da ogni membro della società la rigida adesione al ruolo assegnatogli a seconda delle abilità ottenute dopo l'esposizione.
In tal modo nessun Inumano, indipendentemente da quanto sia potente, può modificare la propria posizione nella scala gerarchica e di conseguenza sovvertire l'ordine.
IL ROVESCIO DELLA MEDAGLIA  
L'universo degli Inumani rappresenta quindi lo specchio di quello degli X-Men e di ciò che abbiamo visto anche in Agents of Shield. Innanzitutto la mutazione che avviene negli X-Men prescinde da esperimenti genetici, in secondo luogo nel mondo dei mutanti essere diverso porta all'emarginazione, all'odio e alla solitudine, i mutanti sono considerati i paria della società, costretti a nascondersi e combattere per la propria sopravvivenza.
Nel primo episodio di Inhumans ci rendiamo conto come questo concetto sia ribaltato, il potere stabilisce il grado e la posizione nella piramide, questa volta sono i normali a essere emarginati e tra questi c'è il fratello del re: Maximus. Un piccolo SPOILER ALERT adesso è d'obbligo, nei fumetti in realtà Maximus non è privo di poteri ma non li manifesta, egli è dotato di capacità psionici che gli permettono di manipolare la mente delle persone. Nella Serie Tv non si capisce se stia nascondendo questi poteri o ne sia effettivamente privo.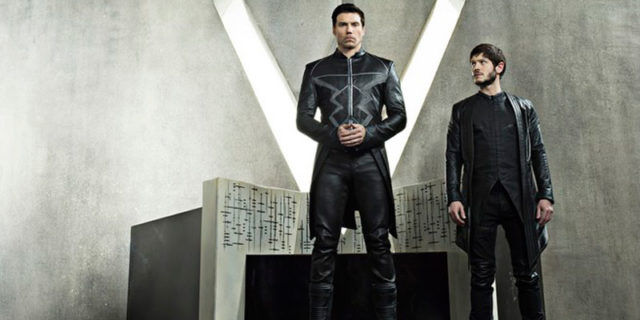 FRATELLO CONTRO FRATELLO
Maximus rappresenta il villain principale della saga, nella Serie Tv ci viene presentato come un uomo pericoloso e detestato dalla famiglia perché ritenuto inferiore ed un uomo che in nome di quegli ideali in cui crede, o vuole credere, è disposto a sporcarsi le mani. Il colpo di stato denota solo l'insoddisfazione che serpeggia a palazzo e che è stata alimentata da Maximus stesso, propostosi come la voce del popolo. Nel suo essere normale e semplicemente umano, Maximus attira i favori di quella casta abbietta che nella splendida Famiglia Reale non trova invece alcun legame.
Iwan Rheon tratteggia un personaggio ambiguo nel suo essere profeta e carnefice, un insoddisfatto che aspira a tutto ciò che possiede il fratello, dal trono a Medusa. Un personaggio molto diverso dal Ramsay Bolton che abbiamo imparato ad amare e detestare perché Maximus si muove in una sfera più psicologica che fisica. Non è la forza bruta o la violenza a caratterizzarlo ma l'insinuazione del dubbio, la sua capacità di dividere la famiglia fisicamente e non solo.
Blackbolt e Maximus rappresentano due frammenti di colore opposto che insieme compongono una figura. L'uno impossibilitato a parlare, l'altro master della parola; il re che sente il proprio potere come un peso e una condanna e il principe infelice perché privo di poteri; uno vuole vivere in pace, l'altro aspira alla grandezza sulla Terra. 
Intorno a questa bilancia i cui piatti sono i due fratelli si muovono gli altri personaggi, tra questi spicca solo Medusa. Senza voler fare troppi spoiler, anche qui Maximus riesce a colpire dove fa più male e agisce sempre con una sorta di rammarico stampato sul viso. Viene da chiedersi se in quello che sta facendo Maximus ci creda davvero o sono solo bugie che racconta a se stesso.
TIRIAMO LE SOMME
Sicuramente "Marvel's Inhumans" è una Serie Tv piena di ambizioni, un progetto immenso che aspira alla grandezza cinematografica e lo fa attraverso la musica, gli effetti speciali e determinati accorgimenti come l'uso di slow-motion o di flashback. Il problema è che forse è tutto un po' troppo. Nel tentativo di voler fare si rischia sempre di strafare ed è quello che è successo a Inhumans. La Serie Tv non raggiunge la grandezza di alcuni dei prodotti targati Netflix avvicinandosi di contro ad Agents of Shield e alla sua natura corale.  C'è da dire che gli Inumani non sono personaggi tanto amati dai fan Marvel, a causa di alcune scelte editoriali che hanno portato gli XMen, beniamini del pubblico, a essere sminuiti, quindi è molto probabile che tanti fan siano partiti prevenuti.
Non condivido l'accoglienza glaciale che ha suscitato in pubblico e critica. È una Serie Tv terribile? No, è una Serie Tv che ha voluto osare e per alcuni aspetti c'è riuscita. Inhumans è un prodotto che entra giustamente nel MCU e lo fa esplorando un mondo nuovo, non sempre chiarissimo e non sempre suggestivo ma le premesse ci sono.
Ciò che semmai disturba e da qui nasce la mia delusione è la scarsa caratterizzazione dei personaggi secondari e questa alternanza, spesso forzata, tra tragedia di sapore shakesperiano e commedia da buddy movie, la Serie Tv sembra così mancare di direzione destabilizzando il pubblico. La tensione narrativa viene o interrotta bruscamente o risulta fine a se stessa, apparendo fasulla.
Come disse qualcuno a volte "la semplicità è il massimo della raffinatezza".