Inhumans è la nuova Serie Tv prodotta da Marvel, ABC e IMAX (clicca qui per vedere il trailer!). La prima stagione andrà in onda in America a partire dal 29 settembre. Nei cinema IMAX, dal 1 settembre, negli Stati Uniti è stato possibile vedere in anteprima i primi due episodi della Serie. Inhumans sembrava una Serie interessante e piena di potenziale, ma molti critici sono rimasti delusi. Le critiche principali sono state fatte nei confronti dello script e della resa IMAX, che non sembra essere stata sfruttata al meglio. Tra gli altri fattori presi di mira dai critici, sono stati condannati anche i capelli della protagonista femminile di Inhumans, Medusa la regina di Attilan, considerati molto cheap se confrontati con gli altri effetti speciali.
Leggiamo spesso recensioni di Serie Tv per capire se il prodotto può essere di nostro interesse. Ma non sempre ciò che leggiamo ci convince. Hall of Series ha avuto la possibilità, grazie a un invito da parte della Fox, di vedere in anteprima i primi due episodi condensati di Inhumans (circa 75 minuti di visione).
Il 13 settembre, all'UCI cinema di Pioltello, alcuni redattori di Hall of Series si sono accomodati sulle poltrone di una sala cinematografica, armati di popcorn e bibita fresca, per assistere alla visione di Inhumans.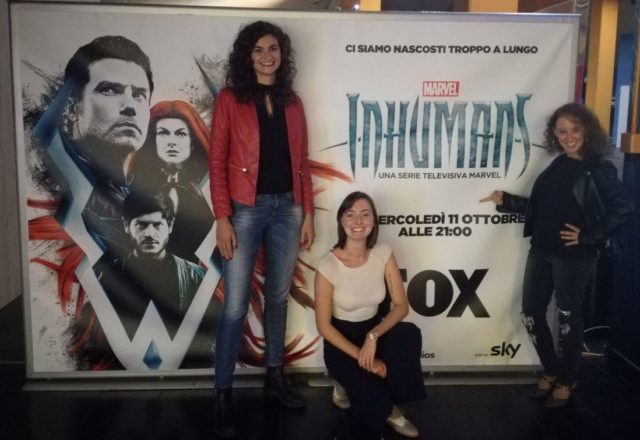 Ad aprire l'evento sono state le parole di Stefania Severini, rappresentante Disney, e Alessandro Saba, vicepresidente Fox. Quest'ultimo ha inoltre parlato della futura programmazione Fox. Ecco le sue parole:
Inhumans è la Serie Tv più costosa che la Marvel abbia mai realizzato. Il cast è fantastico, basta pensare a Iwan Rheon, il Ramsey Bolton di Game of Thrones. Le altre Serie Tv che saranno presenti sui canali Fox sono The Gifted, che figura come la Serie più applaudita tra le anteprime del San Diego Comic-Con; Grey's Anatomy con la quattordicesima stagione (e un'attrice italiana nel cast); lo spin-off di Grey's Anatomy di cui però non è ancora noto il titolo e American Crime Story: Versace.
Dopo la presentazione, tra gli applausi degli spettatori, le luci della sala si sono spente e l'immenso schermo IMAX ha iniziato a prendere colore. Siamo così entrati nel mondo di Inhumans, catapultati in un luogo con musiche e sfumature diverse da quelli a cui siamo abituati. Abbiamo conosciuto i protagonisti, vedendo con i nostri occhi i poteri che li rendono inumani. Alla fine della visione siamo usciti dalla sala, scambiandoci opinioni in merito a ciò che avevamo visto. I critici americani avevano ragione o sono stati troppo severi? Cosa salviamo e cosa bocciamo di questa Serie Tv?
Dopo aver visto in anteprima i primi due episodi di Inhumans, non possiamo naturalmente fare spoiler di nessun genere. Non possiamo però non parlarne: a breve pubblicheremo le impressioni della redazione di Hall of Series, per poi attendere insieme a voi l'uscita della Serie Tv, prevista in Italia sui canali Fox dall'11 ottobre.