I Medici è partita col botto
I Medici è cominciata. I Medici è cominciata alla grandissima. La serie Rai più attesa degli ultimi tempi è finalmente andata in onda in una prima tutta italiana: per una volta niente streaming, né sottotitoli, ma il semplice piacere di accomodarsi sul divano ad ammirare qualcosa di strano e completamente nuovo. I Medici Master Of Florence, l'anima dell'Italia, il principio di ciò che siamo messo sul piccolo schermo in una miracolosa collaborazione molto british e, non solo per questo, meravigliosa.
Se vi aspettate una serie tutta sesso, droga e rock&roll avete sbagliato canale, ma da amante di storia non avrei potuto desiderare niente di meglio. I Medici è tutt'altro. Tramite questi personaggi, ed in particolare attraverso gli occhi di Cosimo de' Medici, ci viene raccontato il XV secolo di Firenze, quando tutto era ancora da fare, quando il mondo stava scoprendo dei nuovi confini e l'uomo iniziava a pensare di non averne più.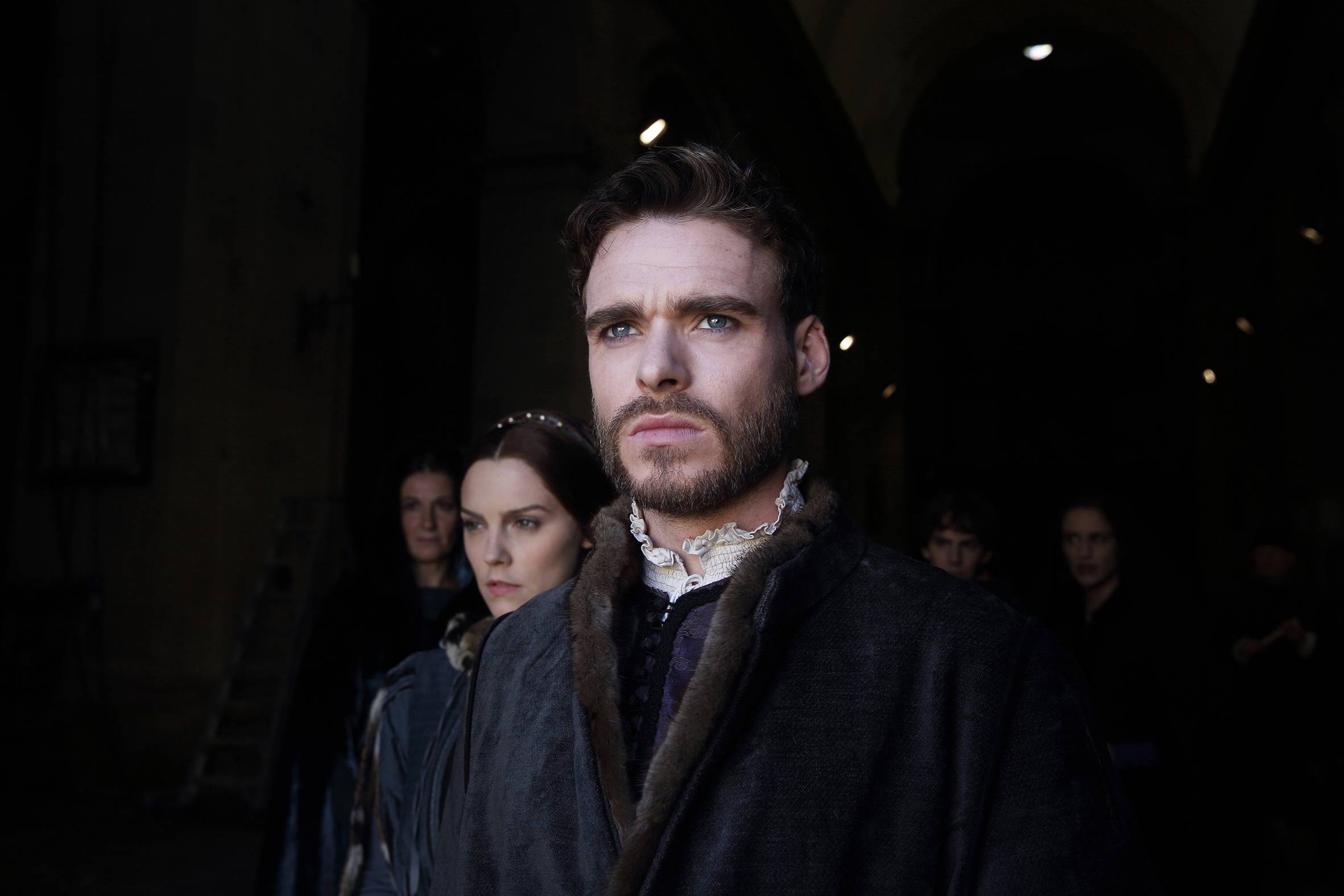 Ma oltre la storia, ci viene raccontata la vita di un ragazzo, non poi così diverso da molti di noi probabilmente, un ragazzo che aveva delle speranze, che voleva diventare grande seguendo la sua strada, ma si è visto costretto ad abbandonare tutto per una via che era già stata tracciata per lui. Cosimo era un artista, era fatto di anima e sogni, ma quella vita non gli era mai davvero appartenuta, poiché Giovanni de Medici aveva già deciso: la sua strada sarebbe stata lastricata di denaro, corruzione, potere e politica.
Partiamo dal presupposto che la prima cosa a cui ho pensato nel giro del primo paio di scene è stata "la famiglia Corleone! Ah no giusto, sono I Medici". Prima di giudicarmi completamente pazza definiamo i personaggi principali: Giovanni de' Medici, astuto e intraprendente capo famiglia, a lui si deve tutto, anche gran parte di quello che fu il Rinascimento Fiorentino, di cui tutt'ora ci piace tanto vantarci.
Giovanni era disposto a qualsiasi cosa per la sua famiglia, e fin da subito sceglie come suo erede non Lorenzo ma Cosimo, più mite ed equilibrato, costringendolo così ad abbandonare tutti i suoi sogni e le sue fantasticherie da artista per una vita più concreta, fatta di affari, corruzione e compromessi di ogni sorta. E quindi scusatemi se in loro rivedo Don Vito Corleone e il figlio Michael, aggiungendoci ovviamente la riproduzione di Santino nella vivacità di Lorenzo il Vecchio, relegato nelle retrovie proprio per quel suo carattere troppo impulsivo.
A parte le mie farneticherie, che comunque dovrebbero molto lusingare Frank Spotnitz e Nicholas Meyer, la prima scena si apre su un omicidio e su un funerale: non proprio un funerale qualsiasi, ma quello di Giovanni de Medici, alias Dustin Hoffman, ma il punto di vista rapidamente si sposta su Cosimo, il bel Richard Madden che sperava di essersi liberato dal fardello dei giochi di potere dopo la traumatica uscita di scena dal Trono di Spade. Se possibile in questa interpretazione così diversa abbiamo veramente potuto ammirare la capacità interpretativa dell'attore scozzese, che, non so voi, ma a me ha alquanto stupito ed affascinato.
Per comprendere, però, la vera anima del personaggio non basta guardarlo nel momento in cui diventa gonfaloniere della Repubblica, ma ben vent'anni prima, momento in cui compromessi e corruzioni non avevano ancora intaccato lo spirito del giovane sognatore. I flashback sono probabilmente la vera essenza di questi primi episodi, durante i quali Giovanni cerca di insegnare al figlio la vera importanza della famiglia e della loro professione, al tempo ancora etichettata come usura. E quindi eccolo in viaggio di "affari" a Roma, sebbene sia il fratello Lorenzo quello a darsi da fare nella corruzione dei cardinali perchè il prediletto mediceo venga eletto Papa, mentre il giovane Cosimo penetra nell'anima della città eterna e nelle sue bellezze, innamorandosene completamente.
E' evidente che non sia solo l'arte ad affascinarlo, ma anche una fanciulla dai capelli ramati, la nostra Bianca tutta italiana, che ahimè non possiede il cognome giusto. Non vi è scelta: l'amore è la morte del dovere, ed un Medici non può permetterselo. Senza possibilità di scelta alcuna si ritrova a dover abbandonare quel sentimento così spontaneo e sincero, ma non casualmente nel momento in cui la donna esce di scena ecco l'ingegno di Cosimo farsi avanti. Non sarà il denaro, ma la corruzione e, soprattutto, il carisma del ragazzo a fare pendere l'ago della bilancia a favore della famiglia. Solo un piccolo passo, un primo compromesso con la propria coscienza.
Il secondo compromesso? Il matrimonio con Contessina de' Bardi. Un matrimonio senza amore, senza passione, senza arte (ma con un suocero che, ammettiamolo, ci ha fatto salire i brividi lungo la schiena: Game of Thrones è una maledizione karmica per Richard Madden).
Il primo incontro tra i due fidanzati non lo si può certo definire "romantico" in effetti, sebbene essere sbattuta al muro da Richard Madden in stile Cinquanta Sfumature di Grigio abbia avuto comunque il suo fascino. In ogni modo anche Contessina de' Bardi era  piena di vita, di parole, di amore da dare, ma nel tempo l'abbiamo vista cambiata, più spenta, ma caratterizzata da una forza femminile che perfettamente si confà al suo importante consorte: non una sottomessa, ma una First Lady di tutto rispetto, che avrebbe fatto da esempio a tutte quelle donne che l'avrebbero succeduta durante la futura Signoria.
Ora facciamo un balzo in avanti di vent'anni (che bisogna ammettere la Contessina si porta proprio che è una meraviglia) e troviamo un Cosimo completamente diverso: il ragazzo è diventato uomo ed ora è solo, senza più quel padre amato ed odiato e senza tutti i suoi preziosi consigli.
La situazione fiorentina non sembra poi tanto diversa dalla proverbiale politica italiana, e le questioni quindi potrebbero essere due: o il telefilm ha deciso di mettere sul piccolo schermo una meravigliosa metafora della politica nostrana, oppure noi proprio non cambiamo mai. Detto ciò, tutto si basa sul semplice concetto machiavelliano de "il fine giustifica i mezzi", o per dirla con le parole di Cosimo "un male per raggiungere un bene". Così ammiriamo il personaggio barcamenarsi nella politica della sua città con l'unico obiettivo di mantenere il proprio potere su una città felice e prospera a prescindere dai compromessi cui dovrà sottostare.
Oltre a continuare a cercare l'assassino di suo padre, tenta di fronteggiare le mire al potere di Rinaldo degli Albizzi che, ostentando la sua nobiltà di spirito in contrapposizione a quei banchieri arricchiti dei suoi rivali, entra in guerra per mantenere il potere sulla città di Lucca attaccata da Milano. Guerra significa denaro, onore, morte, crisi economica, ma le migliori opportunità nascono anche nelle situazioni peggiori, e quindi ecco Cosimo approfittare di una situazione critica per rinsaldare il proprio potere: decidendo di riattivare i lavori per concludere la celeberrima Cupola fa la sua mossa di scacco. Offre lavoro, quindi soddisfazione, denaro e più meramente cibo per i fiorentini, che non l'avrebbero apprezzato tanto se si fosse semplicemente limitato a forzare una resa. Il lavoro viene affidato ovviamente a quell'arrogante di Brunelleschi, nella cui parte si cala perfettamente il nostro Alessandro Preziosi. "L'artista scorge ciò che la natura cela", così una delle più grandi opere architettoniche del Rinascimento trova vita e dà il via a quello che sarà il più florido periodo della nostra storia, sotto però una terribile ombra che renderà ancora più interessanti i prossimi episodi de I Medici.
Siamo solo all'inizio e tutto può succedere, ma le premesse sono ottimali: la combo italo-britannica sta davvero funzionando a dispetto delle opinioni dei più scettici.
Per una volta possiamo assistere alla riproduzione di una serie televisiva veramente storica, fedele quanto possibile ad un passato che non sembra poi così tanto lontano dalla nostra esistenza: la metafora di ciò che siamo, della vita di un ragazzo che si è ritrovato a dover mettere da parte se stesso per qualcosa di più grande, di uno che ha preso una repubblica come tante e l'ha resa la nostra Firenze.