Ci siamo lasciati con i Coliver riavvicinati, Annalise in galera accusata da una fonte anonima (leggi: Wes), l'accusa di Charles Mahoney per omicidio del padre, Laurel che dichiara amore al compagno di studi con Frank che le arriva alle spalle, dopo essere stato buttato via a calci da Bonnie…
Flashforward di una settimana ormai: Annalise chiede a Bonnie se è lei la fonte, Michaela Oliver e Asher corsi in ospedale per sapere chi è il morto in casa della prof…
Flashback con Bonnie che sveglia Annalise avvisandola del ritorno di Frank mentre lui e Laurel in casa di lei bisticciano sulla loro love story naufragata nell'oblio, proprio quando chiama Bonnie al telefono pregandolo di tenerlo con lei altrimenti Annalise lo farà fuori sul serio…
Le premesse ci sono tutte!
Possiamo cominciare con
il quasi mid-season finale di
How to Get Away with Murder
Michaela, Asher e Connor sono nell'appartamento di lei dove chiedono spiegazioni sulla scappatella amorosa di Connor con Oliver della notte prima, con la madre di Michi che continua a bombardarla di telefonate, che puntualmente rifiuta.
L'avvocato di Wes riesce a beccarlo mentre sta per uscire di casa con un mandato di comparizione in mano. Dato che ha mentito alla polizia circa l'aver visto l'imputato Charles Mahoney sulla scena del crimine, Annalise decide che l'unica cosa da fare per non far ricadere le accuse su di lui è trovare l'alibi del sospettato.
Ma come? La prof e Bonnie di guardano: c'è solo una persona che può occuparsene.
Va a prenderlo a casa di Laurel per studiare un piano.
Il direttore Hargrove chiama Annalise nel suo ufficio spiegandole che l'avvocato che le ha suggerito per occuparsi della pratica per l'affido dei figli non ha trovato una via di uscita: si è dichiarata colpevole e l'ex marito ha chiesto la custodia assoluta.
Prega Annalise di aiutala… In fondo i rapporti tra le due donne si sono un po' distesi, e per AK si sa che i figli sono una questione dolorosa lasciata in sospeso.
In ufficio i ragazzi stanno studiando per l'esame e Connor osserva il mazzo di fiori regalato a Oliver dalla ex fiamma, Thomas, che prontamente getta nel cestino infastidito. Michaela lo chiama per andare da Annalise e Connor devia il discorso con Oliver, cosa che lo infastidisce ancora di più, anzi, il suo sguardo rivela che si tratta di vero e proprio dolore.
Richiamati all'ordine i Keating Five a casa di Annalise, gli vengono forniti i dettagli della situazione di Wes. Michaela e Connor se ne vanno furiosi, dopo tutti i casini che ha combinato Wes, devono ancora una volta aiutarlo; invece Asher rimane a dare una mano.
Questo ragazzo si sta rivelando davvero con un cuore d'oro, magari un po' tonto, da davvero una persona buona.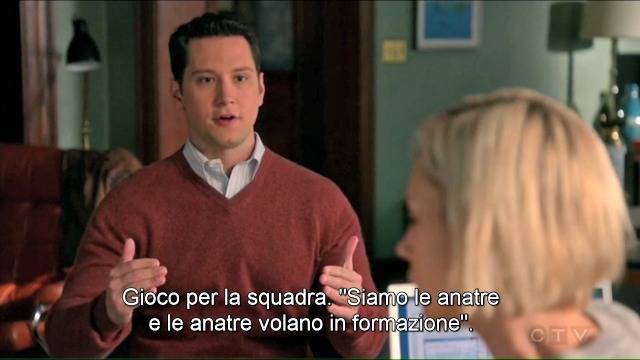 Frank sta pedinando il procuratore e dal parrucchiere vede avvicinarla una sua vecchia conoscenza, la donna che lavorava per la famiglia Mahoney e che anni prima lo ha pagato causando l'incidente d'auto di Annalise.
Tutto comincia a tornare…
L'avvocato di Wes intuisce che ci sia Annalise dietro al ritardo dell'udienza del ragazzo perché ha fatto in modo che gli sia fatta una rilevazione psichiatrica prima del processo Mahoney, sperando di far guadagnare tempo a Frank.
Tra i due non corre buon sangue e si accusano a vicenda, anche se entrambi vogliono solo proteggere il ragazzo.
[P.S. io vorrei tanto capire perché tutti si affannano tanto a prendersi cura di Wes. Perché? Perché?]
Connor e Oliver stanno facendo la doccia insieme e Oliver lo bombarda di domande su Annalise, il suo lavoro, i suoi casi, con Connor che tenta in tutti i modi di non rispondere.
La bomba sta per essere sganciata sul futuro della dolce coppietta…
E a proposito di dolci coppiette, Asher e Michaela sono a letto a studiare con la madre di lei che continua a telefonare. Il ragazzo le chiede spiegazioni, vorrebbe che si aprisse un po' di più, e Michaela si lascia sfuggire giusto due paroline per azzoppare la conversazione: "Abbiamo un rapporto complicato".
Ma cosa mai nasconde?
In fondo, nel flashforward l'abbiamo vista a casa della madre.
Mumble mumble…
Annalise cerca di preparare Wes al test psicologico e gli confessa che sa della sua relazione con Laurel e ne è felice. Intanto che lui va via, Frank chiama Bonnie pregandole di aprire la mail, le ha mandato le foto della donna che sta pedinando e mentre Annalise lo prega di non spargere più sangue, madre e figlia rientrano a casa.
Si nasconde nell'armadio e aspetta.
Nel frattempo Annalise per sbollire l'ansia va in un drugstore per annusare i liquori (che brava, non ha ancora ceduto) e mentre sta pagando osserva al bancone dei telefoni usa e getta.
Sta sicuramente architettando qualcosa, e come sempre ha avuto un'idea geniale per salvare le chiappe a Wes!
Ma lo vediamo meglio dopo…
È il momento dell'udienza e Wes che ha superato il test psicologico è chiamato alla sbarra. Solite domane di rito, l'accusa chiama a testimoniare l'alibi di Mahoney: Lisa Cameron, la donna chiave che aveva una relazione con l'imputato.
Dichiara di non avere contatti con il ragazzo da quando l'hanno messo in carcere, ma i tabulati mostrano che c'è una chiamata della scorsa notte verso il telefono usa e getta scoperto in cella di Charles, partita proprio dalla sua abitazione…
Che piano brillante! Brava Annalise, bravo Frank, brava Laurel che ha convinto Nate a fare la soffiata all'avvocato, bravi tutti! Ottimo lavoro di squadra!!!
Bye bye alibi!
Connor è a casa di Oliver e guarda al tg lo sviluppo della vicenda di Wes, subito si interrompe quando entra in stanza Oliver.
E da qui, il delirio: uno rinfaccia all'altro che non è mai sincero, l'altro rinfaccia all'uno che amore vuol dire proteggere la persona cara e altre cose poco piacevoli, finché Olly non la spara davvero grossa: crede di essere la calda coperta avvolgente in cui Conn si rifugia quando ha dei guai con Annalise, fardello pesante che lo opprime dal giorno in cui si sono conosciuti.
Ahia, brutta scena…
Il ragazzo con il cuore in mano va via sbattendo la porta. Torna in lacrime a casa di Michaela, digrignando i denti per la rabbia, con Asher che si affaccia dalla camera da letto in vestaglia di seta (ormai la indossano più gli uomini della proprietaria) ma torna subito dietro quando Michaela gli fa capire con un'occhiata che avevano bisogno di parlare da soli.
Così ne approfitta per rispondere alla chiamata della madre di lei, in gran segreto…
E ora arriviamo al dunque: Annalise e Frank faccia a faccia,
è guerra aperta ormai.
Non vi sto a ripetere nel dettaglio la valanga di cacca che AK gli ha buttato addosso, con un Frank piangente che ormai stiamo vedendo troppo spesso. Si punta la pistola in testa dicendo che così migliorerà, ma prontamente Bonnie entra nel salotto pregando di fermarsi.
E ora?
Flashforward di una settimana, Annalise è in cella e Bonnie tenta di tranquillizzare i ragazzi accorsi. Ma soprattutto scopriamo in trenta secondi che non è di Connor il cadavere ritrovato in casa della prof: lui è a letto con il Thomas di Oliver…
Ta da ta daaaaaaaa!
Vi lascio il promo del prossimo episodio di
How to Get Away with Murder
– il gran finale –  in cui finalmente scopriremo
CHI DAMN C'È SOTTO IL LENZUOLO!
LEGGI ANCHE
How To Get Away With Murder ci rivela il nome di un colpevole imprevedibile
How To Get Away With Murder ci svela un altro pezzo del puzzle
How To Get Away With Murder ci tormenta con un'infinità di domande irrisolte